Niles Audio SW6.5 and SW8 Ultra-Compact Subwoofers Preview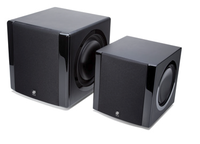 Summary
Product Name:

SW6.5 & SW8

Manufacturer:

Niles Audio

Review Date:

October 04, 2012 15:00

MSRP: $499(SW6.5) & $599(SW8)
First Impression:

Pretty Cool

Specifications

SW6.5

SW8

Long-throw, front firing-woofer

6.5"

8"

Dual, Long-throw, side-mounted passive radiators

6.5"

8"

Amplifier Power (Dynamic)

800w

1200w

Amplifier Power (RMS)

200w

300w

Frequency Range

42-200 Hz

36-200 Hz

Fingerprint resistant, piano-like finish

•

•

CAT5 Wiring Ready

•

•

OmniMount® Ready

•

•

Wireless Ready

•

•

Power Requirements

Switchable 100-120v/220-240v, 50-60Hz, 2A

Dimensions with grille

8-5/8" H x 8-3/8" W x 9-5/8" D (21.9 cm x 21.3 cm x 24.4 cm)

10-3/4" H x 10-1/2" W x 12-1/8" D (27.3 cm x 26.7 cm x 30.8 cm)

Shipping Weight

11 lbs (5.0 kg)

16.5 (7.5 kg)
Executive Overview
The new SW6.5 and SW8 are made in the same custom installer centric stride as every other product Niles makes. But this is a good thing because installers need products that are flexible and bulletproof. These two subwoofers are likely not the best choice for a client demanding ultimate performance, but rather a business needing background music or installations where you can't use a larger free standing or in-wall subwoofer. Think soundbar in a bedroom, these subs seem to be a perfect for that!
Let's start with the general design. The two units are nearly identical except for the driver size and amplifier power. Both subwoofers have one active driver on the front and two passive radiators on the sides. Adding multiple passive radiators is very common when trying to design ultra-compact subwoofers as it allows for increased surface area without using a larger driver. And these subs are ultra-compact, the SW6.5 is 8-5/8" H x 8-3/8" W x 9-5/8" and the SW8 is 8-5/8" H x 8-3/8" W x 9-5/8". The SW6.5 has three 6 ½" drivers (one active, two passive), a 220w RMS/800w peak Class D power amplifier and is rated down to 42Hz. The SW8 has three 8" drivers, a 300w RMS/1200w peak Class D power amplifier and is rated down to 36Hz. The woofers are anodized aluminum for increased rigidity compared to paper cone designs.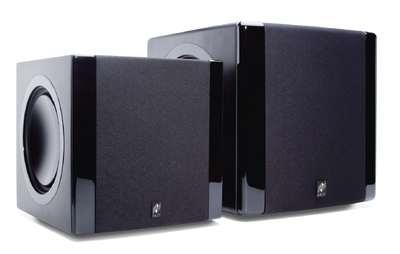 SW6.5 & SW8
Both subwoofers are compatible with OmniMount 30.0 ST-MP wall mount so they can be hidden easily in commercial installations. No sub cable/RG6 ran to where you want the sub? No problem. They are compatible with Niles' FG01672 Wireless Receiver and feature an RJ45 input for use with compatible CAT-5 baluns. Technically you could use a standard stereo audio balun with any sub, but with these subs you only need to purchase the sender portion of the balun kit, not the receiver as well. If you want to add multiple subs there are LFE and stereo line-level inputs and pass-through outputs to cascade up to three additional subwoofers. There is an adjustable lowpass filter which can be set in a bypass mode when it is turned over 150Hz. There is also a variable phase control (0°-180°) rather than just a switch between 0° and 180°, which is a nice feature to see.
Conclusion
We don't really see this subwoofer being a good choice for serious home theater applications because of the limited low frequency output, but it should work great for many commercial or less demanding home theater applications like mating with a soundbar in a bedroom. If you have a client that is more concerned with size than performance, is looking to discretely round out a whole-home music system, or you need additional connectivity (wireless, RJ45, line-level), the SW6.5 and SW8 look like great options. It is because of the size and connections options that I gave these subs a "Pretty Cool" rating instead of a "Mildly Interesting" rating. Obviously, they won't be winning any SPL contests at extremely low frequencies, but they would certainly win the "where did you hide that subwoofer" contest.
For more information, visit Niles Audio
ACsGreens posts on October 06, 2012 09:54
True that....also true that I would loved to have a piece of both 5 years ago, but not now.
theJman;912063
So it's the Jessica Simpson of subwoofers? Gorgeous to look at, but lacking any real substance...
shadyJ posts on October 05, 2012 22:36
There are already a lot of these compact subs on the market, I'm not sure how these can be distinguished from the competition. At least they are not hugely expensive, although I think you can shave a lot off that sticker price by forgoing the nice finish. After all, if you are going to hide them, what's the point of needing them to look nice.
theJman posts on October 05, 2012 22:17
ACsGreens;911715
I have been listening to the SW8 for a decent bit today and am not really impressed with the output, at all. Levels must be cranked to achieve any real volume. That being said, it certainlly does have it's place, but it's limited.
So it's the Jessica Simpson of subwoofers? Gorgeous to look at, but lacking any real substance...
ACsGreens posts on October 05, 2012 09:51
gene;911737
anyone know the retail prices on these subs so I can update the article? thanks.,
Gene, I believe they are $499.99 an $599.99 respectfully. I would say that I played with placement and I am not as down now as I previously was, but still not impressed greatly.
anamorphic96 posts on October 05, 2012 05:29
They look like Energy and Mirage knockoff's.