MicroVee Measurements and Conclusion
I measured the Velodyne MicroVee in my office space using the antiquated but accurate Linear X LMS measurement system. No smoothing was used unless otherwise indicated.
Velodyne MicroVee Nearfield Frequency Response
I measured the MicroVee at various output levels using the groundplane technique at 3 inches from the front driver. The output was scaled -19dB down to give the actual SPL output I could hear at my listening position which was roughly 4 feet away. The frequency response was pretty linear down to around 50Hz where it dropped around 15dB below 40Hz. Since the sub has multiple passive radiators, and the mic was in such close proximity, the roll-off was slightly accentuated so you could expect a bit more low frequency gain than is illustrated in this graph. I was impressed that this little sub was able to hit 105dB SPL levels from my listening position which is higher than I'd ever listen to my desktop system given the close proximity to the them. The MicroVee certainly has plenty of output for small office spaces.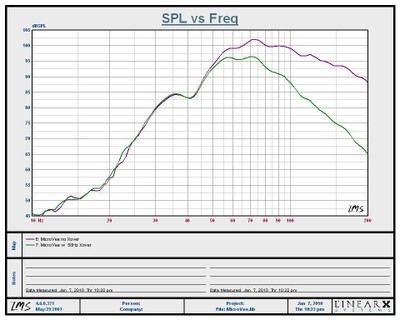 Velodyne MicroVee Neafield Frequency Response with Xover
Purple trace: no xover ; Green trace: xover @ 50Hz
Oddly with the internal crossover engaged on the MiniVee at 50Hz, the output dropped about 4dB above 50Hz, but the -3dB point was 80Hz. This explains why I preferred the lowest setting as this sub simply doesn't have a steep low pass filter employed and provides too much output above 80Hz unless the lowest crossover setting is used. Bass above 80Hz is highly directional, especially when sitting in close proximity to the sub which most users will be doing with a MicroVee. I suggest starting at the lowest crossover setting or using the bass management of your receiver or source device if they have such facility (most desktop systems won't).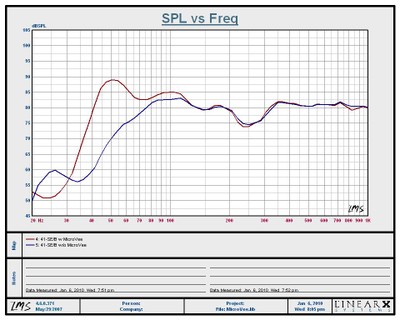 Combined Velodyne MicroVee + EMP 41-SE/B Frequency Response
1/3rd Octave Smoothed @ listening position
I measured the MicroVee in concert with one 41-SE/B speaker. The output of the sub was calibrated for both speakers playing thus why the level is about 3dB too hot in this measurement scenario. As you can see, the MicroVee extended the -3dB point of my desktop system from 60Hz to around 40Hz. With the MicroVee engaged for music listening, my desktop system sounds much fuller and tactile.
Conclusion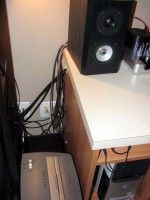 Velodyne has once again demonstrated it could provide the most amount of bass per square inch that the laws of physics would allow. Unfortunately this level of performance comes at a price premium resulting in a product that costs $100 more than their higher performing next model up - the MiniVee. If you have the space available, I'd strongly consider the MiniVee over this product but if you are size constrained in a small office space, I can't think of a better performing product in its size class to recommend.
I love seeing the reaction in my friends' and family's faces when they sit down to hear my computer system - not realizing there is a MicroVee sub hidden behind my trash can providing all the low end boom. It blended well with my desktop system, transforming its sheer depth and soundstage by providing the much needed low end extension my small speakers were incapable of producing. A MiniVee simply would have been too large for this application so the MicroVee fit the bill nicely. The MicroVee proved it was not an illegitimate child to the MiniVee (more like a slightly posh one), as it proudly lived up to the heritage Velodyne established when they entered the marketplace nearly 27 years ago. Dr. Evil would be proud!
MicroVee Review
MSRP: $799
Velodyne Acoustics
345 Digital Drive
Morgan Hill, CA 95037

About Velodyne Acoustics
Velodyne Acoustics is the industry leader in loudspeaker styling, performance, and value. Since the company's inception in 1983, Velodyne has been acclaimed by industry experts, audiophiles and home theater enthusiasts for its innovative designs, close tolerance manufacturing and exceptional performance
The Score Card
The scoring below is based on each piece of equipment doing the duty it is designed for. The numbers are weighed heavily with respect to the individual cost of each unit, thus giving a rating roughly equal to:
Performance × Price Factor/Value = Rating
Audioholics.com note: The ratings indicated below are based on subjective listening and objective testing of the product in question. The rating scale is based on performance/value ratio. If you notice better performing products in future reviews that have lower numbers in certain areas, be aware that the value factor is most likely the culprit. Other Audioholics reviewers may rate products solely based on performance, and each reviewer has his/her own system for ratings.
Audioholics Rating Scale
— Excellent
— Very Good
— Good
— Fair
— Poor
| Metric | Rating |
| --- | --- |
| Bass Extension | |
| Bass Accuracy | |
| Build Quality | |
| Fit and Finish | |
| Ergonomics & Usability | |
| Features | |
| Performance | |
| Value | |
See also:

bandphan posts on January 12, 2010 05:29
Gene, although The Beatles I Want You doesnt slam, its a great song for clear bass passages