High Output In-Wall Subwoofers - What's new for 2008?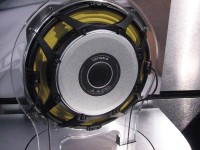 JL Driver
In-wall subwoofers seem to really be evolving this year.  Gone is the mentality of simply having an in-wall subwoofer solution as a compromise for aesthetic purposes.  Manufacturers are taking these solutions more seriously for upscale high performance installations.  Granted they aren't all cheap, but to get the kind of output and performance we are seeing involving little engineering marvels that simply weren't a reality only a few years ago.  JL Audio, and Velodyne showed us some impressive in-wall subs and Paradigm apparently has a not so unique prototype in development as well.
JL Audio Fathom IWS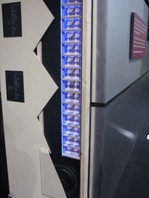 JL Audio launched a bombshell into the in-wall subwoofer category with their new Fathom IWS subwoofer system.  With the largest (84" tall) most robustly braced back box we've ever seen in an in-wall subwoofer while fitting in a standard 2" x 4" stud space. This is one serious in-wall solution that will rattle your theater room without unwanted rattling cabinet noises.  The 13.5" driver has a 1.5" max peak to peak excursion capability and is coupled with a 7" voice coil. It can really handle sustained high power output which I learned the hard way when I ignorantly touched the back of a demo woofer which was blazing hot as it was pumping nearly 1kwatt of power into a 3 Hz sine wave.
Their demo room had 4 IWS subwoofers installed and fired up.  I believe the JL Audio representative claimed each IWS subwoofer has the same output capability as an f112.  I had little reason to question this as the demo proceeded to nicely pressurize the room with deep powerful bass that was very tactile in performance.
The IWS is sold either as a single unit (IWS System One) with a 1 kwatt amplifier or dual unit (IWS System Two) with a 2 kwatt externally powered amplifier.     Like other Fathom products, E.L.F. trim and Automatic Room Optimization (A.R.O.) system is built into the external subwoofer amplifier.
Retail price for the System One is $4,500 and the System Two is $7,500 with Q1 2009 targeted availability.  For more information, visit www.jlaudio.com

Velodyne SC-600 IW / IF and IC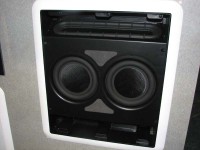 Two 6.5" active and two 12" x 3" passive drivers is what the new Velodyne SC-600 proudly exhibits.  Fitting in a standard 2" x 4" stud space, the new SC-600 IW can be installed in new construction homes and retro-fits into existing homes.  A 200 watt RMS external amp with auto EQ and remote control is included with this product and the retail price is roughly $999/ea.  Bass extension is flat down to 37Hz.
For those wanting more extension and output, may instead consider SC-600 IF/IC in-floor / in-ceiling product which has a bass extension of 25Hz but in a larger ported enclosure with a single 12" low profile driver.
For more information, visit www.velodyne.com

Paradigm In-Wall Sub
As I was walking out of the Paradigm booth, I noticed display area showing off a picture of a new in-wall subwoofer that made me take a second glance to ensure I didn't accidentally walk into the Velodyne booth.  This new prototype subwoofer appeared to be strikingly similar to an existing Velodyne unit that has been out for 2+ years.
Paradigm driver (left pic)   Velodyne driver (right pic)  you decide
Mark Aling, Marketing Director of Paradigm assured me that this driver was in fact their own and although it has a similar appearance to a Velodyne one, Mark explained to me that vibration canceling design's of in-wall subs have been a popular design feature for a number of years.  We look forward to seeing how this product progresses.

For more information visit:  www.paradigm.com

Warpdrv posts on September 07, 2008 11:53
Thanks for the info....
Seems B & G also has something in mind for InWall...
Interesting design...
There are 12 coffee can sized driver housing lined up facing each other and porting out that long slot you see. It takes four of these units in total to get the THX seal of approval during install, but the price of $7,000 is actually pretty reasonable compared to a couple of $3,000 discrete subs.