HSU VTF-15H Subwoofer Review Supplemental Cont.
So far so good. As far as getting repeatable data, there does not seem to be any significant errors in my data. Now to repeat the measurement with the Q control set to the opposite end, 0.3. (Maximum damping). (See below)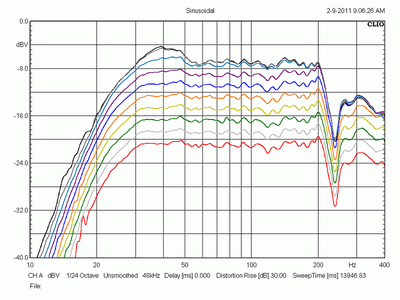 Same as previous conditions (EQ2), except the "Q" control is set to "0.3" (Maximum damping)
Well, this curve is certainly flatter than the first one, and when driven at low levels (red curve) it again, does not roll off till about 30 Hz. At very high input levels, where the system is running out of power or excursion or both (Top gray curves) we can see a hump caused either by a lack of current available from the amp, or perhaps the loss of BL that occurs when the VC leaves the gap. Seems to me this system was designed expressly to allow for the higher roll-off of 30 Hz, perfectly suitable for music in 99% of the time, and with the Q control set to minimum, at the ground plane it looks perfectly flat!

Time to see what happens when the system is set to a lower tuning using the available triangular shaped port plug. Let's see....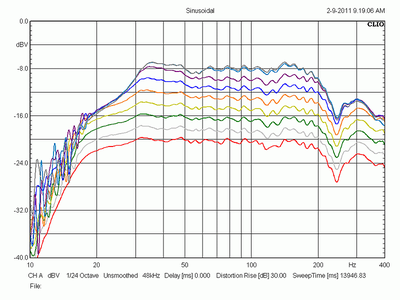 One port Plugged, EQ1 position & Q Control = 0.7 (flat)
As is clear from the red curve, the system is now in an extended mode. What is also clear is that the maximum output relative to the both port open modes has been compromised between 20 and 30 Hz. The reality is, there is far more music from 30 to 40 than there is from 20 to 30 Hz, and it is a heck of a lot easier to reproduce at high SPL's. To make matters worse of course, we see all this choppy response going on below 20 Hz? Is it ambient or background noise? No. How can I tell? If it were ambient/background noise, it would be worst at the red curve, and least objectionable at the top gray curve, because the more output the sub makes, the less influence ambient/background noise will have on our measurement. What was happening (and I could clearly hear this, as I was sitting outside with a clear path between the measurement rack, and the sub) was there were loud mechanical noises being produced by the subwoofer in trying to reproduce very high levels of signal below 20 Hz. (Notice with the lowest drive voltage, the red curve is free from this effect.) There is another reason why this is happening. With the EQ set to position 1, the roll-off of the subsonic filter is changed to allow much more LF output to reach the speaker terminals. It appears that one set of controls is for making great curves for sales, while the other set is a more realistic setting and cutoff to allow this product to produce more than adequate low end, (30 Hz cutoff) for the vast majority of music. Because plugging the second port reduces the cutoff frequency while increasing the damping of the system, using the "Q" control allows you to make the system response flat by raising the filter "Q" setting to 0.7. This might also explain Dr Hsu's preference for me to use EQ2, with the higher order high pass filter in circuit, so as not to reveal a driver bottoming issue.

What does the system look like with the same 1 port plugged and EQ 1, but the Q set to 0.3 (Maximum damping)? Lets see....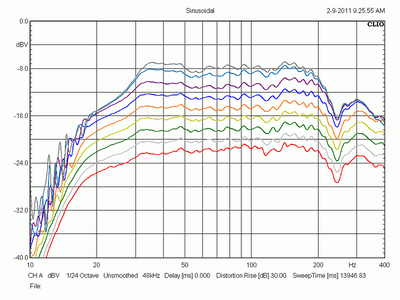 Same Settings as Above (EQ1) test except for the Q control set to Maximum Damping (0.3)
As we can see with the higher damping used, there is less stress on the system below 20 Hz, so those 16Hz pipes, are less likely to cause the woofer to go into distress, but even with the very limited steady state power available from the BASH amplifier, (350 Watts) it was more than enough to cause the woofer to overload when driven below 20 and above 10 Hz. Essentially, although we can force this woofer to have a flatter curve to a lower frequency, we simply can't make it move more air than it is capable of. In other words, the maximum output at very low frequencies is displacement related as well as power related. At maximum power, this woofer, even with the one port plugged STILL ROLLS OFF AT 30-35 Hz due to output limitations.

As we previously saw from the HSU supplied graph varying Q for the VTF-15H the range of control of the "Q" switch goes all the way from the minimum usable frequencies up to 200 Hz. My measurement (below) agrees, and shows the effect of the Q control from minimum damping (red) to maximum damping (blue).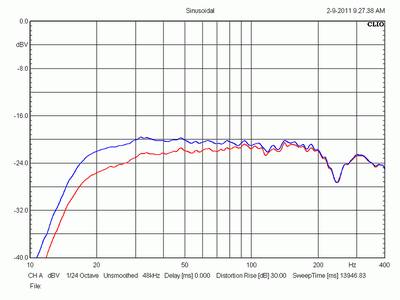 Range of available control from the "Q" knob, 0.7 (blue) to 0.3 (Red) with 1 Port Blocked, EQ1
If we are to calculate the value of the frequency at a given "Q" the formula is simple, although not well known. Response in dB = 20 Log Q. So, for 0.7 at the cutoff frequency (Fc) response is -3.1 db. For Q = 0.3 the response is -10.5 db. One would suspect then, the resultant difference to be about 7 db. Best as I can tell, the difference is only about 4 db. (Total dynamic range of this curve is 20 db, and each small tick mark represents 0.8 db.) Perhaps Hsu Research can shed some light on the choice of markings used on this amplifier.


meheather33 posts on February 27, 2013 23:45
Help!!! I am trying to decide between hsu-vtf-15, svs pb16 ulta and martin logan descent. They will be going with my ml vistas,stage and vignettes. Any suggestions?
ooobbbccc posts on February 26, 2013 08:02
gene posts on February 25, 2013 13:51
kmpurc56;944810
From a layman's perspective, the biggest problem I have is how the measurement data is not the same for each review. If you look at all your reviews together post CEA, the presentation of data varies. The data Gene provides shows a significant more screen shots of test results than than others. The data presented in other reviews will vary as well. I have enough of a background that all testing criteria be exactly the same for all subwoofers for evaluation purposes. I should see the exact number and types of screen shots of your test measurements in each subwoofer review. I also wish that explanations be in such way that I don't understand a review for a SVS subwoofer that indicates that a dbspl range of higher htz 95/93 db to lower htz 87/85 db is rated for big rooms and plenty of low output would not be more limited than this review which seems to indicate output range from dbspl 100db to 95/93 db is limited.

I know price point is a real factor, but I believe a range should be developed for example $500 to $1000 grouping. It is hard to translate the term this product compares to other products at much higher price points then see above issue. I did some research since I have a background in noise exposure and found a 90 db level at below 80 htz is still restricted by OSHA. A 4 hour exposure limit is required. Even at this limitation, continual exposure will result in hearing loss. It seems to me that a flatter range with a lower db output in the higher range and higher output in the lower range would be better. One consistency I do see is not matter what the sub is (brand and expense), there is always a substantial drop near, at or below 20 htz. Since we feel more than hear below 20 htz, I have read were the vibration is observed by the listener at lower db rates anyway. Between 30 and 80 htz is where a more continual output will occur, higher db exposure at 100 or more db will potentially cause more hearing loss issue. A logical view might be that performing numerous evaluations over hears might negatively effect listening part of reviews.
You're obviously new to the site and not aware of the following:
Powered Subwoofer Testing: Outline and Procedures Overview — Reviews and News from Audioholics
[audioholics.com]
Audioholics Subwoofer Room Size Rating Protocol — Reviews and News from Audioholics
[audioholics.com]
Audioholics Subwoofer Measurement Data Compilation & Report — Reviews and News from Audioholics
[audioholics.com]
(this link not only teaches you how we measure and what it means, but it also has a PDF with all data tabulated in a very consistent manner).
I challenge you to find another A/V magazine that even remotely does this, and at this level of completeness and accuracy.
zhimbo posts on February 25, 2013 13:41
ooobbbccc posts on February 25, 2013 00:34
Why left out the Bassaholics rating again? Is this "Medium" or "Large"?