VTF-1 Measurments and Analysis
Measurements were performed using the Sample Champion program developed by Paolo Guidorzi of Purebits. The program is a Maximum Length Sequence (MLS) program that generates a time domain impulse response from this pseudorandom signal. Fast Fourier Transformation is applied to the impulse response to generate the system frequency response. The operating principle is the same as that of the well known MLSSA program.
Test samples were taken using 16 bit resolution with a 48 kHz sampling frequency. Fast Fourier Transformations were performed at 64K allowing for a frequency resolution of .73 Hz, which is more refined than even 1/24th octave resolution at the lowest octave; the A0 key on the piano has a fundamental frequency of 27.5 Hz.
All measurements of the driver and ports were taken nearfield and summed in the time domain. Measurements were referenced to a simultaneous, independent SPL measurement taken at 1 meter from the subwoofer.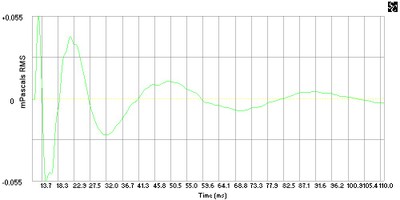 Figure 1: Composite impulse response in extension mode
Figure 2: Composite impulse response in SPL mode.
Figures 1 and 2 show the subwoofer near field composite impulse response for the VTF-1 in extension and high SPL modes respectively. The plots were generated by summing near field impulse responses for the woofer with either one or two ports, respectively. Slight bumps in the otherwise smooth curves are a result of the phase differences between the driver and the port output. The measurements were taken at the same gain, at a moderate setting that produced 84dB in extension mode and 85 dB in SPL mode when measured at 1 meter.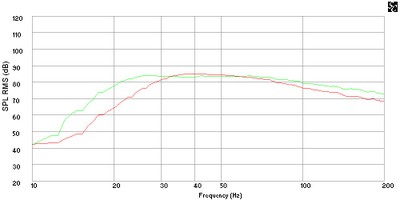 Figure 3: Frequency response at moderate volume for extension and SPL modes.
The frequency response curves in Figure 3 were generated from the composite impulse responses shown in figures 1 and 2. In the figure, the green trace is of the sub in extension mode with one port plugged and a peak of 84 dB while the red trace is of the sub measured in SPL mode with both ports open.
Both test cases were measured with identical gain settings and the appropriate switch setting for the subwoofer amplifier circuitry indicating that SPL mode will get about another dB at moderate gain settings, equivalent to 4/3 the effective wattage output. It is interesting to note that there is a clear tradeoff with a higher Q in the SPL configuration. The –3 dB point in extension mode gets to near a better than advertised 23 Hz while SPL mode gets to 32 Hz.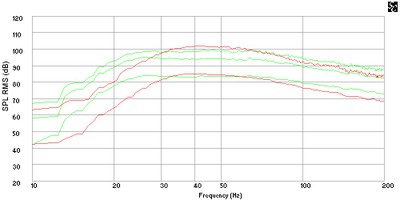 Figure 4: Maximum SPL in extension and SPL mode.
Figure 4 is an overlay of additional measurements taken at increasing gain. The green trace is again for the sub configured for maximum bass extension and the red trace for maximum SPL. System gain was increased to 95 and then 100 dB SPL when measured at 1 meter for extension mode where system gain was increased to its maximum setting. An SPL mode measurement was also taken at maximum gain and this peaked off at about 102 dB, effectively operating at 5/3 output of extension mode. From the plots, we can also note that both modes begin to show some signs of distress with both curves loosing smoothness, also indicative of output limits.
westcott posts on July 17, 2007 10:10
Am I to assume that Figure 4 is using a standard 10% distortion limit?
gene posts on July 09, 2007 23:52
Shouldn't this be in the "Subwoofer" section?
Thats odd, I must have scrolled too far the drop down when linking it up. thanks.
silversurfer posts on July 09, 2007 23:48
Shouldn't this be in the "Subwoofer" section?

Otherwise, I have heard an STF-1 before and was very suprised at what it could do for the price and size. The VTF-1 seems to go a bit farther according to the review.