Funk Audio 18.2 Dual 18" Sealed Subwoofer Preview
Summary
Product Name: 18.2
Manufacturer: Funk Audio
Review Date: January 16, 2013 22:55
MSRP: $8600 and up depending on configuration
First Impression:

Pretty Cool

Specifications

Design Overview

Dual opposed driver sealed subwoofer

+/-3db variable, customizable, response to 10hz or lower depending on setup.
125db peak output, 2m Ground plane(power level two)

Amplifier Specifications

Amplifier; One amplifier provided for power level one, two with power level two
2.4kW X2 M1
Dual XLR inputs
USB PC interface
Full DSP control
High current detachable power cord and 20A circuit breaker
All CNC machined Aluminum Case, built in house
Front DSP interface control
120/240V operation(240V recommended)

TSAD18V2 Driver Specifications:

18" Carbon fiber/paper composite cone
Hand built in house by Funk Audio
4.5" Aluminum voice coil
44lb Neodymium magnet structure
Dual Aluminum shorting rings for reduced distortion
Linear Inductance +/-5% through 3 p-p travel, resulting in very low distortion, and clean midbass.
Cast Aluminum frame
Anodized aluminum dust cap
Tall profile treated foam surround
10" diameter spider
3" P-P excursion
Under spider venting
Forced air cooling
Assembled with high temperature epoxies




Pricing:

Power level one; $8,600 delivered in North America

Power level two; $11,200 delivered in North America




Pre release special prices:

Power level one; $6,995 delivered in North America

Power level two; $9,350 delivered in North America




Options:

Magnetic cloth grills $250(adds 2" to overall width)

Solid wood inlay corners $150

Custom finishes, contact manufacturer for prices.
Executive Overview
Funk Audio, a relative newcomer in the ID subwoofer marketplace, has just put its competition in checkmate. The Funk Audio 18.2 subwoofer is their latest and most advanced subwoofer design. It is the culmination of the most advanced technology and rigorous testing and development, unhindered by their marketing dept which is virtually non existent. It was designed to provide the ultimate in power, sound quality, and output, in a package so compact the amplification system has to be separate from the subwoofer itself.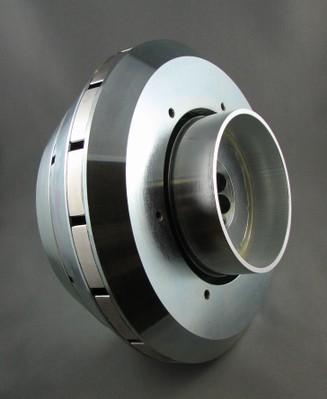 TSAD18V2 Motor Structure
The heart of this subwoofer is its incredibly powerful motor structure of the TSAD18V2 driver. The 18" driver for this sub is built in-house by Funk Audio. Starting with a 4.5" aluminum voice coil surrounded by a 44lb FEA optimized Neodymium magnet structure, featuring a 9" diameter segmented Neodymium magnet ring, dual shorting rings, and a very specialized "forced air" cooling system allowing the voice coil to keep its cool even when fed with the "high power" amplifier option that sends an unprecedented 4800 watts RMS (9600 peak) to each of the two drivers. The driver cone is constructed of a carbon fiber / paper composite with cast aluminum basket and anodized aluminum dust cap and is said to have a 3" pk-pk travel. With a 10" diameter spider, forced air cooling and such a powerful motor structure, its obvious this is one bad ass driver ready to be fed some wattage.
We are a bit skeptical on the power rating of the amplifiers so we inquired for a bit more detail from the manufacturer.
Editorial Note on Amplifier Power by Nathan Funk

The power cord, and circuit breaker/power switch, are 20A. Most often "220" is actually 240V which is 4800 watts at 20A. Electrical systems are rated at full duty cycle, and for anything less than 100% duty cycle will allow up to 10 times the rated current (for very short bursts). As I am sure you know, audio signals are never 100% duty cycle sine waves, so the amp can draw up to 4800 watts continuous from the wall, and put out nearly as much fully continuous, and much higher semi-continuous peaks, even for a few seconds at a time. Normal material and even tone bursts are quite low actual duty cycle, even a single 20A "220V" circuit will power two amps (power level two) to full power with most material. We do recommend an absolute minimum 15A "220V" for a each amp (or a 30A for two), any less and you can run the risk of blowing the breaker with material containing heavy sustained very low frequencies, where the most current demand is. These amplifiers use two of our 2.4kW amp modules, used in the 18.0/18.3 amp. For power level one, one module per driver is used. For power level two one module drives each of the voice coils. The power level two drivers are dual voice coil.
The 18.2 subwoofer is a dual opposed 18" design. The two TSAD18V2 drivers are contained in a very solid Baltic Birch plywood enclosure, featuring 1.5" thick baffles, top and bottom, curved laminated front and rear walls, and extensive bracing. All measuring in at 21" wide 22" high ans 24" deep, with a total weight, without amplification, of 175lbs. This subwoofer is definitely a two person installation.
Power Up

The 18.2 subwoofer is available in two power levels; Power level One provides a single amplifier (17"wide 13" deep 4.5" high) producing 2400 watts RMS for each driver, for a total power of 4800 watts RMS (9600peak), Power Level Two provides dual amplifiers, one for each driver, producing 4800 watts RMS for each driver, for a total power of 9600 watts RMS (19,200 watts peak). Power level two is said to enable the 18.2 sub to hit an ear drum busting 125dB peak output at 2 meters groundplane. Funk Audio provided 2 meter CEA test date with distortion for the 18.2 sub with Power II amplification as you can see below. You can rest assured that no matter what level you chose for this sub, it will surely make Grandpa Simpsons teeth explode and will probably loosen a few of your fillings too.
10 hz 31.6% 99.5 dB
12.5 hz 28.2% 106.7 dB
16 hz 22.4% 111.3 dB
20 hz 17.8% 113.7 dB
25 hz 8.9% 116.6 dB
32 hz 5.0% 119.6 dB
40 hz 10.0% 122.3 dB
50 hz 6.3% 125.3 dB
63 hz 4.4% 127.7 dB
80 hz 1.99% 128.8 dB
100 hz nill 130.4 dB
125 hz nill 131.4 dB
160 hz nill 131.2 dB
200 hz nill 130.3 dB
CEA 2010 Frequency vs Distortion & Output (2 meter GP) provided by Funk Audio

To get the 18.2 Power Level Two configured will set you back $11,200 and Power Level One $8,600 but if you preorder now, the prices drop to $9,350 and $6,995, respectively. Shipping is included in all prices. Click on the specs tab to get more product details. Let us know in the forum thread if you want to see us review this beastly subwoofer.
funky waves posts on February 22, 2013 09:25
Last call for pre release price(s) on the 18.2, pre release ends Feb 28th.
mwmkravchenko posts on February 11, 2013 09:43
I think NOT all EQs & DSPs are created equal. But based on my experience, I'm just skeptical. I mean everyone thinks his version is the ultimate best.
I keep saying this over and over. But here is a bit of background on why I say the following:
Closest thing to a proper front loaded horn.
Background:
A front loaded horn done correctly with proper sizing and driver choices is the closest thing to being there I have every created. I have done quite a few over the years. They are forces of nature in their ability to move air in absolutely enormous volumes with exceedingly low distortion.
Nathan designed this dual 18 box, I worked with him providing design checks and some balances. We tuned it in together while we were measuring it outside. I had the opportunity to listen to it for over a week and it is indeed a beast.
I hate the sound of almost all commercially available subs. They have such a large degree of harmonic distortion that they drive me away. I can't listen to them. The old Velodyne servo based designs were pretty clean. And I have heard a few DIY systems done by knowledgeable gentlemen that were very clean sounding.
What I describe as clean sounding is simple.
Remember I was a musician, away back when I had hair! Been there and done that. I have the ability to remember tones and pitch. To this day I can tune an instrument with the tones that I remember in my head. I still review music for a friend of mine who has a website. classicalmusicsentinel.com
So the following is from a great many years of listening to, and playing music.
There are bass notes all the way down to 16 hertz. And there is perception of pitch down to that level providing that there is not a masking of the note ( the fundamental ) by harmonics ( distortion in the form of multiples of the fundamental 2nd 3rd 4th etc. ). Many subs have enormous amounts of second harmonic distortion that we find pleasing. In fact most instruments make great use of this to create gravitas and sonority in the music we listen to. Composers have known this for many centuries. Even the mighty pipe organ when played on the lowest stops has some oomph. But couple together a 32 foot stop and a 16 foot stop and everything changes in terms of loudness. ( Organ stops are listed by their lowest tone usually a C. A 32 foot pipe speaks roughly at 16 hertz and a 16 foot pipe speaks at roughly 32 hertz. Think for a second that there are 12 tones in an octave and we can discern tones in the lowest octave that are little more than one hertz apart! ) The lower stop modulates the higher stop and the resulting beat frequency is the second harmonic. This harmonic is actually louder than the fundamental.
AcuDefTechGuy posts on February 11, 2013 09:12
mwmkravchenko;950523
That depends in large part on how it is accomplished. In years gone by we only had the potential to use passive or active filters to manipulate signals. There were and are exceptionally good examples of how to do this with minimal ill effect. The vast majority of music production still uses EQ to make up for losses and tailor soundscapes. Microphone choices in themselves are means of EQ.

But in the end it is all boiled down to how?

We use a very clean system that is double the resolution and then some of anything you will have available. Our DSP systems operate with 64 bits. The filters are designed from the very beginning to be inaudible. They enhance what we have created and are a part of the whole system.

So now you have me thinking. I used to work with a driver manufacturer that made the Velodyne drivers. I knew the engineer well. But a little looking at the site and some things have changed. Which version do you have?
I think NOT all EQs & DSPs are created equal. But based on my experience, I'm just skeptical. I mean everyone thinks his version is the ultimate best.
My Velodyne subs are the SC-600IF/IC. They are made for custom installation In-Floor or In-Ceiling. I use them behind my 73" Mitsubishi TV because they are tall, but are only 9" deep.
SC-600 IF/IC In-floor or Ceiling Subwoofer
[velodyne.com]
mwmkravchenko posts on February 11, 2013 09:11
That is correct sir.
fuzz092888 posts on February 11, 2013 09:03
mwmkravchenko;950524
The answer is..... 57

No we have not included a sum of the two drivers. We measured from a point that is equidistant from both drivers. Remember that a groundplane measurement done correctly is the equivalent of a free field as in reflectionless measurement. I know and understand the differences. But it is better to under promise and overachieve than to do the opposite. So we posted untouched figures.
I see, so in room there would be the typical room gain, plus more due to the lack of the comp file. Interesting.