eQ.2 Setup, Measurements, and Usage
System Setup and Testing
Physical setup of the eD eQ.2 is the easy part. Find a suitable location for the units and reroute the direct preamplifier/receiver subwoofer outputs to the eQ.2 inputs. With an additional cable per subwoofer, route the eQ.2 outputs to the subwoofers. That's simple enough.
The first steps after wiring the eQ.2 into the system is to turn it on and calibrate it to set the phase and gain on the device. Run a full range signal through your system to set the phase that produces the maximum bass output with the mains. Next run the pre/pro/receiver calibration test signals to match the gain with the eQ.2 in line with the subs relative to the rest of the system. These steps are best done with a SPL meter, but can be done by ear if one so desires.
To actually make use of the device in any meaningful way will require some additional hardware and/or software. There are three ways this can be done:
With proper equipment such as a Realtime Analyzer (RTA)
With an SPL meter and some graph paper

By ear/guessing
The most effective way will require either a hardware based real time analyzer (RTA), which is expensive, or a computer loaded with a software based RTA and a microphone; very likely less expensive than the hardware RTA assuming a computer is available.
Editorial Note about TrueRTA and Sample Champion RTA Analyzers

There are a number of reasonably priced software packages available for purchase and two programs that I am familiar with are TrueRTA and Sample Champion. TrueRTA is the simpler and cheaper of the two, providing the functionality of hardware RTA without the cost. Sample Champion is a Maximum Length Sequence (MLS) program, similar to the professional MLSSA program. The same results are achievable, but the user has to be familiar with some of the more technical aspects of digital audio measurement, including selecting bit rates, sampling ranges, and data windowing methods, but the more advanced user will also find more functionality available than with TrueRTA. The TrueRTA web site make recommendations for inexpensive test microphones and microphone preamplifiers that can be purchased at many music stores while the Sample Champion site provides equipment sale with bundle discounts when purchased with the software.
A bit more labor intensive and less precise involves an SPL meter, a test signal source such as an audio test CD, and single axis logarithmic graph paper. To utilize this method, set the system to a reasonable volume level on a full band signal, perhaps 80 to 90 dB for a good signal to ambient noise ratio, run through the test signal sweep, and plot SPL for each frequency. The limiting factor is the number of test frequencies available and likely will only show the most egregious problems, with the required interpolation obscuring anything going on in between. For those familiar with the Infinity RABOS system available on some of their subwoofers, the procedure should be familiar, minus the cool plastic setting calibration gage.
Last and definitely least, setting the device by ear, an option that may provide satisfactory results if the room acoustics problems are very obvious and one is a well trained listener, but not likely. What is more likely is that one will tune for bass preference, not accuracy, and can only be considered even remotely accurate and practical for those with perfect pitch.
Now, to actually set the eQ.2 equalizers bands, I obviously chose the first method, having both the programs and the gear available, but no matter how you take measurements, the next steps are the same. Select a suitable location to take measurements, most likely the primary listening location, and set the microphone at ear level at this location. For testing I turned the subsonic filter off, set the phase to 0 degrees, and adjusted the gain to the median setting of zero.
Take an initial measurement without the eQ.2 operational to generate a baseline for determining the best settings. The eQ.2 provides two bands of equalization, one above, one below 50 Hz, so identifying the biggest SPL peak in each frequency range is the basis of setting the device, and this is where the measurements come in.
Measurements
Using Sample Champion, measurements were taken at 16 bit resolution with a 48 kHz sampling frequency. Fast Fourier Transformations were performed at 64K resulting in an effective frequency resolution of 0.73 Hz, which is more refined than even 1/24th octave resolution at the lowest octave; the A0 key on the piano has a fundamental frequency of 27.5 Hz.
All measurements were taken at the primary listening position at approximate ear level and referenced to a simultaneous, independent SPL measurement taken at 1 meter from the subwoofer. For these measurements, the eQ.2 was coupled with the eD A7S-450 subwoofer with the subwoofer's low pass filter and the 25Hz bass boost defeated.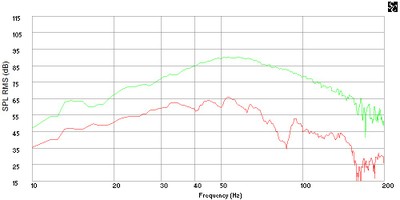 Figure 1: Nearfield vs. In Room Frequency Response, without EQ
Figure 1 shows the nearfield frequency response of the A7S-450 subwoofer measured nearfield at an SPL of 90 dB at 1 meter (green curve) compared to an unequalized in room measurement (red curve) that is then used as the baseline for setting the eQ.2.
Figure 2: Nearfield vs. In Room Frequency Response, Level Matched, without EQ
Figure 2 is the same plot as the previous figure with the in room response adjusted to the peak of the nearfield curve to illustrate differences. Note the somewhat flattened response above 60 Hz and extended bass output below 30 Hz in room compared to the near field response.
Using the baseline measurement, I identified the worst peaks above and below 50Hz; considering the highest peaks near 45 Hz at 64 dB and 55 Hz at 65.5 dB relative to the levels near 34 Hz and 64 Hz at approximately 62 dB, my first attempt at settings:
B1: 45 Hz, 0.3 octave width, and a –2 dB level adjustment
B2: 55 Hz, 0.3 octave width, and a –3 dB level adjustment
To determine the width setting for the eQ.2, observe that both peaks have peaks that are less than 10 Hz wide. Commonly, this setting is described with a parameter called Q that can be determined from dividing the frequency range by the center frequency, but the eQ.2 controls are marked with octave ratios. Knowing that each octave is a doubling of frequency, we can develop the following table based on the center frequencies and one half an octave above and below that center:
| | | | | | | |
| --- | --- | --- | --- | --- | --- | --- |
| Octave Below (Hz) | Center Frequency (Hz) | Octave Above (Hz) | Octave Spread (-1/2, +1/2) (Hz) | 1/3 Octave (-1/6, +1/6) (Hz) | One Octave (-1/2, +1/2) (Hz) | 3 Octaves (-1½, +1½) (Hz) |
| 22.5 | 45 | 90 | -11.25, +22.5DF=33.75 Q=0.75 | 41.25-52.5DF=11.25Q=0.25 | 33.75-67.5DF=33.75Q=0.75 | 11.25-112.5DF=101.25Q=2.25 |
| 27.5 | 55 | 110 | -13.75, +27.5 DF=41.25 Q=0.75 | 50.42-64.17 DF=13.75 Q=0.25 | 41.25-82.5 DF=41.25 Q=0.75 | 13.75-137.5 DF=123.75 Q=2.25 |
Similar information can be developed in this fashion for any center frequency. From this table, two things become evident, the one third octave setting is closest to our needs for this particular situation and that the three octave setting is not practical for use, as it effectively would blanket the entire bass frequency range. At 20 Hz and 30 Hz, it is a 45 Hz and 67.5 Hz spread, respectively, that could be useful, but by 40 Hz it is a 90 Hz frequency spread between 10 Hz to 100 Hz. This Q is the width of an entire typical LFE channel, which would allow one to truncate all of it; the bass that is.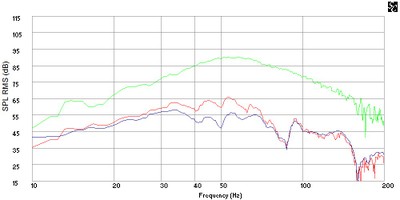 Figure 3: Nearfield vs. In Room Frequency Response, EQ Trial 1
Figure 3 represents my first attempt at making the intended settings (blue curve) relative to the unequalized (red curve) room response. This brings up another observation about usability. The small diameter knobs coupled with wide settings and limited markings makes for imprecise settings working by eye. It can be clearly seen that I overshot the level cut settings on the eQ.2. Also, some bleed over to adjacent frequencies is present due to limitations in the width (Q) setting.
Figure 4: Nearfield vs. In Room Frequency Response, EQ Trial 2
Attempt number two (purple curve) and this time I am too delicate with adjusting the knobs to reduce the level cut at both of the equalizer center frequencies.
Figure 5: Nearfield vs. In Room Frequency Response, EQ Trial 3
Attempt number three (black curve) is closer to getting both level settings to where I want them. The 55 Hz peak is close to flat relative to 34 Hz, but the 45 Hz peak is still a bit low. To get all of this just right will obviously take a bit of fiddling with the knobs, but this will suffice for my purposes of illustrating use of the eQ.2.
Figure 6: Nearfield vs. In Room Frequency Response, EQ Final
The final figure eliminates the first two trials, which more cleanly shows the initial (red curve) and final (black curve) state of in room response at the measurement location.
See also:
theater_lover posts on July 26, 2009 23:22
I think these are fairly clever little boxes, certainly good for the price. I wished it supported two independent channels though.
lsiberian posts on July 23, 2009 15:03
admin;600459
The last several years have seen an increase of the number of options for room equalization at bass frequencies available to consumers. Following up on my A7S-450 review, I was asked to review an external parametric equalizer that Elemental Designs (eD) sells alongside its subwoofers. The eQ.2, can be purchased separately or as a bundle with one of the eD's subwoofers at a slightly reduced price. The eQ.2 represents a usable parametric EQ solution but with some caveats. It is inexpensive and functional, but it is bare bones basic. For someone on a tight budget or the DIY types, the eQ.2 will certainly do the trick provided you take the time to set it up properly as I instruct in this review.



Discuss " Elemental Designs eQ.2 Parametric Equalizer Review" here. Read the article [audioholics.com].
Add this to an RCA line amp and you can use that to drive your subs.
GregBe posts on July 23, 2009 13:25
I bought an eQ.2 to go along with my SVS sub. For me, it was perfect. I had two really big peaks, one at 28hz and one at 63hz. Other than that, my response looked pretty good. Now with those two peaks tamed, my subs sounds terrific.