eQ.2 Design and Construction
Introduction
The last several years have seen an increase of the number of options for room equalization at bass frequencies available to consumers. Options vary widely in type, functionality, ease of use, and cost. From single band parametric analog equalization to full range digital room correction (DRC), separate units to those built into subwoofers and receivers, fully manual to fully automated, and relatively inexpensive to not so inexpensive.
However one goes about it, the intention of equalization is to flatten out frequency response problems brought about by room acoustics, preferably without causing other problems. Fixed band graphic equalizers, popular several decades ago, have since fallen out of vogue and were never very popular with audiophiles who disliked the phase problems inherent in mid and high frequency analog equalization. Modern DRC methods avoid the phase coherency problems with digital manipulation, but good old analog equalization still has a place at the bottom of the frequency spectrum where imaging will not get screwed to fix frequency problems.
Following up on my A7S-450 review, I was asked to review an external parametric equalizer that Elemental Designs (eD, which again, I disown the acronym but will use it for the sake of brevity) sells alongside its subwoofers. The unit, the eQ.2, can be purchased separately or as a bundle with one of eD's subwoofers at a slightly reduced price. At a price of no more than $100, the eQ.2 can provide two bands of bass equalization for a budget. Now let's see what that means to the potential consumer.
Design and Construction
The eQ.2 is a small standalone equalization unit that at approximately 2 ¼" x 9" x 5" is not standard rack width, meaning it will have to sit atop the stack on its little rubber feet, that is unless one owns an even smaller piece. Available only in black, the unit is basic in appearance with a housing that is constructed of light gage steel and is relatively solid for this price range.
The front face of the eQ.2 is predictable adorned with controls. From left to right we have the power indicator LED, a subsonic filter toggle switch with a high pass frequency knob, band one and band two equalizer controls at three knobs apiece, an auto/on toggle switch, a knob for setting phase, and a knob for setting gain.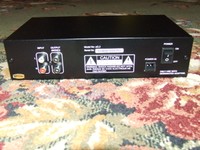 I/O is at the rear of the eQ.2 and features an RCA-type two channel stereo in and an RCA-type two channel monaural out connections. Two go in but only one comes out which allows for combinations of one or two subwoofers in a stereo rig or dual subwoofers in a multi-channel rig and with LFE. Power is controlled with a rocker switch and power input is provided by a three lead detachable power chord from a corded external AC/AC transformer, i.e. a wall wart. Note, I said AC/AC converter; 0.2A at 120 VAC, 60 Hz goes in and 0.25A x 2 at 16.5VAC, 60 Hz comes out.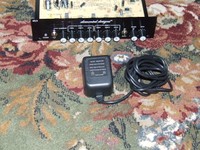 As for the control functionality ranges, the subsonic filter is adjustable from 5 Hz to 30 Hz with a slope of 12 dB/octave, and if used, the setting depends on the frequency extension characteristics of the subwoofer with which the eQ.2 it is mated. It is intended to cut off frequencies that are significantly below the subs roll off point that the sub may still try to reproduce but which can add distortion from staining too far. Phase on the eQ.2 is adjustable from 0 to 180 degrees and should be set in conjunction with the phase settings on the accompanying subwoofer. Really, only one or the other should be used, but the eQ.2 may be the preferable place to set the phase if the sub only has a 0/180 toggle, in which case, set the sub to zero and make the fine-tuned adjustments at the eQ.2. Gain is adjustable from min to max, which is a bit vague without knowing the gain structure the eQ.2 can develop.
The three knobs for each band are for frequency, width/Q, and level with continuously variable settings for each. EQ band one has an adjustable center frequency range from 10 Hz to 50 Hz while band two ranges is from 50 Hz to 100 Hz. Both bands have band width adjustable from 0.3 octaves to 3.0 octaves and level settings of +/–15 dB.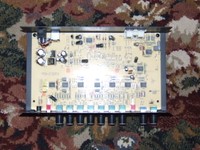 The practical equalizer level range is –15 dB to 0 dB to cut room peaks. Because of the nature of room acoustics and the standing waves that a device like the eQ.2 is intended to correct, positive gain at a bass frequency dip is a sinkhole for power so there really is no need for the 0 dB to +15 dB level range. The standing waves that cause the dips do so by canceling each other out and no amount of power to increase numbers of the same magnitude with opposite sign will stop the result from equaling zero. I suppose one could appropriate either of the bands to function as an ad hoc bass control at a frequency away from negative nodes, but that seems contrary to the purpose of this type of device, and as such, is not recommended.
Two screws, front and back each, hold the single piece top/sides on to the eQ.2. The internals of the unit, once the cover is off, reveal a simple and orderly circuit board bolted to the metal base of the chassis. Capacitors buffer power input and signal connections and a row of IC chips follow the knobs and switches across the front of the eQ.2.
See also:
theater_lover posts on July 26, 2009 23:22
I think these are fairly clever little boxes, certainly good for the price. I wished it supported two independent channels though.
lsiberian posts on July 23, 2009 15:03
admin;600459
The last several years have seen an increase of the number of options for room equalization at bass frequencies available to consumers. Following up on my A7S-450 review, I was asked to review an external parametric equalizer that Elemental Designs (eD) sells alongside its subwoofers. The eQ.2, can be purchased separately or as a bundle with one of the eD's subwoofers at a slightly reduced price. The eQ.2 represents a usable parametric EQ solution but with some caveats. It is inexpensive and functional, but it is bare bones basic. For someone on a tight budget or the DIY types, the eQ.2 will certainly do the trick provided you take the time to set it up properly as I instruct in this review.



Discuss " Elemental Designs eQ.2 Parametric Equalizer Review" here. Read the article [audioholics.com].
Add this to an RCA line amp and you can use that to drive your subs.
GregBe posts on July 23, 2009 13:25
I bought an eQ.2 to go along with my SVS sub. For me, it was perfect. I had two really big peaks, one at 28hz and one at 63hz. Other than that, my response looked pretty good. Now with those two peaks tamed, my subs sounds terrific.