Emotiva X-Ref 12 Subwoofer Review
Summary
Product Name: X-Ref 12 Subwoofer
Manufacturer: Emotiva
Review Date: October 31, 2006 08:25
MSRP: $699
First Impression:

Gotta Have It!

Specifications

XRef-12 Subwoofer


Drivers: (1) 12" long throw woofer with die-cast frame, Butyl rubber surround, 3" vented motor structure, and proprietary para-aramid blended fiber cone
Power Output: 600 watts RMS, 1000 watts peak

Typical In‐Room Frequency Response: 20Hz‐200Hz
Typical In‐Room Output: 115‐118dB SPL
Nominal input sensitivity: Balanced Input: 1V / Unbalanced Input: 500 mv.
Phase Adjustment: 0 to 315 degrees (in 45 degree steps)
Low Pass Crossover: 40-150 Hz (in 1 Hz steps)
Parametric Equalizers: EQ1, EQ2 (independent)

Center Frequency: 25 Hz - 150 Hz (in 1 Hz steps)
Gain: -12 dB to +6 dB (in 1 dB steps)
Q: 0.5 to 5.0 (in 0.1 steps)

Input Voltage: 120 VAC 50/60 Hz or 230 VAC 50/60 Hz auto detecting
Dimensions: Unboxed: 15.625" high x 14.625" wide x 15.5" deep (including 1" high feet)
Weight: Unboxed: 44 lbs
Executive Overview
Hi, I'm Andrew Gash with Audioholics. Man, another subwoofer? Aren't we sick of these yet? (to off-screen) What? I'm fired? OK... After Emotiva had so much success with their Ultra Series of subs, naturally, they decided to step things up a notch. This new X-Ref sub is the official step. It comes in a 10" and 12" version (this is the 12) and the box size is nearly identical to their Ultra 10 and Ultra 12 predecessors. And while they don't differ much on the outside, the insides have undergone a considerable change. Most notably, Emotiva has upgraded the amplifiers in their X-Ref subs. The high-efficiency 600-watt RMS amplifier and high-current-density switch-mode power supply gives the X-Ref 12 more than double the power reserves than its Ultra sub counterpart.
The new X-Ref also uses a new long-throw woofer with a die-cast frame and massive 3-inch vented motor assembly. Considering the X-Ref 12 costs just $699 shipped, it's rare to find a driver of this caliber in this level of product. In fact, most subs at this price give you stamped baskets, weaker drivers and compensate with larger cabinets.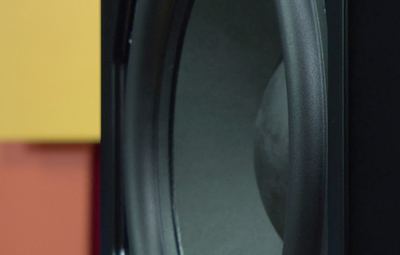 This cabinet is made of 1" thick MDF, with plenty of cross-bracing and extensive internal dampening. Emotiva calls the finish "Studio Black" - we call it "meh". It's your typical lacquer black sub, but it does match all of Emotiva's other speakers perfectly. The X-Ref 12 also comes with aluminum spikes, non-marring rubber feet, and both balanced (XLR) and unbalanced (RCA) inputs.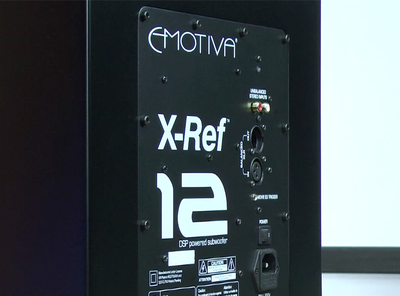 Now, while the Ultra series subs didn't have any DSP capabilities, the X-Ref incorporates a DSP preamplifier and loudspeaker management control system. This provides the end user tools to combat acoustical challenges that speaker placement and room interactions place on subwoofers. Control, setup, and configuration are accomplished using a finicky, but functional, push-to-engage rotary knob, and a backlit LCD display lets you know what you're messing with.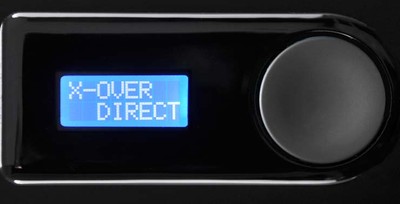 Upon closer look of the VFD interface, it looks quite similar to the system Aperion Audio employed in their Bravus line of subwoofers. It's not uncommon for companies to share common technology interfaces such as displays, connectors, etc, though Emotiva writes its own DSP code specific for their own subs. Regardless, we still encourage users to bypass the internal crossover of their subs in favor of using the more robust bass management scheme their modern Dolby TrueHD / DTS HD A/V receivers offer. Still, the added EQ the Emotiva X-Ref subs offer can be a useful tool in tweaking system performance.
Now for features - the X-Ref 12 wakes up automatically by sensing an input signal and Movie or Music equalization modes can be preset so the sub can be configured differently for each application. Also included are two independent, fully configurable parametric EQs (with frequency, Q, and boost/cut controls) so you can perfectly tune the X-Ref 12 to your room and the rest of your system. Emotiva's DSP digitally controls settings like the crossover point and equalizer parameters to ensure accuracy and repeatability.
Just like with the Ultra series of subs, X-Ref also includes some very innovative behind-the-scenes features, such as sophisticated dynamics processing and their soft limiting circuitry to protect the X-Ref from dangerous overloads. All of this is done in the digital domain opposed to analog domain of the Ultra series subs.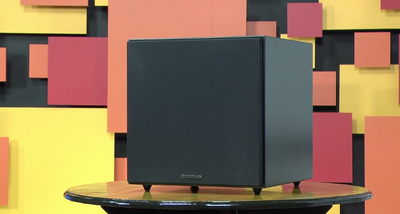 But how does it sound? Freaking. Awesome. We cranked up several of our favorites, including Lord of the Rings: Fellowship of the Ring and The Incredibles. On the former, we focused on the opening prologue where the defeat of Sauron causes a pronounced bass sweep that, at reference levels, shook our room to its foundations. With The Incredibles, we queued up the scene where the rocket blasts out of the tunnel. This sequence is known to have powerful bass that goes down to under 10Hz. The Emotiva cranked out the low frequency like the rocket was attempting to life off from my roof. Dishes rattled, neighbors called, my couch vibrated 6 inches to the left. Good times...
Tabulated below is a comparison of both X-Ref subs and the remaining Ultra 12 sub which Emotiva still sells at discount.
| | | | |
| --- | --- | --- | --- |
| Model | X-Ref 12 | X-Ref 10 | Ultra 12 |
| Driver | 12" with 3" vent & para-aramid cone | 10" with 2" vent & para-aramid cone | 12" with 3" vent & para-aramid cone |
| Power | 600 watts rms 1000 watts peak | 300 watts rms 500 watts peak | 300 watts rms 500 watts peak |
| SPL (in-room) | 115-118 dB | 112-115dB | 110-113dB |
| DSP Controlled | Yes | Yes | No |
| Dimensions (H x W x D) | 15.6" x 14.6" x 15.5" | 13.6" x 12.6" x 13.6" | 14.5" x 14.5" x 15.25" |
| Weight | 44 lbs | 33 lbs | 38 lbs |
| Price | $699 | $499 | $499 |
SO, if you can afford this sub, you're going to have a hard time doing better for the price. On top of the inherent value and performance, Emotiva also offers a five-year transferable warranty and 30-day no-hassle return policy as well as FREE shipping. If you've got the funds, this isn't even a hard decision... try it out.
Want to help us out? Hit that 'Like' button in YouTube and subscribe to our channel. And leave us a comment, unless you didn't like the video - then I dunno... go kick a puppy. No... you better just get it out online, you'll feel better... and, you know, not get arrested. Also, visit our Facebook page at Facebook.com/audioholics or follow us at Twitter @AudioholicsLive.
For more information, visit Emotiva Audio
See also:
djreef posts on April 15, 2012 00:12
This was a good review of the sub. What difference is it if it is made in China. As long as it is built to the standards and specs of Emotiva's designers then the finished product can come from either the USA, China, or someplace else.

It looks like a solid unit and at $700 it is a good price for what is out there in retail land.


My entire system was made in China. Dare I say, it's the best 2-channel rig I've ever owned.

DJ
beyond 1000 posts on February 15, 2012 11:16
This was a good review of the sub. What difference is it if it is made in China. As long as it is built to the standards and specs of Emotiva's designers then the finished product can come from either the USA, China, or someplace else.

It looks like a solid unit and at $700 it is a good price for what is out there in retail land.
Clint DeBoer posts on February 14, 2012 21:18
BoredSysAdmin posts on October 11, 2011 14:00
Pyrrho posts on August 31, 2011 12:08
admin;828089
... In fact, on paper, the X-Ref 10 appears to outgun the bigger Ultra 12 subwoofer. ...
I think quite a few people need this sort of information, as they often assume that bigger (both in driver and in cabinet size) means better. The smaller one also weighs less.
So, if the measurements support what is on paper on these, the people who believe that larger is better and heavier is better really should pay attention and learn that actual performance is the only way to properly judge actual performance. Size and weight are not proof of anything about performance.
Of course, they are factors in performance, but they are far from the only factors, and therefore cannot be used alone to properly judge performance.