Elemental Designs A7-700 Subwoofer First Look
Summary
Product Name: A7-700
Manufacturer: Elemental Designs
Review Date: January 26, 2010 08:45
MSRP: $1800
First Impression:

Pretty Cool

Specifications

Model Name : A7-700 Home Subwoofer
Amplifier Power : 1300w RMS
Subwoofer Driver Size : Dual eD 15" Subwoofer - Ov.2 Platform
Cabinet Type : Vented / Front Firing
Room Tuning : 20Hz FR - (17-100Hz +/-3dB @110dB In Room)
In Room Avg SPL : 127.71 dB (10-100Hz Max Output Avg)
Shipping Weight : 250lbs
Executive Overview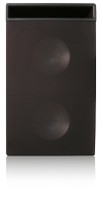 We've talked before about the importance of floorspace. In many a home theater, there is plenty of vertical space, but floorspace is at a premium. Too many things demand it. You've got your AV rack and your couch. There could be ottomans or a coffee table. In some cases there are speakers (or at least speaker stands) and component cabinets. Displays have to sit somewhere and don't forget you actually have to move through the room.
When people (usually guys) get into home theater, one of the biggest (in terms of money and space) purchases they make is often a subwoofer. A sub can quickly suck up floorspace. If you are on a budget, this is doubly true. Subs can either be large and (generally) inexpensive, or small and expensive. If you find a large, expensive sub, you're probably looking at a very pretty box, extreme performance, or a combination of the two. If you find an inexpensive but small sub... well... it probably plays all of one note and probably is mated with a few computer speakers.
Elemental Designs has been looking to upgrade your subwoofer without taking up too much floorspace. They've taken an unusual approach. Rather than shrinking the size of the sub, they are starting to make them taller. While this may be counterintuitive to some, it makes a lot of sense to us. Many people already have floorstanding speakers in their room, this is just one more box with a grill on the front (albeit, generally a bit larger than most floorstanding speakers).
The A7-700 is the newest in the line of Elemental Design's (eD's) tall-boy subs. The old version was a downfiring sub that was extremely deep (or wide depending on how you looked at it). This one stands a towering 45" tall while taking only a bit over 25" square on the floor (it's 25" by 26..5"). While that is still quite a bit of floorspace, it is not as bad as if you had laid it down. Also you need to look at what you get in that 26" square.
First, you are looking at dual 15" drivers, a forward-facing, front-firing, slot-style port, and a 1300 watt, B&O powered ICE amp. Build quality is of the highest order with Elemental Designs employing EFS (Environmentally Friendly Substrate - a environmentally friendly version of MDF that is actually more inert) on the order of 2" thick on the front baffle with 1" thickness everywhere else. The sub weighs a whopping 250lbs which alone attests to the quality of the materials. The finish is a textured black which, while uninspiring, should blend well in a dark room.
Conclusion
The A7-700 isn't an entry level sub. At 250 lbs, just getting it to enter your house will probably require a few friends, some pizza, and a six-pack. The aesthetics probably aren't going to wow the spouse (though eD does have finish upgrade options). The biggest barrier, of course, is going to be price. While eD claims the A7-700 will reach down to 18Hz, the problem is reaching into your wallet for $1,800. While the vertical orientation will save on floorspace, and we think that is a great design idea, it remains to be seen if the price/aesthetics combination will entice buyers. We're sure, however, that the bass-heads out there are chomping at the bit to get their hands on the new A7-700.
For more information, please visit www.edesignaudio.com.