Boston 2.4GHz Wireless-Ready Subs First Look
Summary
Product Name:

CPS 8Wi, CPS 10Wi, CPS 12Wi

Manufacturer:

Boston

Review Date:

October 27, 2009 22:00

MSRP: $399, $499, and $599 respectively
First Impression:

Mildly Interesting

Specifications

CPS 8Wi

8-inch DCD Woofer
350-watts peak power, 200-watts RMS
Play wirelessly with the optional 2.4GHz WT50 Wireless Transmitter
Superior bass from a high-output front-firing, front-ported design
BassTrac® circuitry provides tight, distortion-free bass at all output levels
Deep Channel® Design (DCD) woofers produce more bass from less amplifier power

CPS 10Wi

10-inch DCD Woofer
650-watts peak power, 300-watts RMS
Play wirelessly with the optional 2.4GHz WT50 Wireless Transmitter
Get superior bass from a high-output front-firing, front-ported design
BassTrac® circuitry provides tight, distortion-free bass at all output levels

CPS 12Wi

12-inch DCD Woofer
850-watts peak power, 400-watts RMS
Play wirelessly with the optional 2.4GHz WT50 Wireless Transmitter
Get superior bass from a high-output front-firing, front-ported design
BassTrac® circuitry provides tight, distortion-free bass at all output levels
Executive Overview
There are fewer words in the Home Theater lexicon that grabs people's attention these days like "wireless." High Def might be a contender but right now, if you can claim in some way that something is wireless, people immediately take notice. While real enthusiasts all realize that nothing in AV can truly be wireless (until they figure out some way to provide wireless power), a subwoofer is one of the best things to get the wireless treatment.
Wireless rear speakers sound sexy in theory until you realize that you'll still need to run a power cord down your wall. Sure, it's better than running speaker cable across the room (some might say) but it's still a cable and still unsightly. It certainly won't score any points with the designer of the house. Subwoofers, on the other hand, are designed and expected to sit on the floor. There is usually little problem with running power to them. The biggest complaint has always been that they have to have a cable to the receiver and with most Home Theater in a Box setups, that includes the DVD player. This pretty much relegates the sub to the front of the room where it is often shoved in the corner behind the TV to boom and bleat out it's less than stellar "bass module" sound.
Wireless subs are not new to Boston, they released a model in the Horizon line back in 2007, but it was wireless only and has gotten lackluster reviews (it's been discontinued). The new subs are in the Classic line and have 8, 10, and 12" drivers (the CPS 8Wi, CPS 10Wi, CPS 12Wi respectively). While information on the Boston website is a bit sketchy (they list the CPS 12Wi as having a 10" driver in the specs for instance), the subs now have both a wired and wireless option. The transmitter, however, is now an add-on with a cost of $79.99. While the prices of the subs aren't too outrageous ($399, $499, and $599 respectively), consumers might be expecting the transmitter to be included.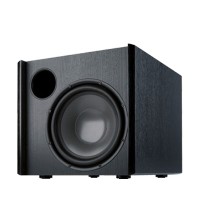 The subs are all front firing with front mounted ports. This should make placement a bit easier as rear ported speakers generally should be placed a bit away from walls. The subs are all vinyl wrapped and can come in a Black Walnut or Cherry finish. The cabinets are said to be heavily reinforced and deeper than they are wide or tall. The smallest, the CPS 8Wi, comes in at about a foot tall/wide and just over 15" deep and 26lbs with the largest CPS 12Wi at a more boxy 16" x 16.5" x17" and 48.5lbs.
The real question, however, is how well the wireless will work. Consumers have claimed that the transmitter has interfered with other devices in the home and home theater as well as spotty performance and audio cutouts. Boston has obviously learned from their past mistakes and is providing the wireless technology alongside the standard hookups. We've experienced both of the these phenomenon with other 2.4GHz devices in the past so it is certainly feasible. The real question, however, is whether or not these problems are due to the transmitter/sub or if it is placement.
Lets be honest, the only reason most people are looking at a wireless sub is to appease the spouse. True bass-heads will find a way to run a cable. How many setups have you encountered where the sub is not just placed poorly, it is practically criminal? We've seen them in cabinets, under couches, behind bookshelves, and even on TVs. Wireless, for many consumers, is just a way to move the sub from a terrible placement, to a worse placement preferably in a closet where it won't mess up the fung shui. While we can't discount the complaints about the previous Boston wireless sub out of hand, at least some of them much have been because of unrealistic expectations of what wireless can do (What do you mean I can't place the sub 200ft away through two cinder block walls?!? It's WIRELESS!?!).
Conclusion
We love wireless - we really do. When it works, it's great. We'd definitely be interested to see how one of these subs would preform in one of our reference systems where we know placement would be reasonable and there is plenty of other gear for it to interfere with. Consumers surely will be interested in this wireless offering as it has a more traditional look than the discontinued plastic-enclosure "I look like an outdoor speaker" previous model from Boston. But we're betting they are going to want the transmitter included in the purchase price. Look for package deals soon.
The CPS 10Wi model is available, and the other two are due later this month. For more information, please visit www.bostonacoustics.com.