EP500 Design Continued
The crossover settings range from Bypass (though not a true bypass since a steep LPF above 100Hz is incorporated), to 40Hz-100Hz in 20Hz increments. This may seem less flexible than a variable crossover typically found on subwoofers, but considering the LPF of the EP500 is done in the digital domain with an almost brickwall response, I consider this both flexible enough and very innovative to boot.
Lastly, there is a very cool "Trim" feature on this sub, which serves like a subwoofer EQ to tune the frequency response of the sub to your room. Options include: Flat, Half, Full, Load and Remote. Flat does what it implies and provides the flattest frequency response for the sub while Half and Full provide an extra boost above 33Hz (which I found useful in combating a room null where I chose to locate the subwoofer). The Load setting is meant for direct access to the subs DSP and should not be used during normal operation. The Remote setting is a feature to be used with future Axiom electronics (boy I can't wait)!
1 Meter In Room Response (ground plane measurement technique)

As you can see the green trace is the "Flat" setting, the yellow trace is the "Half" setting (applying about 6dB of boost centered at 44Hz), and the purple trace is the "Full" setting (applying about 10dB of boost centered at 44Hz).
But there is more to this sub than its phenomenal amplifier. The slightly more manageable box size of the EP500 measures in at 20 x 15 x 20 inches and plays down flat to 20Hz +/- 1.5dB with about 2-3dB less output than its bigger EP600 sibling. This is quite an impressive feat for a subwoofer of this box size and single 12" driver compliment. To get an understanding as to how this is done, a closer look into the mechanics of the driver, enclosure, and DSP processing is in order.
The Driver
This is one heavy duty high-excursion subwoofer driver with a huge motor structure, 3" diameter dual voice coil, bumped back plate, and cast frame (no Chinese stamped woofers here). This is the type of driver typically reserved for high output car audio systems, except the cone stiffness is much higher than many of those designs, enabling a higher degree of linearity and improved transient response. This is the same driver found on the EP600 (the refrigerator sized flagship subwoofer from Axiom). Thanks to the benefits of lower cost with high volume, Axiom was able to incorporate this same driver design in all of the 12" subwoofer systems including the EP350. I was mildly disappointed to discover the driver was not magnetically shielded. Though, it's understandable since it would add significant weight and size to this already massive driver. My advice is to place this subwoofer away from CRT based displays and don't sit to closely to this monster if you or grandma sports a pace maker :-)
The Cabinet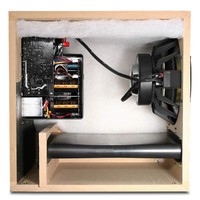 The EP500 cabinet is constructed from ¾ inch thick MDF with a cross bracing adjoining three walls. I would have preferred to see an additional cross sectional brace in the middle of the cabinet adjoining all four walls, and incorporate kicker bracing at each mitered corner to add additional support and further reduce resonance and the mechanical noise floor. However, there are often tradeoffs in adding more bracing such as using up more cabinet volume, thus designers must determine what works best for a particular application with the least amount of compromises. Its slot-loaded porting system measures almost 12 inches wide by 2 inches in height and extends over 19 inches into the cabinet. The advantages of having such a large port opening are to minimize port noise and chuffing during high output. It also enables a low port tuning to take advantage of the driver's extension and high-output capabilities.
The port system of the EP500 in conjunction with the DSP processing is how the EP500 works its magic of providing unprecedented extension, slam, and output levels. Let's take a closer look at the porting system to gain a better understanding.