EP500 Design
If you haven't heard of Axiom Audio by now, you're probably not in touch with the home theater scene as much as you think or you don't spend a lot of time online researching products (perhaps a little of both).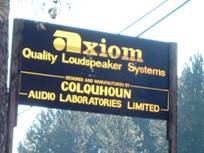 Axiom Audio's loudspeaker design philosophies adhere to their rigid scientific measurement standards and the psychoacoustical testing protocols of the National Research Council (NRC). Axiom's founder, Ian Colquhoun, is a firm believer of the principles established by the NRC and is dedicated to adhering to these principles in all Axiom loudspeaker products.
The goal of the NRC Research, is to have manufacturers adhere to loudspeaker design practices that measure with a flat on-axis response and with an even but constantly declining (or tilting) polar response. The polar response curve is the summed and weighted average of many curves taken from either a 180 degree or 360 degree family of curves which are usually either at 10 degree or 15 degree increments through the entire measurement range.
Last fall when Axiom Audio invited us all the way to Canada to take a factory tour, I had no idea they had a couple aces in their sleeve with their new DSP driven EP500 and EP600 subwoofers. We walked away from the tour with a very positive first look into the capabilities of these new super subs. In fact, based on the performance measurements we conducted and our extensive listening tests, we awarded the EP500 our 2004 Product of the Year for the subwoofer
category. Despite our very positive experiences with these subwoofers during our tour, being the Audioholics we are, we thirsted to learn how they would perform in the most critical of listening environments – our own sound labs. With that, we requested review samples of the EP600 (review forthcoming) and EP500 (my personal favorite, mostly due to its more compact size). These subs dazzled us at the Colquhoun labs, but did they do the same in our own?
The Design
The EP500 is unlike any other subwoofer we have encountered. The amplifier design execution is nothing short of brilliant.
The Amplifier
Axiom's new digital subwoofer amp is designed from the ground up by industry veteran Tom Cumberland. Unlike most digital amplifiers, this one features an analog power supply to ensure plenty of headroom for large dynamic peaks. The EP500 gets a 500 watt version and the EP600 gets a 600 watt version
Amazingly, due to the high efficiency of this design (> 90%) I was able to touch the heat sink directly coupled to the output devices during operation without burning the skin off my finger. To get this much power out of a conventional amplifier would require nearly double the power supplied by the wall outlet which approaches the limits of most 15 amp household circuits. This is especially true when other devices are also attached to the same circuit simultaneously. The secret behind this amp is in its use of Pulse Width Modulation (PWM) technology.
Editorial Note on Class D (PWM) Amplifiers
Class D amplifiers utilize a technique called pulse width modulation which is sometimes combined with pulse frequency modulation. The input audio signal is converted to a sequence of digital pulses whose width at any time is proportional to the present amplitude of the signal. The frequency of the pulses is typically 30 or more times the highest frequency of interest of the audio signal. Unfortunately the byproduct of the output of such an amplifier contains unwanted harmonics that must be removed by a passive analog filter. The output of such amplifiers usually work best with constant impedance crossovers since they can react a bit unpredictably with highly reactive speaker loads which is why these amplifiers are best suited for subwoofer applications or specifically designed amplifier and speaker packages.

The main advantages of a class D amplifier are efficiency and space savings. Because the output pulses have a fixed amplitude, the switching elements (usually MOSFETs) are switched either on or off, rather than operated in linear mode like conventional Class A/B designs. This means that very little continuous power is dissipated by the transistors except during the very short intervals of on and off states. The wasted power is low because the instantaneous power dissipated in the transistor is the product of current and voltage, both of which are almost always close to zero.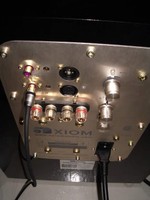 The back panel of the EP500 is a fully armed arsenal of connectivity options including line level (unbalanced and balanced) inputs and outputs, speaker level inputs and even a USB port for future upgrade or connectivity options with Axiom electronics (coming soon) or to connect their included mini flashlight which I found useful for poking around in my moderately dark room while making final adjustments. I was mildly disappointed that the EP500 only comes with a 0/180 degree phase option, as opposed to variable phase, but any good processor such the Denon AVR-5805 should allow for independent variable delay for up to three subwoofers. For those with so-called high end processors that don't offer this feature, you may find yourself having to tweak the placement of the sub, or use the subwoofer's crossover in concert with the processor's in order to compensate.
Editorial Note on Subwoofer Calibration and Placement
For more information on subwoofer placement and calibration tips please check out the following articles:

Subwoofer Calibration – The Place for Bass Part 1
The EP500 comes with single RCA and Balanced line level connections. This is great for receivers/processors with a dedicated subwoofer output. However, if you plan on using this subwoofer in a music only system and your upstream component only has stereo line level outputs, I recommend hooking up this sub speaker level in parallel with your main speakers.

Editorial Note on Connecting Line Level to Single Input Subwoofers
Simply connecting a Y-splitter to the stereo line level outputs of your preamp and then connecting to the sub in not advised since it does not provide a buffered or isolated connection path for your preamp and you risk compromising channel to channel isolation which will adversely affect stereo imaging. The simple solution in this case is to use the speaker level connections in parallel to your main channels. If your preamp has an "A" and "B" speaker selector, make sure they are wired in parallel before using the "B" channel for the subwoofer. Otherwise hook up the speakers and subwoofer to "A". You can tell if your preamp wires "A" and "B" in parallel by simply activating both of them simultaneously without anything connected to "B". If the sound disappears, then it's safe to assume "A" and "B" are connected in series. If the sound persists, it's a parallel connection, use "B' for the subwoofer and "A" for the speakers.