B&W ASW 610XP Subwoofer Introduction
B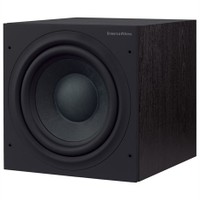 owers & Wilkins, otherwise widely known by the shortened version B&W, was founded in 1966 in Sussex England in the back of an electronics shop and just recently celebrated its 45th year of operation. Known primarily for producing fine floorstanding speakers utilizing many innovative developments such as: Matrix bracing, modular enclosures, diamond tweeters, kevlar driver cones and the statement Nautilus loudspeaker, B&W has steadily developed over the past 45 years into what is now a loudspeaker manufacturer with global reach. Their product range has expanded into markets as varied as: OEM automotive, recording studios, pc audio, headphones and Ipod docking stations. The product that we will look at today is the top of the line subwoofer from their 600 series, the ASW 610XP, which is a sealed system utilizing a 10" driver and a built in 500 watt class D amplifier.
Unpacking and Initial Thoughts
When the ASW 610XP arrived I immediately noted how small and light the box was. Opening the box and starting to unpack revealed well thought out and implemented packaging with thick protections at the top, bottom and also corners of the sub. Contained in the box is: The subwoofer, grill, owners manual, warranty card, power cord, and an accessory pack containing a choice of either spikes or white plastic feet, both of which thread into the bottom of the enclosure.
The ASW 610XP is tiny! At 12.8"x12.8"x14.8" it occupies barely 1.4 cubic feet of volume in a room and weighs a mere 34lbs. The ASW 610XP takes the title of smallest and lightest subwoofer I have ever tested away from the Klipsch SW-311 that was reviewed here a short time ago. The finish is the first of its kind that I have seen on a speaker. It is a dark gray color which is called matte black by B&W. It has an almost rubbery or tacky texture to it. Sort of like the rubber that you might encounter on some iPod or cell phone cases. It is soft to the touch and creates a lot of traction or surface friction. I really like the finish but the one thing that I noted about it is that any moisture will leave visible marks on the finish that do not just wipe off. Even having some oil on the skin of your hands when you move the sub will produce this. You might think "Why would I be touching it or moving it more than once or twice?", or that you don't plan to sit drinks on it and that is probably true but it was something that I noted. Either way it is a different finish from the usual. This is one sub that will be very easy to find a place for or move when needed and it easily ace's the test for spousal acceptance factor.
Design Overview
B&W's ASW 610X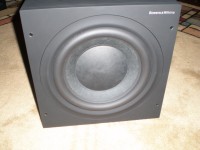 P is a sealed design with a 10" forward firing driver and a 500 watt rated class D amplifier. There is internal EQ used to extend the deep bass response of the subwoofer and a couple of different presets available to tailor the response to suit the room or the listener preference. The plate amplifier has RCA type unbalanced connections as well as speaker level connections. There is also a 12v trigger input. There is no option to send a signal from the ASW 610XP further down the line to other equipment.
After popping off the trim ring, which covers the frame and mounting screws for the 10" driver employed in the ASW 610XP, so that it could be removed from the cabinet, I could see that it is a rather high quality unit. B&W lists the cone as a Kevlar, paper pulp and resin mixture. The surround is a rubber half roll and the frame is a very open, six spoke, cast aluminum design with an oddly shaped mounting flange. The driver makes use of 2 generously sized spiders separated by a plastic spacer. The cone also has venting underneath of the dust cap. The motor utilizes a single roughly 6" diameter, 1" thick ferrite magnet sandwiched between the top plate and the back plate. The back plate is moderately bumped to provide voice coil clearance and features a large 2" diameter pole vent with 3 smaller vents which are probably for the gap. The voice coil appears to be a 3" nominal diameter and the leads are sewn into the top spider. This unit exhibits very nice parts quality and attention to design.
The amplifier for the ASW 610XP is rated at 500 watts and is listed as class D. It occupies virtually the entire back panel of the enclosure and has controls for most of the functions found on a typical powered subwoofer: Phase, gain, low pass, auto/on/standby, etc…Plus a few extras, namely the switches to control the EQ contour and extension settings. When I removed the amplifier from the enclosure I noted that the amplifier has a sealed chassis and also has its own sub-enclosure within the main enclosure. I did not take the extra step of removing the chassis cover from the amplifier to get internal pictures of the amplifier components and circuit layout. During the review process and measurements session I would occasionally check the amplifier to see how hot it was getting and it never seemed to get much more than warm to the touch throughout.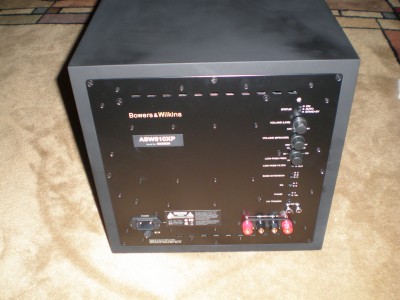 Construction of the ASW 610XP's enclosure appears to be ¾" MDF. There is a large window brace in the center of the enclosure that appears to double as a brace for the motor of the driver and also a full panel further back in the cabinet to separate a chamber for the amplifier. There is dampening foam on top, bottom and both side walls internally. There is also a large chunk of poly fill directly behind the driver. All of this combined with the very small enclosure panel sizes results in a very inert and dead enclosure. The driver and amplifier are both flush mounted. The driver has a trim ring which snaps in over top of the mounting flange. Overall parts quality, build quality and attention to detail are very high.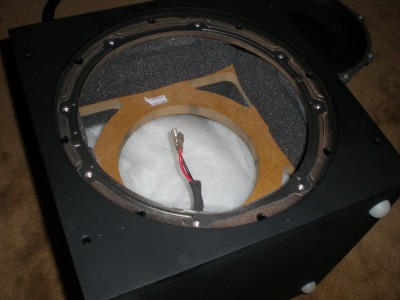 See also:
gene posts on October 21, 2011 14:03
kevon27;837082
This just shows sometimes price does not match performance. $1200 bucks seems to be for the B&W branding.. But hey, wise sub shoppers will by pass this and seek better performing subs at more attractive prices
It's interesting to me that this sub has about the exact same output capabilities of the Emotiva Ultra Sub 12. B&W seemed to really eek out a lot of performance out of a small enclosure with a 10" driver, but it certainly doesn't come cheap.
kevon27 posts on October 21, 2011 14:00
This just shows sometimes price does not match performance. $1200 bucks seems to be for the B&W branding.. But hey, wise sub shoppers will by pass this and seek better performing subs at more attractive prices
smurphy522 posts on October 21, 2011 07:45
A very "revealing" review - typical of this site. Not typical of past B&W product reviews from other sources (i.e. print publications).

Any chance for a review of their flagship DB1?
allargon posts on October 20, 2011 21:47
The specs (and price) are similar to the Dayton Titanic MKIII 15. However, I bet the B&W is more musical than the Dayton.

For that $1k though, I'd probably skip both the B&W and the Dayton (I spent way less on my Dayton.) and audition the Hsu ULS-15 instead. (15Hz for a sealed sub!)
nickboros posts on October 20, 2011 15:30
It is good to see an honest review of a sub such as this. In most other print magazines this sub would be reviewed as part of a 5.1 system I'm sure that the B&W speaker system would come highly recommended. But, for $1200 you can get much more of a sub for your money, even if the small size is a requirement. Those same print magazines, I've seen review $3000 to $4000 subs that don't have the output and extension of say the SVS Ultra 13 and again the reviewer may highly recommend it as part of a 5.1 speaker system.