Yamaha YSP-2200 Digital Sound Projector Review
Summary
Product Name:

YSP-2200 Digital Sound Projector

Manufacturer:

Yamaha

Review Date:

June 10, 2012 18:15

MSRP: $999.95
First Impression:

Pretty Cool

Specifications

Total power: 2W x 16 beam drivers with a 100W input power capacity subwoofer
Output Channel: 7.1-channel
Power Consumption: 55 W
Standby Power: 0.5 - 4W
Beam Drivers: 1-1/8" x 16 beam drivers
Subwoofer: 4" x 2 bass-reflex
Dimensions (soundbar): 37 1⁄8" x 2 3⁄4" – 3 1⁄8" x 5 3⁄4"
Dimensions (sub): 17 1⁄8" x 5 3⁄8" x 13 3⁄4"
Weight: 9.5 lbs. (soundbar), 13.2 lbs. (sub)
HDMI: 3 in / 1 out
Digital Optical: 2 in
Digital Coaxial: 1 in
Analog Audio: 1 in
Composite Video: 1 out
HDMI : 1.4a
Executive Overview
Well, we're not new to digital sound projectors, but maybe you are so here's a quick - and I mean quick - summary. A traditional sound bar has several speakers that simply replace the speakers on your TV and give you a bit better sound quality. Well, given just how bad TV speakers are getting, they give you MUCH better sound quality. Still, if they do any simulated surround sound it's merely phase-induced and not very sophisticated. Sometimes it even kinda ruins the sound. Yamaha's Digital Sound Projectors, on the other hand, use any number of tiny speakers that work in conjunction with a very sophisticated algorithm to literally place 5 virtual speakers in your room. That means that, unlike a traditional soundbar, you can "steer" the beams so that your surround speakers are exactly where you want them to be.
Of course, with the YSP-2200 it uses 16 tiny speakers that are aligned across the front. The system itself is only 3-1/8" high and it has removable and height-adjustable feet so it can have a really low profile as it sits in front of your tabletop flat panel TV. The included subwoofer is meant to hide nearly as well and it can be mounted vertically or horizontally. Aside from that it has many of the same features you'd expect to see in a traditional sound bar - three HDMI inputs and one output, 2 digital optical inputs, 1 TOSlink digital input, and an analogue stereo input. With the HDMI inputs, the YSP-2200 can even decode the high resolution audio formats up to 7.1. There's even a dock port for adding optional YID-W10 wireless iPod transmitter, YDS-12 iPod dock or YBA-10 bluetooth receiver.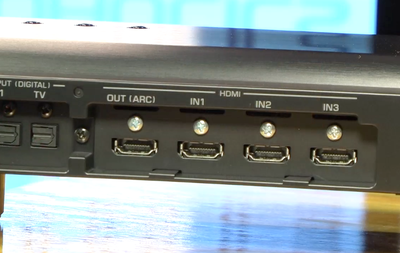 The 2200 can all be setup automatically with an included microphone and a single button press on the on-screen menu. You can also see the menu, input and status on the front LCD panel. To run setup, you just plug in the mic, clear the room and Yamaha does the rest. When you're done, you've got a virtual 5.1 system that will actually decode real Dolby Digital and even allow you to apply Dolby Pro Logic II and DTS Neo surround to 2-channel audio sources. Well, sort of. Chances are that if your room is somewhat rectangular you're all done, but if you have a more complex or open layout, you can then manually dial in the surround using the Beam Adjustment feature of the Setup Menu. The 2200 has, as we mentioned, an on-screen menu that is pretty basic, and only operates from the single composite video output - HDMI doesn't support the OSD. Using the menu you can adjust the angle, beam length and even the focal length. You can also adjust the image location, which has to do with the virtual position of the left and right speakers. This is handy for when you need to widen or readjust the front soundstage, or the distance between the perceived left and right speakers.
We ran auto setup and then dialed everything in until we could hear, quite distinctly in fact, our 5.1 system. We then verified the surround sound experience by feeding the YSP-2200 a few select scenes, including the podracing chapters from Star Wars Episode I: The Phantom Menace and the opening scenes from Saving Private Ryan. In both movies, it was incredible to actually hear surround effects that were so pronounced. We kept remembering, there are no actual speakers behind us, yet podracers, ricochets and explosions came seemingly out of the walls. The only thing that we felt was lacking was the subwoofer which, unfortunately, is powered by the YSP-2200. While we liked the reduced footprint of the included sub, for those who want some serious slam, we recommend an upgrade. Any sub that accepts speaker-level inputs will work well.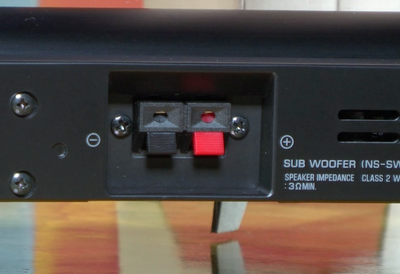 So, what's the verdict. Well, the YSP-2200 is one of the better sounding TV speaker replacements you can get. Sweeten up the bottom end with a full-size sub and you've got a discrete solution that's... well, discrete... Even though individual speakers are almost always better in terms of sound quality, the YSP-2200 hits a definite niche for the market that has to go the aesthetic route but wants a decent surround experience in the bargain. You can find sound bars for less, even ones with wireless subwoofers, but they don't do surround sound - not as well as this. If you're in the market for a slim under-TV speaker, you owe it to yourself to check out the YSP-2200.
If you loved this video... well, there's something wrong with you... But if you liked this video then help us bring you more just like it. Hit that 'Like' button in YouTube and... AND... Subscribe to our channel. Also 'Like' us at Facebook.com/audioholics or Follow us on Twitter @AudioholicsLive.