Wharfedale DX-1 HTiB Preview
Summary
Product Name:

DX-1 HTiB

Manufacturer:

Wharfedale

Review Date:

November 23, 2011 16:45

MSRP: $799
First Impression:

Pretty Cool

Specifications

Satellite

Description/Format 2-way closed-box system/stand mounting
Drive Units
1 x 3/4"(19mm) high frequency silk dome
1 x 3"(75mm) woven PP bass cone
Frequency Response 120Hz – 20kHz ±3dB
Sensitivity (1W@1M) 84dB
A/V shielded no
Crossover Frequency 3.6kHz
Nominal Impedance 4ohm
Recommended Amp (RMS) 20 - 80W
Dimensions: H x W x D (mm)
(Height including spikes in inches) 7.6" H x 4.9" W x 4.9" D (grille included)
Net weight 1.8kg /pcs
Accessories rubber feet

Centre

Description/Format 2-way Aperiodic system/centre channel
Drive Units
1 x 3/4"(19mm) high frequency silk dome
2 x 3"(75mm) woven PP bass cone
Frequency Response 80Hz – 20kHz ±3dB
Sensitivity (1W@1M) 84dB
A/V shielded no
Crossover Frequency 3.6kHz
Nominal Impedance 4ohm
Recommended Amp (RMS) 30 - 100W
Dimensions: H x W x D (mm)
(Height including spikes in inches) 4.9" H x 11.7" W x 4.9" D (grille included)
Net weight 2.5kg /pcs
Accessories rubber feet

Subwoofer

Description/Format Active reflex-box subwoofer system
Drive Units 1 x (8")200mm cone long-throw
Frequency Response 40 - 120Hz ±3dB
Amplifier Power Output 150W
Line Input Sensitivity 200mv for 75W
Crossover Range 30 - 150Hz
Inputs
Stereo Line In (2 x RCA Phono)
Mono (LFE) Line In (RCA Phono)
Stereo Speaker Level In
Input Impedance
Line In:10k
LFE:5k
Speaker Level In:1k
Signal-to-noise ratio (S/N) ≥75dB
Avg. Max Output @1m 110dB
Features Phase inversion
Dimensions: H x W x D (inches) 13.4 (with feet) 11.4 x 12.8

Net weight 8.6kg
Accessories IEC power cord, Feet
Executive Overview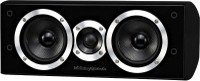 Home theater in a box (HTiB) systems aren't the most glamorous products to cover. Serious Audioholics wouldn't think of letting one of these systems cross their threshold without some sort of catastrophic reason. Usually, because it was ferreted in inside of an unmarked cardboard box. Then it takes an old priest and a young priest to make the home clean again.
But, it is a good idea to have, in your back pocket, a few easy recommendations. What we look for in recommendations for friends is price, performance, and name recognition. We're most concerned about the middle one while our friends, the ones looking for the recommendation, are most concerned with how much it costs and whether or not they've ever heard of the brand before.
Wharfedale is name that is well known in audio circles. While your neophyte friend might not have heard of them, it won't take long on Google to figure out that they are a respected brand. Their new DX-1 has been released overseas for a while now so there is plenty of information on the set for them to research. The DX-1 features four identical satellites, a larger center, and a standalone subwoofer.
One thing we like to see in a HTiB system is a larger center. Since the vast majority of duties HTiB's perform is movies/TV, dialogue is of vital importance. The center includes two 3" polypropylene woofers and a .75" silk dome tweeter (the satellites have only a single woofer). The satellites are all wall mountable via keyhole mounts and have a sealed design for easy placement. They are small enough at 7.6" H x 4.9" W x 4.9" D to fit just about anywhere. The center is designed to sit on a shelf as there is no mention of wall mounting. All the speakers do, however, have rubber spikes to protect your surfaces.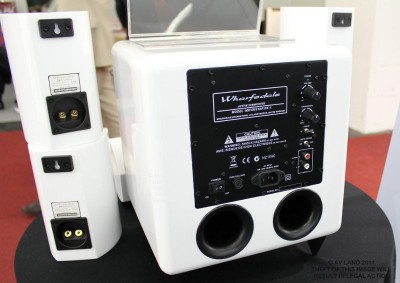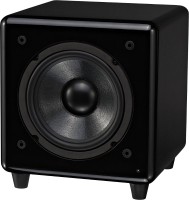 The included 150 watt subwoofer has a front-firing 8" long throw woofer with dual rear ports. We aren't a fan of rear ports on these types of subs (or speakers) as HTiB offerings often end up in non-optimal placements. There are knobs for volume and crossover (30-150Hz) and switches for phase (0-180) and auto sensing input. There are no speaker level inputs in the picture above but the press material lists that they will be available. We'll have to wait and see. There are both left and right RCA inputs (the right serves as the LFE input).
We were impressed to see screw-type gold-plated inputs on the satellites rather than the standard spring type. This will allow a much stronger connection that is much less likely to fail. The DX-1 system comes in either gloss white or black and is rated down to 40Hz (which is probably pretty accurate rather than the bloated specs we normally see). The only issue we see is that the satellites are only rated down to 120Hz while the center is rated down to 80Hz. The THX recommended crossover is 80Hz for most multi channel systems. In this case, you're probably going to be missing something as it is unlikely that either the satellites or center play flat down to their bottom spec. You'll want to closely experiment with the crossover frequency in the bass management of your receiver and likely set it higher than 80Hz. A good starting point would be around 100Hz and its a good idea to locate the sub towards the front of the room within reasonable proximity to the main front channels to minimize potential localization issues with using a higher crossover setting. Bass heads will want to opt for running two subs, one located near each front channel. This will allow the usage of an even higher crossover setting (120-150Hz) to get a better bass blend to the bass deficient satellite speakers.
Conclusion
For a Home Theater in a Box, $800 for the Wharfedale DX-1 is somewhere near the upper-mid of the price range. This is targeted for the consumer that isn't afraid to pay a bit of money for decent speakers but is afraid of introducing large speakers into their space. The wall mounting for the satellites is convenient though we are confused that the center doesn't have the same option. Also confusing is how there is no shielding on the center given that it has to be shelf mounted (which usually means it will be set on top of a CRT). For those wanting a HTIB solution alternative to lousy cubed speakers at an affordable price, the Wharfedale DX-1 certainly fits the bill.
For more information, please visit www.wharfedaleusa.com.