Tannoy FX The Testing System
Because my 12 x 20 listening area is a bit large for these speakers, I configured the FX 5.1 speakers as near-fields, setting them up as described in the user manual. Here is a list of the equipment utilized in this review.
| | |
| --- | --- |
| Hardware | Description |
| Onkyo TX-SR601 | Receiver |
| Panamax 1000+ | Line Conditioner and Noise Filter |
| Harman Kardon FL-8350 | CD Changer |
| Sony DVP-550P | DVD-Video Player |
| Toshiba 32A40 | 32" Trinitron TV |
| Tannoy FX 5.1 Speakers | 5.1 Speakers |
| Tannoy FX 5.1 Accessory Stands | Speaker Stands |
The Listening Environment
As mentioned in previous reviews, my listening room is characterized by a series of natural baffles and a good combination of neutral materials. Lots of time it is necessary to hang draperies and build or purchase fancy bass traps to eliminate acoustical problems in a room. I prefer to do it naturally, and as I built my home, I was able to construct a room where the furniture and natural materials could do most of the work for me. Bookshelves serve as diffusers, and 9' flat ceilings with berber carpet produced a room that is lively, but not highly-reflective.
The recommended surround configuration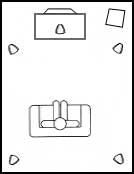 Due to the nature of the FX 5.1 speakers and the size of my listening area, I moved my sitting position slightly forward and set up the 5.1 speakers utilizing the accessory stands. This allowed me to experience the sound in a near-field environment, and more in accordance to the setup descriptions provided by the manufacturer.
I set up the Onkyo TX-SR601 receiver so that all the speakers were set to small and the subwoofer was crossed over at 120 Hz. Calibration and test tones were set up using an Avia test disc and handy Radio Shack SPL meter, so that all speakers were correctly balanced. I then ran phase tests to insure that all wiring was correct and that there were no manufacturing defects in the speakers' phasing.
One thing I noticed was that in my particular room, there was really no way to hide the wiring for the surround speakers in this configuration. It would seem that if your house had a lower crawl space, speaker jacks could be placed on the floor, but other than that, wiring would have to be run to the nearest wall and then hidden using traditional methods such as following base molding or carpet, or running into the wall for overhead wire routing. This problem is not associated with Tannoy in particular, but is merely a consideration for those purchasing stands for their system and desiring near-field placement in a larger room.