Sonos Wireless PlayBar Soundbar Preview
Summary
Product Name: Wireless PlayBar Soundbar
Manufacturer: Sonos
Review Date: February 22, 2013 06:15
MSRP: $699
First Impression:

Gotta Have It!

Specifications

Audio

Amplifier: Nine Class-D digital amplifiers perfectly tuned to match the speakers and acoustic architecture.
Speakers: Not louder. Clearer. With nine amplified speakers—six midrange and three tweeters—PlayBar replaces the steady drip of your TV's built-in speakers with deep booms, crystal-clear whispers, and huge waves of live concert sound. And with automatic equalization, the system self-adjusts for rich, seamless performance.
3.0 Home Theater: PlayBar's nine-speaker design plunges you into the cinematic action, with huge waves of sound that raise goose bumps while capturing every whisper and footfall. The player connects to your TV with a single cable and plays all sources, including satellite boxes and game consoles.
3.1 Home Theater: Pair PlayBar with SUB, and with the push of a button you can add spine-curling bass to your cinematic experience—wirelessly.
5.1 Home Theater: Add PLAY:3 speakers to your PlayBar and SUB for a true surround sound experience that plunges you deeply into the cinematic and gaming action on your screen. Sleek and understated with wireless control, this deeply immersive home theater experience wraps you in crystal-clear, state-of-the-art Sonos sound.

System Requirements

TV with optical audio output. Broadband Internet. One Sonos component wired to router. Sonos Controller App.

Music

Operating systems (for stored files): Windows XP SP3 and higher; Mac OS X v10.6 and higher; NAS (Network Attached Storage) devices supporting CIFS
Music services supported: Sonos works seamlessly with Amazon Cloud Player, AUPEO!, Deezer, iHeartRadio, JB Hi-Fi NOW, JUKE, Last.fm, MOG, Pandora, Rdio, Rhapsody, SiriusXM Internet Radio, Slacker Radio, Songl, Songza, Spotify, Stitcher SmartRadio, TuneIn, Wolfgang's Vault, WiMP, and downloads from any service offering DRM-free tracks. (Service availability varies by region.)
Internet radio supported: Streaming MP3, WMA
Audio formats supported: Support for compressed MP3, iTunes Plus, WMA (including purchased Windows Media downloads), AAC (MPEG4), AAC+, Ogg Vorbis, Audible (format 4), Apple Lossless, Flac (lossless) music files, as well as uncompressed WAV and AIFF files.: Native support for 44.1kHz sample rates. Additional support for 48kHz, 32kHz, 24kHz, 22kHz, 16kHz, 11kHz, and 8kHz sample rates.: Note: Apple "Fairplay", WMA DRM and WMA Lossless formats not currently supported. Previously purchased Apple "Fairplay" DRM-protected songs may be upgraded.: Album art supported: JPEG, PNG, BMP, GIF
Playback modes: Crossfade, shuffle, repeat
Playlists supported: iTunes, Rhapsody, WinAmp, Windows Media Player, and MusicMatch (.m3u, .pls, .wpl)

Networking

Wireless connectivity: SonosNet, a secure AES encrypted, peer-to-peer wireless mesh network
SonosNet Extender: Functions to extend and enhance the power of SonosNet 2.0.
Ethernet port: A single Ethernet port can connect PlayBar to a wired home network. A second Ethernet port can be used to share wireless control.

General

Power Supply: AC 100-240V, 50-60 Hz
SIDE PANEL BUTTON: Volume up, volume down and mute
SIDE PANEL LEDs: Indicate PlayBar status
Dimensions (H x W x D): 3.35" (H) x 35.43" (W) x 5.51" (D), 85mm (H) x 900mm (W) x 140mm (D)
Weight: 11.9 lbs. (5.4kg)
Operating temperature: 32°F to 104°F (0°C to 40°C)
Storage temperature: 4°F to 158°F (-20°C to 70°C)
Package contents: PlayBar, AC power cord, optical audio cable, warranty and regulatory booklet, and Quickstart Guide
Multple Orientations: Mount PlayBar on the wall either above or below your television. You can also lay PlayBar flat on your television table.

Control

CONTROL: Control PlayBar volume and mute using your existing TV, cable or universal remote. Or download the free Sonos app to control PlayBar from your, smartphone, tablet, PC or Mac computer.

Supported Devices

PlayBar works with all amplified and non-amplified Sonos products.
PlayBar connects to your TV using a single optical cable and plays all sources connected to the TV, including cable boxes and game consoles.
Executive Overview
Soundbars have been growing in popularity over the past 5-6 years (even as traditional A/V receivers have been apparently decreasing in their mass-market appeal). Add to that people's desire to play content from various online and smart-device sources to their living rooms and you've got a recipe for success...and Sonos has taken the ball and run with it. They may be a little late to the game, but in typical Sonos fashion, they've added a device that situates itself well into their eco-system and presents itself as one of the more capable, practical and fashionable sound bar solutions we've yet seen. We can't wait to get one in for a review and look forward to checking it out in more detail. For now, however, there's a lot to like about it. If you haven't seen it yet, check out Sonos' video for a sneak peek and then we'll add some commentary below.
The concept of the PlayBar is to combine great sound with the Sonos flavor of WiFi connectivity and streaming. We'd have to agree that Sonos is quite possibly the simplest whole-home system you can install without any professional technical proficiency. At the same time, we've seen it integrated into plenty of higher-end control systems. It's a bit more flexible in that manner than most and, as a result, it's taken off in multiple markets. In the home theater market, however, Sonos has largely missed that "all-in-one" appeal that sound bars offer—until now.
The PlayBar really does look good. It combines an aluminum enclosure with seamless speaker fabric that's elegant and modern. It can be wall-mounted or set on a tabletop underneath a flat panel television and it's internal design is such that the orientation can be changed without affecting the resulting dispersion characteristics of the drivers. To help facilitate this in an even easier manner for consumers. the PlayBar has built-in sensors to let it automatically adjust EQ and channel orientation to optimize it for either configuration.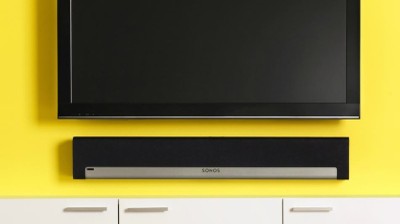 Inside, where it counts, the PlayBar features nine speakers, each with their own digital amplifier (there are six mid-woofers and three tweeters). As you'd expect from Sonos, connectivity to your television is simple. The device uses a single optical cable that, on most modern TVs, will allow you to play back every source connected to it. So your cable boxe, Blu-ray player and game console can all connect to the TV and then the audio can feed to the PlayBar. Dolby Digital is, of course, supported. About the only potential issue is its lack of HDMI support and, of course, the fact that all of the connections need to be made to your television. If you have a wall-mounted model, you'll need multiple cable runs to the TV, as opposed to the Sonos PlayBar.
Your regular TV remote will let you control the volume or mute, or you can use one of Sonos' free Controller apps for the iPhone, iPad, Android, Mac or PC. And the PlayBar works seamlessly within the Sonos wireless ecosystem.
If you want more punch, a wireless Sonos Sub can be added and you can even drop in a pair of Play:3s to function as surround speakers, creating a completely wireless 5.1 home theater.
Sonos will make the PlayBar available on March 5, 2013 for $699 directly from Sonos.com and other retailers. For more information, please visit Sonos.com/playbar.
Cliff_is posts on February 26, 2013 23:09
One thing I didn't realize before is that the PlayBar only has one optical input, which makes its surround features basically useless.

Most TVs won't don't support surround encoded signals through their optical outputs. This means that you will only be listening to simulated surround sound.

This is a huge oversight in my mind. Or, it might just by Sonos's way of saying that don't care about movies and only care about music.
Cliff_is posts on February 26, 2013 20:15
Would you say this sound bar was produced to not only satisfy minimalist but to also take Bose head on with better price and possibly better sound?

There's no doubt in my mind that the Sonos soundbar + Sonos Sub would crush the Bose unit. If the PlayBar is anywhere near the engineering feat of the Play3 or Play5, they have a winner. Even the Sonos Sub is a great unit, it just doesn't play very low.
Omar Leon posts on February 25, 2013 21:57
Would you say this sound bar was produced to not only satisfy minimalist but to also take Bose head on with better price and possibly better sound?