PSB Imagine mini Speaker Preview
Summary
Product Name:

Imagine mini

Manufacturer:

PSB

Review Date:

July 31, 2011 18:00

MSRP: $760 per pair ($830 w/gloss white/black finish)
First Impression:

Pretty Cool

Specifications

Design Type: Rear Port Bass Reflex
Woofer: 4" Clay/Ceramic filled Polypropylene Cone, Rubber Surround
Tweeter: 1" Titanium Dome with ferrofluid Neodymium Magnet
Frequency response: On Axis @ 0-degrees ± 3 dB, 55-23,000 Hz; On Axis @ 0-degrees ± 1 1/2 dB, 65-20,000 Hz; Off Axis @ 30-degrees ± 1 1/2 dB, 65-10,000 Hz; LF Cutoff -10 dB, 50 Hz
Sensitivity: Anechoic Chamber 85 dB; Typical Listening Room 87 dB
Impedance: Nominal, 8 ohms; Minimum 6, ohms
Input power: Recommended 10-80 watts; Program 80 watts
Crossover: 2,200 Hz, LR4
Internal Volume: 0.1 ft3 (3.1 litres)
Dimensions (including grille, feet, and terminals): 5-3/4" wide, 9-1/4" high, 8-3/8" deep
Weight: 6.5 lb each
Executive Overview
Sure, we all love to read about the cost-is-no-object, heavy enough to require a forklift during delivery, we only wish we could someday afford but, even if we could, we could never see ourselves putting out that much money for anything not a house, speaker offerings. They are fun. Cryogenically frozen magnets, cabling shielded by EM interference by a jacket of woven baby seal fur, weapons-grade aluminum enclosures...the list of "features" justifying their incredible cost is almost too long to be believed. Well, you can't believe them for completely other reasons but they are fun to read. In real life, however, we often have to make compromises. We want great sound (we are Audioholics aren't we?) but we also need something that will get past the wife and will also work with our rooms. If we are lucky, we have lots of choices. But if we are looking for small speakers, it gets much harder to find great sound when everyone is peddling little plastic cubes.
PSB is looking to change that their their new PSB Imagine mini speaker - a speaker so small, it doesn't even get a capital letter. At 5.75" wide x 9.25" high x 8.3" deep and weighing 6.5 lbs, the PSB Imagine mini speaker should fit into nearly any environment. The speaker is rear ported for additional bass with binding posts hidden behind a cover near the bottom. There are two holes to fish the wires through you can use banana plugs as well.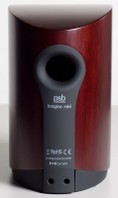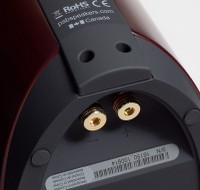 Regardless of size, what a real Audioholic is interested in is sound. The PSB Imagine mini speakers are rated, both on and off axis, down to 55Hz at -3dB and 65Hz at -1.5dB. That's pretty impressive at this size and well under the 80dB crossover point suggested by THX. The minis utilize a 4" Clay/Ceramic filled Polypropylene Cone woofer and a 1" Titanium Dome tweeter. The speakers present an 8 ohms nominal, 6 ohm minimum load which should be no problem for any amp on the market these days. With a maximum suggested input power of 80 watts, the Imagine mini speakers are obviously designed for smaller rooms or for light duty (PSB suggests that they'd be perfect for nearfield or computer audio playback). The tweeter is crossed over a bit lower than most (2.2kHz) so that the drivers can be placed closer together than usual, minimizing interference between them.
PSB utilized a curved cabinet to reduce internal resonances. The speakers are covered in a number of real wood veneers (Black Ash, Dark Cherry or Walnut) though Gloss Black or White will cost you a bit extra. The Imagine mini speaker have matching stands and custom brackets available for a variety of placement options.
While PSB touts the $760 price point as being very reasonable for this level of performance (and they may well be right), some consumers are going to question such a small speaker for that price. The fact is that PSB has utilized a lot of the technology in the popular and critically-acclaimed Synchrony Series speakers. Owners of those speakers (or just those that have heard and liked them), are sure to be intrigued. While we understand the need for the port of increased bass response, having it placed on the rear of the speaker (a common problem problem with small speakers) will hamper placement as they may experience bass bloat if that port is placed too close to a wall or other boundary (a common placement for smaller speakers).
Conclusion
The PSB name alone is sure to bring interest to these new tiny bookshelf speakers. Utilizing a proprietary bracket or stand will give you many more placement options but we wish they would have used something more universal as the PSB offerings are sure to be expensive. With a response down to 55Hz, the specs on the PSB Imagine mini speakers are almost too good to be believed. We'd love to get our hands on some for a review and really put them through their paces. They very well may live up to the $760 price tag.
For more information, please visit www.psbspeakers.com.
3db posts on January 08, 2012 19:31
They measure extremelry well as shown below




The Imagine Mini's listening- window response (a five-point average of axial and +/–15-degree horizontal and vertical responses) measures +0.93/–1.19 decibels from 200 hertz to 10 kilohertz. An average of axial and +/–15-degree horizontal responses measures +1.40/–1.38 dB from 200 Hz to 10 kHz. The –3-dB point is at 80 Hz, and the –6-dB point is at 71 Hz. Impedance reaches a minimum of 4.03 ohms at 284 Hz and a phase angle of –61.64 degrees at 132 Hz.
HdailBchad posts on January 08, 2012 01:39
I am curious about is that the specification states


SteveinMinn posts on January 07, 2012 09:15
I got an early demo pair of the Minis from Saturday Audio Exchange in Chicago, and I love them. They're worth every penny. I have them installed in my kitchen, where I end up listening to most of my music anyway, and am driving them with an NAD 326bee. (My living room setup has the PSB Imagine Ts and NAD 375bee. Love that too.)

The bass is amazing for speakers this size, and the midrange, in true PSB style, absolutely sings and lacks the fatigue I feel with my Paradigm Studio 10s (which, to be honest, are punchier on bass and treble.)

If you can afford them and need small speakers for a specialized application, you won't be disappointed.
bikemig posts on July 31, 2011 20:30
I've thought about getting these for a desktop set-up but they are expensive for small bookshelf speakers. The rear port for bass may present some difficulties as well when setting them up on a desk. One thing I am curious about is that the specification states that input power is from 10 to 80 watts and program is 80 watts. I'm not sure what program watts means.