Paradigm SHIFT Soundtrack Soundbar System Preview
Summary
Product Name:

SHIFT Soundtrack Soundbar System

Manufacturer:

Paradigm

Review Date:

January 08, 2013 23:15

MSRP: $799.99
First Impression:

Pretty Cool

Executive Overview
Paradigm Electronics released its new Soundtrack System, which is the soundbar component of its new SHIFT series. The system is a sleek, low-profile sound bar designed to complement today's ultra-thin flat panels. The system includes a 6-driver soundbar and a compact, wireless subwoofer. There is no installation (unless you want to wall mount the speaker) and everything is included, so you don't need an AV receiver.
Paradigm attempted to solve the issue of sub-par soundbar audio quality. Given the physical configuration of a soundbar, drivers are spaced relatively close together and, typically, poor stereo separation and a compromised soundstage result. Paradigm claims that with the Soundtrack system, they've cracked the secret to delivering an extraordinarily wide soundstage with superb stereo separation. The included Soundtrack subwoofer means that those short on space or craving a minimalist aesthetic will still be able to enjoy a deeper bass experience.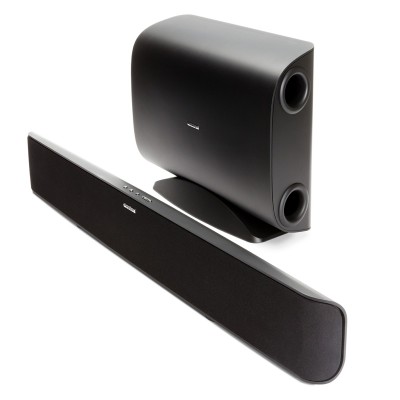 The speaker's onboard user interface controls Power, Volume and Synching of the subwoofer with the soundbar. There is also a full-function remote. The system possesses an easy to use IR learning capability, so it can learn power on/off, source select, volume up/down and mute from your television's remote. That means you can control both the Soundtrack system and TV with just one remote.
The 6-driver soundbar features two bass/midrange drivers, two passive radiators and two high-frequency drivers. 4-1/2" bass midrange drivers and 4" passive radiators are a mineral filled polypropylene delivering a low-mass, high-stiffness cone composition. The two high frequency drivers feature 1" satin-anodized pure-aluminum dome tweeters. Passive radiators aid in extending the lower frequencies. Driver complements are also physically separated within the cabinet (left and right) ensuring sonic clarity and channel separation.
The dual-ported subwoofer features an 8" laminated composite cone driver with a 1-1/2" high-temperature aluminum-wire voice coil. Oversized dual ports and driver are arranged in a perpendicular array to achieve the low-profile design. The sub's Class-D amplifier delivers 100 watts RMS Sustained and 300 watts Dynamic Peak power. The subwoofer is also sized to fit into a standard A/V cabinet, if desired.
The supplied snap-in feet are used for placing the soundbar on a table or credenza. For on-wall placement, these feet snap out and the user can snap in wall brackets and can screw them to the wall. The subwoofer may be positioned vertically in the supplied cradle or horizontally hidden away under a couch with the supplied feet attached. The soundbar's rear panel offers digital optical and analog stereo inputs for hook-up of Blu-ray/DVD/CD players, gaming consoles, satellite receivers and other external sources. Analog outputs are included for wired subwoofer connection. Connections can be made via the soundbar or through the television itself, increasing the amount of inputs and improving the user experience. Users can opt for a wireless or wired sub option. It's all easy, and in just a few minutes, you are immersed in your favorite music, movie or video game.
The Soundtrack System will be available from select Paradigm Dealers throughout North America in a Black Gloss finish. Estimated price is $799 and it will be available in the first quarter 2013.
For more information about Paradigm, please visit www.paradigm.com/shift.