Paradigm MilleniaOne Speaker System First Look
Summary
Product Name:

MilleniaOne 5.0 Speaker System

Manufacturer:

Paradigm

Review Date:

May 10, 2011 01:10

MSRP: $1,249 (5 satellites), $1,399 (sub)
First Impression:

Mildly Interesting

Specifications

MilleniaOne Speakers

Design (each speaker
including center channel
2-driver, 2-way vented die-cast aluminum
enclosures with integrated baffle and chassis.
Low-diffraction grilles maximize imaging and
ensure smooth dispersion.
Crossover
3rd-order electro-acoustic at 2.2 kHz

High-Frequency Driver
25-mm (1 in) S-PAL™ satin-anodized
pure-aluminum dome

Bass / Midrange Driver
102-mm (4 in) S-PAL™ satin-anodized
pure-aluminum dome
Low-Frequency Extension*
76 Hz (DIN)
Frequency Response:
On-Axis
30° Off-Axis

±2 dB from 120 Hz - 20 kHz
±2 dB from 120 Hz - 18 kHz
Sensitivity - Room / Anechoic
89 dB / 86 dB
Suitable Amplifier Power Range
15 - 100 watts
Maximum Input Power
50 watts
Impedance
Compatible with 8 ohms
Height, Width, Depth
(not including stand)
19.5 cm x 11.5 cm x 14.5 cm
7-3/4 in x 4-1/2 in x 5-3/4 in

Weight (unpacked)
TBA
Finishes
Gloss Black, Gloss White

MilleniaSub

Design
Dual driver, sealed box, vibration cancelling,
built-in Ultra-Class-D™ power amplifier,
built-in wireless receiver for wireless option,
USB port for PBK equalization
Amplifier: High-Current,
Discrete Output
900 watts Dynamic Peak /
300 watts RMS
Amplifier Features
Auto-on, soft clipping, thermal monitoring
Bass Drivers
Two 355-mm x 76-mm (14 in x 3 in)
reinforced polymer cones,
corrugated Santoprene® surrounds,
25-mm (1 in) voice-coils
Low-Frequency Extension*
21 Hz (DIN)
Subwoofer Cut-Off Frequency
Variable 35 Hz - 150 Hz; Bypass Option
Sub / Sat Phase Alignment
Variable 0° - 180°
Line-Level Input
RCA Sub-Out / LFE-Out of receiver,
processor or other line-level source
Height, Width, Depth
(horizontal, including feet)
13.75 cm x 46.5 cm x 35.5 cm
5-1/2 in x 18-3/8 in x 14 in
Height, Width, Depth
(vertical, including stand)
38.25 cm x 12.5 cm (stand width 17.9 cm) x 46.5 cm
(15 in x 4-7⁄8 in (stand width 7 in) x 18-3⁄8 in)
Height, Width, Depth
(on-wall, including hardware)
35.6 cm x 46.5 cm x 15.0 cm
(14 in x 18-3⁄8 in x 5-7⁄8 in)
Weight (unpacked)
10.9 kg / 24 lb each
Finishes
Satin Black, Satin White
Accessories (sold sep.)
Paradigm PT-2 Wireless Transmitter (see below)
Paradigm Perfect Bass Kit room correction system
MilleniaSub Wall-Mount Bracket system
Executive Overview
What does your mom want for Mother's day more than a small speaker system? Well, probably just about anything but if you have to get her speakers, Paradigm may have an option for you. The MilleniaOne system has been out for a little while but we haven't taken a close look at it. We're about to remedy that.
As you can see from the picture above, the satellites are tiny. At 7.75" tall, 4.5" wide and 5.75" deep, they'll fit just about everywhere. They feature a die-cast aluminum enclosure with a high gloss finish and silver drivers. They have an oval shape with a 4" Satin-Anodized Pure-Aluminum Bass/Midrange driver paired with a 1" tweeter constructed out of the same material. While the tweeter looks like it is mounted co-axially inside of another woofer, it isn't. That's just a stylized baffle that probably functions as a bit of a horn. The speaker have matching grilles (you can get the MilleniaOne speakers in either white or black) and look to be a metal mesh. Paradigm promises that the grilles are low-diffraction and won't affect imaging and dispersion.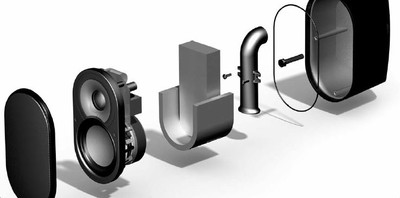 With a small, satellite speaker system you are most worried about two things - placement and performance. With the MilleniaOne system, placement is not an issue as they include not only stands but wall mounts. Performance is helped not only by superior drivers but also a vented design. As you can see in the exploded view above, Paradigm is using an extended port to increase the bass output of these small speakers. Paradigm promises a low end extension both on and 30 degrees off axis down to 120Hz at +/-2dB. Not super impressive but they also specify a low frequency extension down to 76Hz "DIN". DIN, apparently indicates -3dB in a typical listening room. So... we don't know. We'd suggest crossing over the MilleniaOne speakers at 120Hz and lower the crossover until you hear dropouts.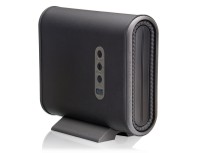 If you want to add a sub, your Paradigm dealer will likely recommend the MilleniaSub. The MilleniaSub is a diminutive 14" by 18.375" by 8.875" and a paltry 24 pounds. Like the speakers it comes in either white or black but with a satin finish rather than high gloss. It has a 300 watt class D amp and a built in wireless receiver for use with the Paradigm PT-2 transmitter (you'll need to buy that separately). It an RCA style input, variable 35Hz to 15Hz crossover with a bypass option, and a variable phase control. It has a USB port for use with the Paradigm PBK-1 Perfect Bass Kit which is a room correction system which, you guessed it, is sold separately. And while you're at it, if you want to wall mount the MilleniaSub, you can buy the bracket system as well.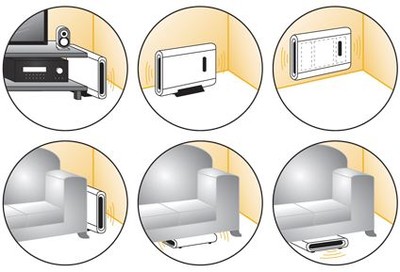 The real story here are the drivers. In such a small enclosure, you're going to need to maximize the driver space. The MilleniaSub looks more like an external hard drive than a sub and they've utilized both sides installing a driver on both. The enclosure is sealed and designed to resist vibration and is constructed out of 5mm thick extruded aluminum. The dual 14" by 3" reinforced polymer cones are held to the box by an over-molded corrugated Santoprene surround and have 1" voice coils. The drivers fire in opposite directions which also helps reduce vibrations and resonances. Unlike the satellites, Paradigm doesn't give a specification for how low the sub will go. All it lists is the DIN measurement which puts it down to 21Hz. That we would like to see... hear... feel. As you can see from the graphic above, placement options are numerous.
Conclusion
Paradigm has a great reputation for sound but they also have a reputation for price. The satellites are not overly expensive at $499 for a pair or $1249 for a 5.0 set (the per speaker price is listed at $249 but you can only buy them in sets). The MilleniaSub, on the other hand, is commanding $1399, more than the 5.0 speakers. If you are really into home theater, you might not think spending as much (or more for some of us) on a sub as all the rest of the speaker is unusual but for the average consumer, it is shocking. We'll have to see how they react. The fact is that the speakers are small, should perform well, and the sub is probably one of the most easy to place on the market. If they had thrown in the wall bracket and the wireless transmitter the price would seem better.
For more information, please visit www.paradigm.com.