NHT XdS Build Quality & Design Overview
Figures 4 – 7. 4: XdS Unplugged: Cabinet, stuffing & grill cloth, drivers. (Note absence of any crossover coonected to the input jacks seen at lower left of picture), 12" ruler for scale; 5: XdS drivers; 6: Tweeter/heat sink close up (note metal tube attached to tweeter back); and 7: Cabinet backpanel. Allen wrench hanging from bolt that holds the distal end of the tweeter's heatsink in place. Note color-coded jack panel at bottom of photo.

XdS Midrange Driver
Rather than simply packing the Xd system with cheap drivers and letting the XdA's DSP functions pick up the slack, NHT have opted for fitting out the system with a collection of premium-grade drivers.

The XdS midrange driver is a 5.25" magnesium alloy, tapered cone unit sourced from SEAS, a Norwegian high-end manufacturer. The frame is cast aluminum/magnesium alloy. It features a rubber roll surround, exposed pole pieces and magnetic shielding. Sound reflection, air flow noise & cavity resonance are all minimized by the comparatively large basket frame openings. It has a free air resonance, fs ≈ 48 Hz. Visually speaking, it bears a family resemblance to the SEAS Excel W15CY001, a drive unit not unknown in DIY circles.

XdS Tweeter
The XdS tweeter (also sourced from SEAS) features a 26mm aluminum/magnesium dome, self-shielding neodymium motor structure, underhung voice coil, a magnetic fluid-filled gap and a comparatively wide roll surround. (With both drivers magnetically shielded, the XdS is a CRT display-friendly system). The tweeters free air resonance sits at about 1.6 kHz and its first break mode can be found at about 26 kHz.

XdS Cabinet
The XdS cabinet is a classic study in industrial art, rich in the features of an aesthetically successful merging of form & function. Here, basic design principles – driver offset, rounded faceplate edges, relatively inert, crossbraced cabinet panels and so forth - are all sculpted into a visually attractive presentation that has a way of positively growing on you the more you look at it. You won't go hunting for an unobtrusive spot in your listening space's terrain to hide them away. On the contrary: you'll likely catch yourself looking for spots that highlight these latest additions to your art collection. They'd look right at home in the Guggenheim museum (5th Avenue between 88th & 89th Streets in Manhattan).

The XdS cabinet is a comparatively small (10.25"H x 6.5"W x 8.5"D), totally enclosed (acoustic suspension) construct comprising panels of MDF and a faceplate made of a dense composite material referred to as "BMC". Internally, it is cross-braced and heavily stuffed. The stands supplied with each XdS are, visually speaking, perfectly complementary, weighted for maximum stability and put the XdS at an ideal height for seated listening. The stands are made from pure MDF, except the base which has a ¼" thick steel plate in it for stability. They weigh in at 18.5 lbs. Clamps, thoughtfully located down the back of the each stand's spine, help keep the system's cabling neat and out of sight. Great idea and typical of the attention that has obviously been paid to the details of the system. Spikes are a provided option.

XdS Crossover
There isn't one. At least not the usual inductor/capacitor/resistor passive crossover commonlyfound inside a more typical loudspeaker. In actuality, all crossover functions are handled upstream by the XdA DSP. (More about this momentarily). One particularly interesting feature that, to a degree, obsolescent-proofs the XdS is that the filter functions are implemented as firmware that's updateable/changeable via the XdA's USB port, all handled via a loader utility you install on your PC or laptop. Various filters along with other useful downloads are available at the NHT website.

XdW Bass Module
The XdW is a powered, acoustic suspension, LF system featuring two opposing 10" CNC-machined aluminum cone drivers, a 500W Class D amp and a notably sparse control panel bolted into the back of the unit. There you'll find an on/off switch, trim ("Less" "Just Right" and "More, i.e., -10 dB, 0 dB, +10 dB), voltage selector and balanced input jack. Like the XdS, all processing occurs upstream, in the XdA's DSP. On carpet, its surprisingly easy to maneuver around while, for example, you're looking for the sonically ideal place for it in your listening room.

Remove the control panel and you're looking at the power amp, seen at right. You'll also see the space formerly occupied by the amp is sectioned off from the rest of the cabinet's internal volume by a bulkhead through which the leads connecting the amp with the drivers are routed. The bulkhead prevents, in a simple, straightforward fashion, any wind noise emanating from openings in the control panel when the sub is active – a not an uncommon problem seen elsewhere.
The approach NHT have taken in using the opposing drivers effectively minimizes cabinet panel vibration. So, even though the XdW can be easily maneuvered around your listening space's carpeting come set up time, it won't vibrate itself around the floor or impart much mechanically-induced noise to neighboring rooms. A real boon to apartment dwellers or to those otherwise surrounded by noise-sensitive neighbors.
Fit & finish were superb all the way around. In terms of the finish, not a flaw or blemish were apparent anywhere – anywhere - on either XdS, their respective stands or the XdW. Even after going over each with a chamois cloth was there anything found that looked out of place. Outstanding! Construction was of an equally high caliber. These cabinets, the stands – all of it - are solid. The faceplate of the XdS – made of a composite material and molded into a smooth, flowing construct – is a particularly good example of the abundance of quality apparent in the architecture that is this system. I really wouldn't be too terribly surprised if an Xd system ended up on display in a museum of modern art somewhere. Would that more of the things we surround ourselves with looked this good!
XdA Processor/Power Amp
The XdA is a hybrid of advanced technologies, melded into a product with a decidedly uncluttered, yet high-tech appearance. That self-same outward simplicity grandly belies the complexity that lurks just beneath the cover.
On the back panel you'll find the On/Off switch, speaker-level outputs for both XdS, trigger jack with mode switch (In, Ext, Audio), analog (balanced & unbalanced) stereo pair inputs, balanced microphone input & one pair of balanced & unbalanced line-level outputs for use with up to 2 XdWs. The front features mode (boundary compensation filter preset) control buttons, their attendant indicator lights and nothing else.
The XdA's brawn resides with 4 individual 150W Class D power amps. They're designed and built by PowerPhysics, a relative newcomer to the audio scene, based in Newport Beach, California. The XdA's amps sport an eye-popping efficiency factor of ~ 95%, which simply means more of the electrical energy fed in to the XdA gets fed out to the XdS speakers; less gets wasted as heat. (Compare the XdA's ~95% amplifier efficiency with the ~20%, of a typical Class A or the ~50% Class AB linear amplifiers). Running at such a high rate of efficiency also means the various semiconductor's junction temperatures are kept comparatively low which in turn means the XdA does not require any heavy, complex or costly cooling hardware to deliver the (electrical) goods.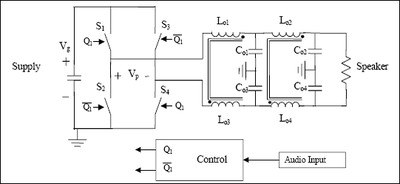 Figure 8: Simplified Circuit Diagram, Class D power amp.
At the heart of the extraordinary efficiency performance demonstrated by D class power amps such as those found in the XdA, is the use of semiconductors as switches, seen at upper left in the circuit diagram showing above. When "On" high current at a comparatively low voltage flows, hence little energy is lost. When the switch is "off", there's no current flow and no energy loss. Essentially, the incoming audio signal is used to modulate the PWM carrier that drives the output devices.
The resulting (now amplified) signal is then fed through a lowpass filter stage (seen at upper right) to remove the PWM carrier component of the output. PowerPhysics has taken this semiconductor–as-switch design approach one step further and have been awarded a patent (US, #6084450) for their efforts. At risk of oversimplification, PowerPhysics have devised an elegant non-linear control method that further increases (!) efficiency, lowers power source regulation requirements and forces errors between the reference & switching variable to zero at each cycle.
The XdA's considerable processing power resides, of course, in its DSP processor sections. Designed by DEQX (Brookvale, Australia), it presents with quite a substantial collection of noteworthy specs. The XdA's processor section controls everything the 6 output sections (4 for the Xds' and 2 for up to two XdWs) from crossover frequency point & resolution, crossover type & order (capable of up to 300 dB/octave!), amplitude, phase, & group delay correction to time alignment and so forth. The DSP board in the XdA was done by DEQX and NHT. The amplifiers and power supply were done by Power Physics. All other aspects of the XdA were designed by NHT And the firmware at its core is entirely updateable. In short, the DEQX DSP controls the performance envelope of the system to an all-encompassing degree and with a flexibility that isn't found in more ordinary speakers. In addition, NHT are planning for the XdA's future a mic-based end-user system setup/calibration feature. The necessary mic jack is already in place on the XdA's back panel. A pre-amp/AVR is needed to drive the XdA as it does not provide for source selection, level adjustment and so forth; all preamp functions have been kept out of the processor.
Boerd posts on July 24, 2009 16:28
The XD spealer cabling is regular 12G zip. You can use any brand you want with pin connectors, NHT will sell you 100' rolls of the stuff. (Remember you'll need 4 sets of cable!).

I own a Xd 2.2 - the cable is a 2.5 mm = 10 AWG (4 wires each 10G)
Boerd posts on June 09, 2009 03:01
MrClean;269167
I heard the 803s in another room and was very underwhelmed. Without saying a word about my impression, the dealer started making excuses for the sound, blaming it on the preamp/amp, which included either Plinius or McCormack (it's been a while). I heard a pair of 800Ds in virtually the same location as the Xds and walked out of the store with the Xds. Money was not the determining factor, as I was replacing over $20K in gear from Genesis and Pass Labs. The money saved was icing on the cake. The weird thing is, many dealers seem to be going out of their way to hide this product - I got a great deal on the demo as the dealer seemed happy to get them out of the store.

Another great attribute that Romanesq brought up is the ease of setup, and the absence of a sweet spot. These things sound very good with little fuss - of course, they would sound even better in an optimized room, but sometimes that isn't practical. When I moved from Houston to LA, my listening environment changed drastically, and the old stuff did not work at all. Not only does the new system sound way better in the room, I have never encountered speakers that don't force you to sit in that one perfect spot to enjoy them. You can get up and walk around the room, and the image pretty much stays intact.

I must come off sounding like a dealer or something - I assure you, I am not. I'm just a very satisfied customer. NHT has developed a great product. When you look at it closely, you can only marvel at the level of thoughtfulness and detail that went into it. Is it perfect? No, but at this price point, it is extraordinary.
Same here.
My system is/was Vienna Acoustics Baby Beethoven speakers , REL R 505 sub, Primare integrated amp (I21) and the Classic SqueezeBox 3. Cables are made by Cobalt for speakers; audioquest for the RCA link between SB3 and the integrated amp. I bought my system in 2005 (except the SB3 which I bought in 2006).
All my music is lossless stored on a computer (more than 700 CDs that now sit in the garage) and played wireless through SB3; this way there is no mechanical noise from the player (like a CD/SACD player would have). Of course the computer that stores the music is in a different room - all those noisy computer fans I can't stand...
The MSRP cost of the VA/Primare/REL system is 3995$ (VA) + 1995$ (REL) + 1495 (I21) + 130$ (10 AWG Cobalt cables) + 8.25% CA taxes = 8.243$
I am as happy as I can be with my system BUT (here I go) I am always reading reviews and listening to (too) many speakers (including some I couldn't afford) at many dealers.
Long story short, I heard about the NHT XDa an active crossover system with DEQX crossovers and Power Physics amplifier(s) in 2006 but it was just a few months after I bought my system so I wasn't very interested. Plus, at that time "digital" amplifier was a bad word, a profanity in the boutique oriented audiophile world and NHT is not quite an exotique brand - they are down to earth guys.
Here we are today in 2009 with the economy in the toilet and NHT slashes prices - XD* Active 2.2 is down to 2999$.
In the meantime I read quite a bit about class D amplifiers and learned they are (or at least could be) actually pretty good. So I order the NHT XD* Active 2.2 in special dark, factory-direct.
Here I am, I got the Beethovens/Primare/REL + the NHT XD* Active 2.2.
I also had to order a preamp and I chose the Parasound Halo P3 – I heard it many times and I like it. That set me back another 850$ (tax included).
*I was thinking - if a don't like the NHT I will sell them on Audiogon (yes I will loose some money but there is no place that let's me audition them). If I like them better than my current setup (I thought that was unlikely) I might keep both. After all, the VA/Primare/REL combination is as good as I can afford.
Or so I thought. The only speakers I like better than my Beethovens and under 15k$ are the Martin Logan Summit X. Now that is way above budget and my wife wouldn't approve either way (don't you bring those UFOs in our house, OK?). Speakers more expensive than that make no sense to me. A lot of doubtful (pseudo) technology go in such esoteric and expensive speakers - my 2c. Also - do not try justifying me k$ cables - it makes me laugh.
See this
http://www.audioholics.com/education/cables/top-ten-signs-an-audio-cable-vendor-is-selling-you-snake-oil
[audioholics.com]
on one of my preferred websites.
So, how do 8243$ spent at Magnolia HiFi stack up against 4100$ ( 3247$ is 3k$ + taxes then add 850$ for the Halo P3) spent buying factory direct gear from NHT + the Parasound P3 preamp?
Looks and appearance first:
The VA are some gorgeous lookers - the kind of finish you rarely see. If you look at the binding posts in the back then it'll be clear for you - the Austrians from VA mean quality. And that is not only outside, to be seen; read up on their website about their crossovers... Unless you are willing to spend a lot more I'd say the VA Beethovens are as good as it gets for a mortal's audio system.
The Primare amplifier is also a beautiful amplifier, simple, elegant and classy.
The RELL sub is also very nicely finished - a true black piano high gloss - really nice.
The NHT XDs speakers are very nicely finished - on par with the VA. I even consider the dark red chocolate/black piano high gloss finish better than the VA/RELL. The spikes that come with the stand are in a beautiful metallic gun color (and no, I don't like guns) - nicest spikes I've seen in a long time. Now there are two things I am not really thrilled in the looks of the NHT XDs:
*a) the cable that comes standard is not that cool looking
*b) there is a sticker on the back of the speakers with their serial #. Nicer/better finish and look than the VA yet a piece of sticker on their back!
Now the XDa (XD's amplifier) is not very nice looking - plastic front plate. Nowhere close to the Primare look.
The XDw are very nice looking - better looking than the RELL.
I like listening to baroque (I love organ) music and all king of fast, ear blasting punk/heavy metal. This (strange) combination music I like makes me hard to please when it comes to sound reproduction.
Sound comparison:
The VAs sound very relaxed with good imaging and clear mids while the highs sound silky smooth and mellow. They almost sound like they are meant to play Baroque music (even organ - with the REL subs) and Jazz. There is a sense of calm and precision (made in Vienna/Austria, remember?) in the sound of these speakers that gives you years of enjoyment listening to them.
The bass integration with the RELL is pretty good and the RELL never rattles and never booms - a sealed subwoofer, the only type of sub I like.
I could go on and on about their sound qualities but I'd rather skip to the critique part.
The high bass - low mids sounds a bit lifeless even with the RELL - almost missing a bit of energy/speed. At low levels there is plenty of details but when turned on a bit too loud the speakers distort a bit and the sound is not so relaxed anymore and no, it is not the amp; the knob is around 30 out of 75 when this is noticeable (there is some decent reserve in the amp). During my 4 years with this setup I noticed the piano sounds a bit boxy at times, especially in the low mids. As good as they are these speakers will not rock the house - they just don't play that clear at (acceptably) loud volume.
NHT.
On par with the best I ever listened to then some. I have listened to a lot of gear in the 10-15K$ range and even above - Mahler from VA 13k$, Amati from SF 28K$, Summit and Summit X from ML 10 respective 14 k$, the 801/802 from B&W, old/new Tannoys, etc.
NHT is nothing less. If anything the NHT are better.
The XD system can rock very LOUD and can play jazz very relaxed. With the 2.2 and the filter that sets the system to go down to 20Hz you can listen to organ music and it sounds real. You put the filter for high SPL and you can rock the house and still have plenty of bass down to 25Hz.
The best part - these speakers do not distort at (very) loud volume. One day I asked a friend of mine who is a motocross enthusiast: What kind of cars do you like? The answer came without a blink: The kind of car you can drive at 120Mph and makes you think you're driving 60 Mph, well controlled, balanced cars with sharp steering.
That's how I feel about the NHT Xds - they can rock and sound effortless. They can play organ effortlessly and have all the detail. And this comes from somebody who went to many concerts and operas. Many.
The mids are very fast - I dare to say on par with the best electrostats - don't take my word for it, try them out.
The bass is fast, never boomy and never rattles. The highs are crisp, detailed never too harsh but never mellow.
And the speakers, both bass and monitors are sealed.
Again - unbelievable sound, hard to describe. Precise, effortless and fast.
Instruments like piano and the organ never sounded more life like, ever. Large orchestras, rock bands never sounded so crisp.
After listening to the NHT I decided I have to part with the VA Beethovens/Primare/REL (Audiogon anybody?) - they make no makes no sense to me anymore; they were dwarfed by the NHT XD.
Now, in all fairness below are the things I don't like in the NHT XD active setup:
There is a the setting for the XDa that allows you to start the XDa with a music signal. During quiet passages the amp shuts down - annoying. The easy way I fixed that was to use the external trigger input on the XDa: I plugged wires from my preamp's trigger output to the XDa trigger input. It takes 1 minute and a simple wire to do that. Read your preamp manual to locate the 12V trigger output and send that to the trigger input in the XDa. Ok - this was easy.
Another thing is that whenever XDa starts there is a small sound pop in the tweeters.
Sridhar C posts on May 20, 2007 23:08
On paper, these xD's sound very similar to the Phase Tech dARTS (I'm considering a 5.1 dARTS system for my HT but have only read reviews so far):

1. Digital amp and speakers sold in combination.
2. Installer uses a mic/test tones/Audyssey software from 14-32 points in the room for room calibration.
3. Sweet spot eliminated.
4. "Diminutive" in size only compared to typical floorstanders.

But, on paper, the dARTS seem like the NHT's on steroids:

1. 16 channels x 250 wpc of amplification. Sub(s) with separate power source.
2. Completely customizable: in-wall, on-wall, behind wall. Company says performance is the same.
3. Double the price (but it is 5.1). You can also do 5.2/7.1/7.2 for more money.

Anyone have first hand experience with both?
psv posts on May 17, 2007 20:02
Can anyone help by listing a dealer that has these available to demo-preferably in the eastern US(NE) ? Thanks.
tim916 posts on May 15, 2007 20:06
furrycute;268962
How does this setup compared to the more traditional 2 tower speaker setup?

I've always felt that tower speakers can handle much more volume without straining than bookshelf speakers.
From a volume stand point, it's best to picture the Xd system as a pair of towers with a 1" tweeter, 5" midrange, and a 10" woofer. The mid crosses over at 110hz to the woofer, which is fairly low, but the bass going to it is rolled off at a steep 48db/octave. This means that while they may not play quite as loud as a traditional floorstander with a similar driver complement (think Revel Studio), they will play louder and cleaner than a pair of mini-monitors crossed over to a sub at 80-100hz with a 12 or 24db/octave bass rolloff. Adding a second XdW subwoofer allows the user to upload a filter into the XdA amp/processor that will raise the crossover point between the subs and midrange to 135hz. This allows the system to play a bit louder without straining.
Also keep in mind that when you consider that passive crossovers typically sap 3db of efficiency from a speaker, the 4 150w amps in the Xd system are delivering 600w to each XdS monitor.