JVC TH-BA3 and TH-BS7 Wireless Soundbar First Look
Summary
Product Name: TH-BS7 Wireless Soundbar
Manufacturer: JVC
Review Date: December 29, 2009 03:40
MSRP: $549-$599
First Impression:

Pretty Cool

Specifications

180W Total Power
Dolby Digital/DTS Decoders
Ultra-Slim Design
Wall-Mountable Pole-Type Speaker
Vertical/Horizontal Layout Free Amplifier
Executive Overview
So you're looking for an unobtrusive surround sound speaker setup and you don't know what to get. You're also on the market for something slim, something sleek, something that will make your friends envious and your wife happy. You've got the flat panel (you know, the super flat one) that you spent a small fortune on, and the cash reserves are a little low. It's either wait until you can save a little more (and spend that time convincing the better half that "real" speakers are so much better than that onwall stuff) or find something on the cheap. Well, if impulse control is your problem or you're afraid you'll find something else to spend your money now if you wait too long, JVC may have your answer. Almost.
JVC has announced two soundbar solutions that are not only wireless (which is cool) but also designed to compliment your newly hung, uber flat panel display. The JVC TH-BA3 ($549.95) features a soundbar, wireless rear speakers, and a wireless sub. The TH-BS7 ($599.95) features a smaller soundbar with a wall mountable processor/amp (also super slim and sure to impress) and a wireless sub. Let's take them one at a time.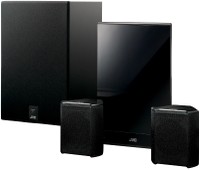 The JVC TH-BA3 is the larger of the two soundbars mostly because it needs to have all the signal processing, system controls, and amplifiers included in the bar. This bar includes four speakers - two for the center channel and one for each of the "main" channels. The soundbar includes a transmitter to control the rear speakers and wireless sub. You'll be limited to Dolby Digital, DTS and Dolby ProLogic II surround signals with this solution though the bar does have inputs for one analogue and two optical digital inputs. Since there is no included DVD or Blu-ray player, those will probably be taken up immediately by your Blu-ray player and cable/satellite box. Make sure during the install when you are running the wires for power, you run these wires as well.
The sub sports a 6" driver and 100 watts of power. The wireless technology is embedded in the sub while, for the small surrounds, it is in an external control unit. This unit (which very much resembles the flat processor from the TH-BS7 which we'll cover in a moment) is utilized to power both the small rear speakers. While it appears that the receiver unit can be wall mounted, you'll need to run power to it and speaker cable to the two surround speakers. While it would have been preferable to have each surround speaker with their own receiver, at least JVC has given you a very cool looking one. Everything in this kit is black and glossy where appropriate.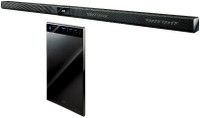 The JVC TH-BS7 is a more true soundbar solution than the BA3. We normally expect a soundbar to have simulated surround rather than the LCR (Left Center Right) duties the TH-BA3 provides. The TH-BS7 is a true soundbar with simulated surround via phase changes. The TH-BS7 sports four speaker with neodymium magnets. According to JVC, the bar has a frequency response of 200Hz to 20kHz that will drop off to 200Hz to 10kHz at 360 degrees off axis. Anyone with a protractor will quickly realize that either the marketing department made a mistake or that standing directly in front of the speaker causes a 10Hz drop off on the top end. Once again, the 6", 100 watt wireless sub is employed in this setup.
There are a few big differences with the TH-BS7 over the BA3. First, the TH-BS7 is designed to compliment the thinnest of flat panel displays. At only 1.4" deep, you have a real possibility of your speaker being thinner than your display (and you wouldn't want your display to look fat now, would you?). Since the speaker is so small, all the processing had to be mated with a wall-mountable amplifier/control unit. This looks a lot like the wireless receiver for the rear speakers of the TH-BA3. The control unit measures just 1.2 inches deep, decodes Dolby Digital, DTS and Dolby ProLogic II, and offers one analog and three optical digital inputs. Again, you'll need power to the control unit and some sort of speaker level connection to the soundbar, but the signal to the sub is wireless.
Conclusion
While wireless is never truly "wire-less", we like where JVC is going with this speaker offering. Sonically, we're not expecting much but from a purely aesthetic and cost standpoint (both systems retail for under $600 and probably will sell for even less once they hit the streets), they are a winner. We're sure we'll see one (probably the TH-BS7) in episodes of HGTV in the near future.