Jamo 360 Series Speakers Preview
Summary
Product Name: 360 Series Speakers
Manufacturer: Jamo
Review Date: November 22, 2012 11:20
MSRP: $649.99 (360 S 25 HCS); $999.99 (360 S 35 HCS)
First Impression:

Pretty Cool

Specifications

S 25

| | | |
| --- | --- | --- |
| System Type | | 2-Way |
| Continuous Power per channel watts | | 10W-100W |
| Frequency Response | | 142Hz - 27kHz |
| Impedance | | 4 Ohm nominal |
| Sensitivity (dB, 2.8V/1m) | | 81dB |
| Tweeter (mm/in) | | 19 / .75 |
| Overall Dimensions | | 5.25" x 3.75" x 3.75" |
| Speaker Enclosure | | ABS Plastic |
| Product Finish | | Black or White |
| Crossover Point | | 2.3KHz |

S 35

| | |
| --- | --- |
| System Type | 2-Way |
| Continuous Power per channel watts | 40W-125W |
| Frequency Response | 108Hz - 23kHz |
| Impedance | 4 Ohm nominal |
| Sensitivity (dB, 2.8V/1m) | 83dB |
| Tweeter (mm/in) | 25 / 1 |
| Overall Dimensions | 6.75" x 5" x 5" |
| Speaker Enclosure | ABS Plastic |
| Product Finish | Black or White |
| Crossover Point | 1.8KHz |

C 35

| | |
| --- | --- |
| System Type | 2-Way |
| Continuous Power per channel watts | 55W-125W |
| Frequency Response | 86Hz - 25kHz |
| Impedance | 4 Ohm nominal |
| Sensitivity (dB, 2.8V/1m) | 86dB |
| Tweeter (mm/in) | 25 / 1 |
| Overall Dimensions | 4.5" x 12" x 6" |
| Speaker Enclosure | ABS Plastic |
| Product Finish | Black or White |
| Crossover Point | 2.4KHz |

SUB 800

| | |
| --- | --- |
| Tripod Mount | Single active, dual passive |
| Amplifier Power Output | 800 Watts |
| Variable Low Pass Filter | 50Hz-200Hz, bypass |
| Variable Phase Control | 0° - 360° |
| Power Mode Switch | Off / Auto / On |
| Max. Load Weight (lbs) | 4.6 / 10.1 |
| Frequency Response | 42Hz-200Hz |
| Input | L + R Line in/Sub in |
| Overall Dimensions | 200 x 200 x 200 / 8 x 8 x 8 |
| Woofer (mm/in) | Active: 6.5-inch (16.5 cm) Black anodized aluminum cone, Passive: 2 x 6.5-inch (16.5 cm) Black anodized aluminum cones |
| Product Finish | High gloss black / white |
Executive Overview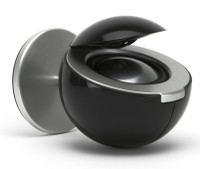 People will forever be looking for ways to hide their speakers. As much as we like to have our speakers on display like some sort of sonic work of art, many others believe that no speaker could possibly be considered anything but an eyesore. There are two solutions to this view. First, speakers can be designed to be hidden away. In-wall/in-ceiling designs, on wall speakers, or just really small speakers, aim for this. With the smaller speakers, they end up on top of entertainment systems (usually pushed to the back and out of sight), or behind plants. The second solution is the make speakers that are so unique that they start to become a design choice. Often this is at the expense of sound quality.
With a company like Jamo, that's unlikely to be the case.
The new 360 Series of satellite speakers are designed to turn heads as well as ears. Featuring a unique as well as sonically functional design, these speakers look more like little sculptures rather than speakers. The main speaker enclosure is essentially a sphere with a cut out that can be covered by a metal grill. On the top of the cutout is a tweeter that fires down with the bottom of the cutout sporting a midrange driver firing up. Jamo has coined this design "Omnipolar" referring to how the sound is spread out from the speaker rather than directed out of a front baffle.
The satellite speakers come in two sizes. The S 25 has a .75" aluminum tweeter and a 2.5" dome woofer and is 5.25" x 3.75" x 3.75". The S 35 has a 1" aluminum tweeter and a 3.5" woofer and is 6.75" x 5" x 5". The satellite speakers have integrated stands which can be rotated to the rear to facilitate wall mounting. Speaker connections are made inside the base allowing for a very clean install regardless if you go with wall or table mounting. The speakers come in either high gloss white or black and include a removable mesh grille.
For the full surround experience, Jamo has also released the C 35 - a dedicated center channel. This speaker has two of the 3.5" dome woofers and a 1" tweeter and is 4.5" x 12" x 6". While it looks more like a traditional speaker, the curved design clearly sets it apart from traditional speaker offerings. Rather than using the base for wall mounting, the C 35 has a removable back cover allowing for flush mounting on a wall or a nicely curved back for aesthetic purposes.
All of the Series 360 speaker are rated 4-ohm nominal which may mean you'll need at least a midrange receiver to power them adequately. The smaller S 25s are rated down to 142Hz while the larger S 35s reach down to 108Hz. While far from the THX recommended 87Hz, at least Jamo is being honest about it. The C 35 center channel is rated down to 86Hz though you'll want to cross you subwoofer over at something closer to 150Hz with the S 25s or 125Hz with the S 35s.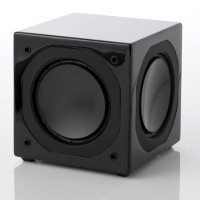 Jamo recommends their SUB 800 with this system which makes a lot of sense. The SUB 800 is an 8" cube with one active 6.5" driver and two 6.5" passive radiators. This sub is rated from 42Hz to 200Hz making it easy to mate with the Series 360 speakers. While not the most impressive output, given the size of the sub it isn't bad. With a list price of $700 (and a retail price closer to $400), you'd be hard pressed to find a sub the same size with better performance.
While the Jamo website lists each of the speakers separately, the press material we were provided suggests that the Series 360 speakers will only be sold in packages. The 360 S 25 HCS (Home Cinema System) package will have five of the S 25 speakers and will retail for $649.99. The higher-end system will be the 360 S 35 HCS and will have four S 35 speakers and the C 35 center. The S 35 HCS will retail for $999.99.
Conclusion
We've heard enough Jamo speaker to know that they can make a good one when they put their minds to it. With home theater speaker packages at competitive prices and interesting designs, they certainly look like they'll make a splash with their new Series 360 speakers. With an Omnipolar design, integrated wall mounts, and respectable performance, we're sure more than a few consumers will take a close look at them. Though their specifications may not be impressive, they strike us as absolutely honest. While other companies may try and pad their numbers, Jamo seems comfortable to tell you exactly how their speakers perform. That's laudable. We're very curious to hear how these little spheres perform.
For more information, please visit www.jamo.com.
flippo posts on November 23, 2012 23:50
I Knew audiovox bought out Klipsch/energy/mirage but didn't realize that Jamo was too.
alphaiii posts on November 23, 2012 20:27
Apparently when Audiovox took over, Mirage as a brand was killed and its technology/designs were folded into the Jamo brand... so this new "Jamo" design is blatantly a Mirage speaker with a Jamo badge.
zieglj01 posts on November 23, 2012 15:31
With Audiovox you do not know what label is going to be
put on a speaker system. Yes, that looks like something
that Mirage would design. And, we are now finding Energy
badges on some Jamo products.
flippo posts on November 23, 2012 15:22
Looks like the design was taken directly from the Mirage omnipolar technology.
Wonder how they compare soundwise.