Canton CD 300 Series Setup and Listening Tests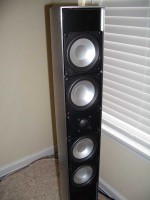 I set the CD 300 towers in front and began with them toed slightly in. The subwoofer was sent a line level signal from the Yamaha RX-V2500 receiver. The CD 360 F speakers were utilized as center and surround speakers and the entire system was powered by a 200W/channel Rotel RMB-1095 amplifier with the Yamaha receiver functioning as a preamp/processor. After some experimentation, the system crossover was set to 80Hz and all speakers were set to SMALL. Distance and levels were set manually using the on-board test tones and configuration options. Very quickly into the initial listening sessions I found that I could not seem to get an accurate or wide soundstage from the CD 300 towers in two-channel mode. I moved and readjusted the towers several times and finally arrived at a position that seemed to remedy the initial problem. The problem seemed to stem from a slightly diminished off-axis response and I was initially attempting to place the speakers outside of a 100" diagonal projection screen. The system is much more comfortable around a plasma or other digital television up to 50" or so wide. For this reason we recommend not placing these speaker more than 7-8 feet apart and even toeing them in a bit more than you might be used to in order to achieve good separation and acceptable imaging. Once this process was completed I was ready to take some notes and enjoy listening to the system.
1. Indescribable
2. Child of The King
3. Carry Me To The Water
4. Silver-Lining
5. Poor Season
6. Grace
7. This Old Town
8. Rest Upon Us
9. Send Me A Rainbow
10. You Are Free Bonus Track
Listening Tests: Two-Channel
I first wanted to hear some clean vocals before I moved on to anything more complex or orchestrated. To do this I selected a few different pieces, one of which is a favorite of mine, Laura Story's Indescribable . Track 9 "Send M e a Rainbow" presents reasonably dry vocals which punch out of a wetter mix of bass and guitar accompaniment. The bass line consists of drawn out notes that provide a pad behind which Laura's vocals emerge. I was pleased by how well her voice came through untrammeled by distortion or an overabundance of sibilance. Track 10, "You Are Free" brings in some piano and a cello and adds more up-front, yet still dry, vocals. This song allowed the CS 300 Series to show off its capability for pushing out high levels of upper frequency ranges without sounding overly harsh. A hidden bonus track following track 10 gave further evidence that female vocals at least sounded warm and natural. The open-mic-nite feel gave me a sense that the CD 300s were capable of realistically reproducing these open, ambient recordings.
1. Matty's Royal garden Blues
2. Song of India
3. Jumpin' at the Woodside
4. New Orleans
5. April in Paris
6. Blue Skies
7. Late Date
8. Makin' Whoopee
9. The Mooch
10. Skyliner
11. You Took Advantage of Me
12. Singin' the Blues
13. The Kid from Burbank
14. I Cover the Waterfront
15. Davenport Blues
16. The Battle Hymn of the Republic
17. America the Beautiful
2 the Max, an album, produced by Charlie Bertini , recorded and mixed by Andy de Ganahl, and mastered by Bob Katz, is a great classic jazz piece with some of the most talented players in the country as far as I'm concerned. Starting off the Bill Allred's Classic Jazz Band album is track 1, "Matty's Royal Garden Blues" which is a direct tribute to Matty Matlock and wastes no time in jumping in and giving these speakers a mid-range frequency workout. Instrumentation was well-defined, and trumpets, trombones, piano, sax, bass and drums all sounded clean and palpable. Here is where the imaging issue again reared its ugly head as I was unable to get the system to disappear into the mix and reveal the full instrumentation as I knew it to be on this CD. Instead, localization remained whereby the sound was filling the room, but still coming distinctly from the speakers. I suppose this is a potential tradeoff on the excellent style and design of the system. Toeing the speakers in and closing the distance between the main channels as described earlier minimized the problem but it didn't completely eradicate it.
1: Don't Know Why
2: Seven Years
3: Cold Cold Heart
4: Feelin' The Same Way
5: Come Away With Me
6: Shoot The Moon
7: Turn Me On
8: Lonestar
9: I've Got To See You Again
10: Painter Song
11: One Flight Down
12: Nightingale
13: The Long Day Is Over
14: The Nearness Of You
Listening Tests: Multi-Channel
I returned once again to Norah Jones' Come Away With Me SACD as it does a superb job of delivering top-quality source material with which to judge a loudspeaker's reproduction quality.
The vocals on track 3 "Cold Cold Heart" sounded natural and lacked any overt distortion or compression in the upper ranges. Bass lines were well-toned and clean, though the soundstage was not as wide as with other systems I've heard in this price range, even after playing with quite a few different loudspeaker positions. Reverb filled the room nicely from the piano as Norah performed her magic. Track 7, "Turn Me On" allowed some dry vocals to emerge from the mix, and I loved the signature Hammond B-3 sound that sits back in the mix. This leaves the bass and drums free to frame and drive home this tune.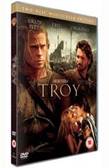 For a movie that was supposed to be one of the worst films of 2004, Troy was OK provided you could ignore the revamped story and characters, somewhat strained dialogue and just plain drab color. The battle scenes were excellent in my opinion and exercised the Canton CD 300 system, allowing me to hear some wide dynamics and how it handled environmental surround material. Dialogue was always easy to understand and the battles had their share of subwoofer sweetening for a fuller, more robust effect, though at higher volumes the sub seemed to lose some of its tightness and definition. Overall I found the CD 300 System to be excellent for home theater use in the sense that it delivered a realistic representation of what was taking place on screen. The surrounds were robust and able to deliver sounds clearly and with ample definition. I popped in several other movies such as Lord of the Rings: Return of the King, Gladiator, and The M atrix. All gave equally positive results.