SoundWare XS Build Quality and Setup
Hardcore enthusiasts may eschew cube shaped systems, but the fact is that they are still very much in vogue with newbies. They can only see so many infomercials before they start believing they are true. So it shouldn't surprise you when even well respected companies put out these décor friendly, sonically questionable systems. Boston Acoustics is attempting to out-cube the masters of cube with their SoundWare XS system. At a very reasonable $500, the system comes complete with five cubes, a sub, and a very innovative design and mounting system. Designed to be the perfect system for parents, friends, children, and even your bedroom, the SoundWare XS is looking to impress.
Build Quality
As you might expect, the SoundWare XS 5.1 system came packed in a single box with plenty of protection. The speakers had their own individual layer with little cutouts for each one. The sub, while small, was again well protected toward the bottom of the box. Each speaker was covered with foam tissue paper to protect the finishes.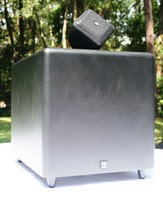 The speakers may be small but they have a very interesting design. While they look like cubes, they are engineered to be very versatile. The speaker can be set on any side which has a variety angles. You can use these angles to aim the speaker when it is sitting on a shelf. Since the 1/2" dome tweeter is mounted coaxially with the 2.5" woofer, you just have to make sure the speaker is pointed in the right direction and not worry about which way is up. On top of that, Boston Acoustics has included not just a single mounting option, but two (many competitor systems require you to purchase mounts separately). The first thing you'll do is install a pivoting ball mount to the back of the speaker. Then you mate that to either a nearly flush keyhole mount for wall/ceiling applications or a straddle mount for corners. This gives you a huge range of mounting options and much more than you'd expect at this price point. The speakers all mount very close to the wall so it presents a very clean look (though you're still going to see the wires poking out from behind).
The cubes feel sturdy for their size (just about a 3.5" cube) with a plastic housing and a metal grilel. They weigh in at only a pound each. The grille doesn't generally come off unless you have children that trip over the speaker cable and dump them on the ground. The 'little speaker that could' didn't break (landed on carpet off a Chest of Drawers) but it did give me the opportunity to take a picture of the drivers. I didn't dare take the speaker apart for fear of never getting it back together again. Each of the cubes are magnetically shielded so you can place them on top of your CRT.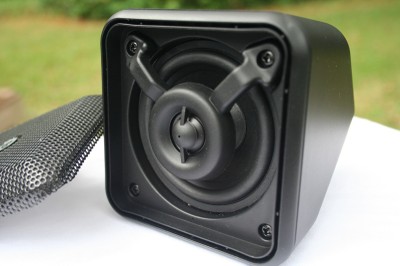 The sub is very small at about 12" tall and wide and a bit more than that in depth. The bottom sports conical plastic feet that should be fine on carpet but rubber tips would have been preferred for hardwood. There is a downfiring 8" driver and a downfiring port (near the front). The back of the sub sports a 100 watt plate amp with RCA line in, variable crossover and volume knobs, and a phase switch. The crossover ranges from 60 Hz (yeah, right) to 180Hz. I was surprised to see a removable power cord which will help users with longer power cord runs. The sub is light but solid, though the knock test is predictably resonant. You can't really fault a sub at this price point for too much as long as it plays. At only 20 pounds, you won't have much trouble moving it around. The finish is textured, rounded, and feels very robust. The matte color choice should be more resistant to dust as well.
My only real gripe with the system as a whole is that it could really use Boston's wireless technology for the subwoofer. While I know this would increase the overall price of the system, I can't help but think it would be worth it and probably be a major selling point. For other manufacturers, I might not have mentioned this but I know that Boston has wireless subs on the market. It would have been nice to see that included or at least offered as an add-on.
Setup
I decided to pair the Boston Acoustics SoundWare XS 5.1 system with another review product - the Yamaha neoHD YMC-700 Media Controller. This was also paired with an Oppo DV-970HD universal DVD player and APC H10 Power Conditioner. All of this was set up in my master bedroom which is neither acoustically treated nor is likely to be so anytime in the future. While it may be a master, it is smallish with only 8' ceilings. This very well approximates a larger office or bedroom where such a speaker system is really designed to function optimally. I used the Yamaha to calibrate the speakers and verified the settings with my own measurements. The rear speakers were placed near the side walls (about 3 feet from either side of the king-sized bed) and pointed inward. The center was positioned directly under the display (small enough not to interfere with the picture or IR receiver) with the mains about a foot off the display on either side. All of the speakers sat level on the cabinet.
The sub was placed near the front of the room just under the front right speaker. This allowed me to adjust the crossover higher than the THX recommended 80Hz with a minimal of localization. As you are probably aware, frequencies above 80Hz are easily localizable while 80Hz and under are generally considered omnidirectional. As the SoundWare XS cubes are only rated down to 150Hz, with boundary reinforcement, you can expect a bit more bass out of them. I wouldn't recommend crossing them over any lower than 120Hz or you'll risk losing a good bit of sound. I turned the crossover all the way up (180Hz) on the sub. Using the YPAO of the neoHD, it set the crossover at 120Hz which is exactly what I would have done manually. Some of the dialogue and lower male vocals seemed to be coming from the ground but for the most part it wasn't too noticeable.
As you might imagine, I have a number of high quality speaker cables from manufacturers like Ram Electronics, Blue Jeans, and Impact Acoustics. As you can also imagine, those speaker cables are pre-terminated with banana plugs for easy use. Well, with a cube speaker like the SoundWare XS, that really isn't an option. I busted out my very best (and at this point in my career very vintage) zip cord. I'm not sure the gauge on the wire but it isn't larger than 14 and is probably closer to 16 or 18. My runs are plenty short so sonically this wouldn't make a difference.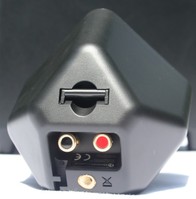 The SoundWare XS have the push-type spring binding posts. Compared to the pull-type (where you have to pull the little wedge back with your thumb), these are far superior. The problem is that the placement on the back is such that you're going to have a heck of a time installing the wires. They have a small channel to lock the wire in place but the binding posts are sunk in the housing and at such an angle that it makes it really difficult to install the wires. Difficult but not impossible. The binding posts hold tightly so once you're set up, you won't really need to worry about them coming loose providing they aren't dropped or swung like a bolo. I'm going to suggest that you use the smallest gauge wire for your run as it will make it much easier to install the wires. Anything smaller than 12 gauge should fit and we'd actually recommend staying around 16 gauge for anything under 50 feet.