Aperion Intimus 4B Setup
We began by placing the front satellite speakers on shelves such that the tweeters were at ear level. This was a mandatory "compromise" due to the aesthetic preference of the homeowner and the presence of an existing built-in. Since the Intimus 4B satellites are not ported, they are actually well-situated for any number of placements. Since they only weight 6.5 pounds, you can easily mount the speakers using a B-Tech Pivoting wall mount, Omnimount Omni ceiling mount or similar product. For best results I'd avoid ceiling mounting any speakers unless absolutely necessary - it wreaks havoc on the continuity of objects panning left-to-right in a 5.1 system and often results in boundary gain issues from the proximity to the ceiling.
We placed the center channel just above the display, so our "left-center-right" arc wasn't too steep and the surround field would be convincingly retained. We used a simple rubber doorstop to angle the center channel downward to fire at the listening position. We wanted the tweeter perfectly lined up with our ears. We used bare Impact Acoustics CL2-rated 12/2 speaker wire to connect the speakers. That certainly blows the socks off the cabling that accompanies most all-in-one satellite speaker systems. For those who wish a more polished look, you can add banana connectors to finish it off nicely.
We placed the subwoofer about one-fifth the way into the room along the front wall. It was positioned on the right side and we gave the dual 8-inch drivers some room to breathe, ensuring that they weren't firing directly into furniture or anything that would rattle.
Editor's Note: Aperion Audio provides some exceptional advice in their user manual - especially the one for the Bravus series of subwoofers. Rather than act as if every subwoofer they manufacture is capable of sounding fantastic in every possible room and location, Aperion gives advice on placement. They even address the potential issue you may encounter with their satellite systems and the rather high crossover point, stating "Frequencies above 80Hz start becoming directional - meaning your ear can locate where they are coming from. So if your subwoofer is crossed-over above 80Hz, try to position it as close to your television as possible." That's some darn good advice.
The Bravus 8D has line level inputs (stereo and LFE) as well as speaker level inputs. Phase controls and level are all controlled digitally via the LCD and menu pad. All controls are also available to be controlled via the remote.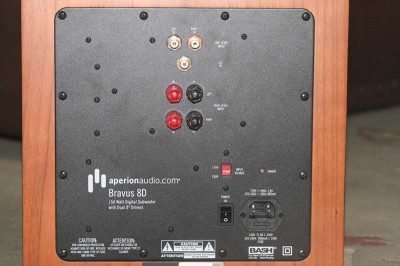 We adjusted the phase of the subwoofer a bit, but ultimately ended up leaving it at its default setting, which gave us the best bass response in the room. We kept the level fixed and used the AV receiver (a Yamaha RX-V663) to set the subwoofer level to our desired gain for movies. At this point we eased off a bit (about -3dB) using the subwoofer menu system and stored that for the Music setting. What's nice is that even though the remote control stores settings for Music, Movie and Game modes - you can use these for any three settings you like. We find that our game and movie modes are often the same, but we like a little less level when listening to multi-channel music.
See also:
armaraas posts on October 08, 2008 21:52
MinusTheBear posts on October 08, 2008 14:22
With Aperion's no risk policy (paid shipping both ways if returned within 30 days) and a ten year warranty on their products is very impressive as well.
rnatalli posts on October 08, 2008 14:04
A nice alternative for those who feel Orbs and Nanosats are too small and full bookshelves too large.