Paradigm Reference Hybrid Millenia In/On Wall Speakers
Summary
Product Name: Reference Hybrid Millenia Speakers
Manufacturer: Paradigm
Review Date: June 22, 2009 03:15
MSRP: $379 - $529 each
First Impression:

Pretty Cool

Specifications

Reference Hybrid Millenia 10

3-driver, 2-way acoustic suspension, hybrid in-wall
Max input power: 90 watts
Cutout Dimensions (hxw): 14 11/16 x 5 1/8
Weight: 9.1 lbs. per speaker
MSRP: $379

Hybrid Reference Hybrid Millenia 20

5-driver, 2 ½ way acoustic suspension hybrid in-wall
Max input power: 110 watts
Cutout Dimensions (hxw): 23 ½ x 5 1/8
Weight: 13 lbs. per speaker
MSRP: $529

High-Frequency Drive Units

S-PAL™ Satin Anodized Pure-Aluminum Domes
Rigid High-pressure Die-cast Aluminum Chassis
Critical Coupling of Phase-Alignment Bridge and Elevated Dome
Computer-Optimized Magnets and Advanced Motor Structures

Midrange/Bass Drive Units

MLP™ Mica-Loaded Polymer Midrange and Bass/Midrange Cones
HTD™ Heat Transfer and Dissipation System – Proprietary Design
Solid Aluminum Phase Plugs
Overdesigned Nitrile-Butadiene Rubber (NBR) Surrounds and Nomex™ Spiders
Precision-Engineered Mineral –Filled Polypropylene Bass Cones
Advanced Magnet Assemblies with Symmetrical Focused Field Geometry
Executive Overview

Flat is in and flat speakers seem to be all the rage over the last few years. Many manufacturers are looking to in-walls with paintable grills to make their speakers disappear. Others are working on very thin on-wall speakers that match the aesthetics of the newest flat panels. But those speakers generally suffer sonically because of the cabinet size. Not to mention that as displays are getting thinner, those on wall speakers are actually thicker than the displays they are suppose to match. What is a consumer to do?
Paradigm has a solution to those that don't mind seeing their speakers. The Paradigm Reference Hybrid Millenia 10 and 20 speakers are a combination of on and in wall speakers similar (in design) to the Architectural Series from Axiom Audio. The Hybrid is a combination in and on wall with a front baffle and grill that is clearly visible in the room with a back box that is sunk into the wall. This gives you a speaker that is nearly flush at 1.5" from the wall (which displays won't catch up to any time soon) but still shows off your high quality Paradigm speakers.
The new Hybrid speakers are in the Reference line of the Paradigm offerings. This means they sport all the high end stylings and components that you'd expect. The speaker is mounted with a glass-reinforced injection-molded polymer (GRIP) bracket. This is designed to reduce (or eliminate) vibration by maximizing wall contact. The tweeters are satin anodized pure-aluminum domes (those Canadians do love their metal dome tweeters don't they) and the midranges have mica-loaded polymer cones with solid aluminum phase plugs. The Hybrid Millena 10s stop there but the 20s ad a pair of bass drivers with mineral-filled polypropylene bass cones.

The speakers are essentially an MTM design (or WMTMW for the Millenia 20s) that can be placed horizontally or vertically. Remember, if you are placing them horizontally for a center channel the spacing of your studs is probably about 16 inches. This will be fine for the Millenia 10s with their near 15" cutout (probably, we haven't seen the bracketing system yet) but not so for the 23.5" Millenia 20s. I'm seeing a lot of pairs of 20's matched with a 10 doing center duties in the future.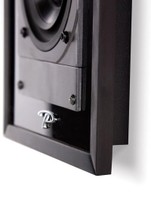 If you are a fan of the industrial look that the Paradigm Reference series has been sporting as of late, you won't be disappointed. Much like the S6's we reviewed a while back, a similar look is applied here and to interesting effect. The grill is black and doesn't quite cover the entire front baffle (which is in gloss black with a duller black frame). The speakers can be mixed and matched together for a 5.0 system or mated with with the on-wall Paradigm Millenia ADP (ADP stands for adapted di-pole but that's another story). Frequency response is not specified though the Hybrid Millenia look like they'd have no problem reaching at least to 80Hz and probably much lower in the case of the 20s.
What is surprising is the price. For the Paradigm Reference Hybrid Millenia 20s they are asking $529 each while the 10s are only commanding $379. For a speaker labeled "Reference," this is pretty impressive. Usually, reference speakers command much more.

Conclusion
While the marketing literature for the new Paradigm Reference Hybrid Millenia speakers are full of fancy explanations and seemingly made up terms for "we used AutoCAD," the speakers look to be well designed and certainly are priced right. While some might argue that an in-wall speaker should be invisible, with a speaker with as many styling cues as the Hybrid Millenia, that'd be a shame. And come on, you don't buy "Reference" speakers to hide them in a wall do you?

For more information, please visit www.paradigm.com.

TRT posts on July 24, 2009 21:44
ivseenbetter;585608
So how do they sound. I "may" be looking to replace rockets with inwalls and these are priced right.
One thing's for sure: It will be very difficult to audition these speakers.
ozmedia posts on June 23, 2009 13:44
fredk;585704
Send 'em a 24, call them honourary Canadians and we're all good.
You forgot the pound of back bacon and a touque, that's more east coast though, eh?
fredk posts on June 22, 2009 17:25
ozmedia;585612
Now I'm not being a defensive Canadian but, as you guys LOVE anything RBH touches (and justifiably so) and RBH is famed for their aluminum dome tweeters, how can you pin aluminum tweeters as a Canadian thing?
Layton Utah is in the USA, isn't it?
Send 'em a 24, call them honourary Canadians and we're all good.
ParadigmDawg posts on June 22, 2009 17:06
I might be willing to try them.
scott911 posts on June 22, 2009 16:06
"NO matter how well it is designed, placement is still the a critical factor for a flat frequency response."

agreed. I think poster was talking about the fact that a well engineered in/ & on wall speaker CAN be engeineered to similar quality standards as a traditional speaker.

I agree with placement comments. Keep in mind a in-wall / on wall model can be hooked up and tested & positoned pretty well before you put out the drywall saw. Anyway - I was happy I went that route.