Soundolier duo and maestro Full Review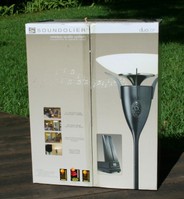 We often see cool products at trade shows. Something that looks really promising and gets us excited about the possibility of a review. Unfortunately many of these products are theoretical and never see the light of day. Other products are released but, for whatever reason, don't make it to us for review. When we saw the Soundolier Wireless Speaker Floor Lamps at EHX this year, we got excited. In our experience, wireless hasn't been done right yet and we were hoping that Soundolier would be the first. We requested a review and waited with baited breath. Just when we had given up, I received an email that a review sample was on the way.
Build Quality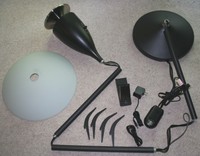 At some point in every college student's career (usually many times over the course of a life) they've bought a floor lamp. It seems to usually live behind a couch or next to a reading chair. If you've ever put together one of those lamps, you'll recognize a few similarities (and some major differences) with the Soundolier offerings. First the similarities: The box will be impossibly small (so much so that you'll wonder how they got all that in there) compared to the size of the lamp that comes out. The assembly is quick and easy with the "stem" of the lamb broken down into three pieces that screw together, to the base, and to the head. The wires are pre-threaded through the stem and all you'll need to do is pull them taut from the base and hide the excess underneath. The frosted glass mounts to the top by a plastic ring that sheaths the bulb (don't over tighten or you'll break the glass). There is an on/off and dimmer switch on a foot control. The entire assembly should take you a couple of minutes at most.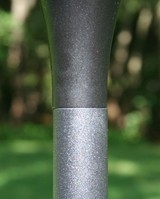 Now the differences: This lamp is HEAVY! How heavy? At 37lbs it seems a lot heavier than it should be until you learn that the base in filled with concrete. The lamp stem still wobbles though, with the heavy base, there is more of a chance of breakage than tipping. The power button on the foot control doesn't turn on and off the light but the speaker while the dimmer is solely for the light. There is a control panel on the head of the light with a volume control, a button to select a wired or wireless connection, a switch to select one of four channels, and a second switch to choose left channel, right channel, or mix playback. The LED light glows green when there is an incoming signal, red when there isn't, and isn't illuminated when the power is off. As long as the LED was faced away from my seated position, it was never noticeable or distracting. The plastic housing of the head was a slightly different color than the metal stem but this was only noticeable from up close. Just below the brushed metal funnel (for lack of a better word) is the up firing 5.25 inch speaker. This gives the duo a 360 degree sound dispersion. On the base, straddling the power cord, are 3.5mm input and output jacks. The decorative fins (Soundolier calls them "cosmetic arms") between the speaker and the glass can be removed if you like though I thought they looked pretty good.
The maestro wireless digital audio transmitter is fairly nondescript except for the small LED on the front which glows green to indicate power. The dark color seems to blend in to almost any background and with the right décor it might even make a nice accent piece. On the back of the unit there is a 3.5mm input jack, a four channel selection switch, and the bottom of the unit has high level speaker inputs with a very thin trough to snake wires through (no 12 gauge allowed). The maestro and duo operate on a 2.4 GHz frequency range which may interfere with some of your other electronics (cordless phones and wireless routers come to mind) but the number of channels will help guarantee that you can find a channel that won't cause a problem. I found channel 1 was completely unusable in my home because of interference with my portable phone though the other 3 were no problem.
Setup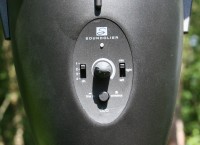 The maestro sends out a full range signal (supposedly, I can't test that) with information from both left and right channels. You select if you want the lamp to reproduce the left, right, or a mix of both channels. You can connect the maestro to your receiver using bare wire or to a computer or MP3 player (basically anything with a headphone jack) from the 3.5mm jack. As mentioned, if you go the bare wire route you'll need to use fairly small wire else the unit will not sit properly. Thinner wire shouldn't be much of a problem as your wire runs should be ridiculously short.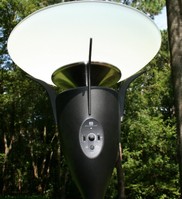 Setting up the maestro and duo is really only a matter of plugging them in, making the proper connections on the maestro, and selecting the correct channels on both. Wireless networking can be a huge headache but this is more like setting up a portable phone than a router. There are a number of ways to get sound in and out of these devices:
High level speaker in from receiver or amp to the maestro - this is good if you are using the duo's as surround speakers or are running distributed audio out of a receiver.
3.5mm jack in from computer/MP3 player to maestro - good for distributed audio as long as the computer you are connecting doesn't need to be on a network and the maestro isn't placed near a router.
3.5mm jack in from computer/MP3 player to duo - you can connect an MP3 or computer directly to a duo for an individual zone of music. Good if you don't need the wireless connection, if you are going to stream it from the lamp to a maestro (see below), or if you only have the one lamp.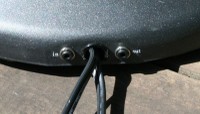 Each duo has an output on it that can be used to either hardwire a number of the lamps together or to send the audio to a maestro for additional distribution. For example, if you had a large store and want music distributed throughout but a single maestro isn't getting a clear enough signal to the other side, you can connect a maestro to a lamp that is getting a clear signal and set it to a different channel. You can then set the lamps on the other half of the store to the second channel and have the same music playing everywhere you'd like it.
While there is a large variety in how this product can send and receiver music, I am particularly impressed with the thought that went into both the utility and ease of use of the system. You can have four different zones of music or use the four channels to nearly quadruple the range of the system. The 3.5mm jack ensures that you can get music to the system from a plethora of different types of computers and players. Heck, you could hook up any MP3 capable cell phone to the system to drive it! It's that flexible!
The only real problem I had with the wireless setup was that it was incredibly strong. So much so that if I put the maestro in the same room as my wireless router, it would completely shut it down (the power indicator would switch from green to amber and the desktop, which is wired directly to the router, would lose Internet as well). During my testing, I tried all the different channels and many different maestro locations. This is what I found:
As long as I kept the maestro out of the same room as the router (5 feet away with a wall in-between) I got Internet back to the desktop.

If the maestro and my laptop were in too close proximity, I'd lose my wireless network (i.e. my laptop could no longer find any networks in the area - usually I can pick up at least 3 or 4).

Outside of a very close proximity, I mostly could connect to my network though occasionally I'd experience dropout.

When there was a wall or two between the maestro and the duo, I would experience occasional audio dropouts.

When the maestro and the duo were in the same room (about 12-14 feet apart) the signal was rock solid with absolutely no dropouts after HOURS and HOURS of listening.
Listening Tests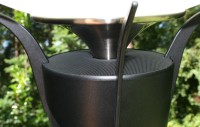 The first thing I wanted to do was to test out the wireless connection. My experience has been that wireless connections have been fairly spotty and prone to interference. I can honestly say that I never, in my hours of listening, experienced a single instance of interference. While I can't say that it isn't a possibility, I found the wireless connection to be practically bulletproof. As I was walking the maestro around the house trying different placements, I found that the kitchen was the only location where I noticed a significant number of audio dropouts. As there was a wall, a refrigerator, and a pantry full of cans and other kitchen items in between, I didn't find this all that surprising.
The fidelity was OK considering that they are using a 5.25 inch "full range" driver. In a pinch with an unforgiving pirate wife that refuses to allow you to run wires or have a box that looks in any way speaker-like, these could be used as surrounds. Music was fairly compressed and flat though they did sound a bit better the louder they got. However, if you turned up the volume on the lamp too much, the sound would compress and amp would hiss audibly (even without any music playing). For movie watching exclusively, they'd perform acceptably with an entry level system at a reasonable volume. The 360 degree dispersion creates a more diffuse effect that works well with movie effects. These speakers would not work as well for multi-channel music - the fidelity just isn't there. The true application in my mind for these speakers is for distributed audio either in a home or office for background music or more likely a store.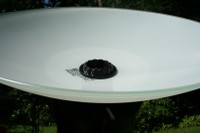 To this end, I spent a lot of time listening to different music including Marillion's Mables. The duo's presented a spacious effect if fairly light on bass (I popped in the Rives Test CD 2 and got some output at 80Hz but really useable output somewhere between 100-125Hz). The music was, however, enjoyable and filled my room nicely. I can see how these speakers would work well in a doctor's office, furniture store or in a large living space. I was surprised at how well the full range drivers handled the top end. Cymbals and high guitar notes rang true to my ears. What I especially appreciated was how well-distributed the sound was. While I could sit under the lamp and hold a conversation, across the room the music was still loud enough to be enjoyable. This bodes well for owners looking to fill up a large room. In all honesty, I'd like a pair for my family room. They'd be perfect for casual listening during a party or even just while hanging out with the family. The setup is a breeze and with proper placement and setup, the maestro won't harass any of your other wireless devices.
Conclusion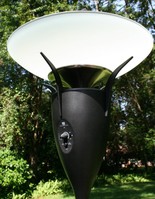 Overall, I really liked the maestro/duo combo. Soundolier has obviously worked very hard to ensure a stable and strong wireless connection. I'm hoping to see that technology in a stand alone format in the near future. I would have no problem recommending these speakers to anyone that has décor issues (as long as you don't turn them up too loud) or is just looking for a nondescript way to get background music into a room without the hassles of wires. They are an expensive solution for sure but the ease of setup and the rock solid wireless connection may make that extra money seem well spent.
Soundolier duo Wireless Speaker Floor Lamp and maestro Digital Audio Transmitter
$379.99
 Soundolier
1 Mitek Plaza
Winslow, IL 61089
1-800-837-7879
www.soundolier.com
About Soundolier
Soundolier is a leading inventor and manufacturer of cutting-edge, premium-quality wireless audio products for the consumer market. Utilizing advanced wireless technologies, Soundolier designs audio and lighting solutions to match contemporary style and comfortable living.
The Score Card
The scoring below is based on each piece of equipment doing the duty it is designed for. The numbers are weighed heavily with respect to the individual cost of each unit, thus giving a rating roughly equal to:
Performance × Price Factor/Value = Rating
Audioholics.com note: The ratings indicated below are based on subjective listening and objective testing of the product in question. The rating scale is based on performance/value ratio. If you notice better performing products in future reviews that have lower numbers in certain areas, be aware that the value factor is most likely the culprit. Other Audioholics reviewers may rate products solely based on performance, and each reviewer has his/her own system for ratings.
Audioholics Rating Scale
— Excellent
— Very Good
— Good
— Fair
— Poor
| Metric | Rating |
| --- | --- |
| Build Quality | |
| Appearance | |
| Treble Extension | |
| Treble Smoothness | |
| Midrange Accuracy | |
| Bass Extension | |
| Bass Accuracy | |
| Dynamic Range | |
| Fit and Finish | |
| Ergonomics & Usability | |
| Ease of Setup | |
| Features | |
| Performance | |
| Value | |

jake5717 posts on August 23, 2007 12:10
That's too bad. In cases where you have then as surrounds you'd probably just set it and forget it, therefore making the lamp the more important feature. Real bummer I defiantly would have got a pair to replace my surrounds, but if it's too hard for the GF to use then it's not gonna fly.
Tom Andry posts on August 22, 2007 18:36
If you could reach the ground you could. There are no controls on the light itself (other than audio controls).
jake5717 posts on August 22, 2007 14:52
So if they were setup as surrounds you wouldn't be able to just lean back and turn the light on?
Tom Andry posts on August 22, 2007 14:44
jake5717;299937
So the only way to dim the light is with a foot switch? How hard or easy would it be to keep the "remote" on an end table and control the light by hand?
It'd have to be a super low table. The cable on that switch doen't have much play if I remember correctly.
jake5717 posts on August 22, 2007 13:29
So the only way to dim the light is with a foot switch? How hard or easy would it be to keep the "remote" on an end table and control the light by hand?