Soul Party in a Box P910 Preview-the $1000 Boom Box
Summary
Product Name: Party in a Box P910
Manufacturer: Soul Electronics
Review Date: January 25, 2013 06:10
MSRP: $999.99
First Impression:

Mildly Interesting

Specifications

Speaker system: Side firing dual 6.5" subwoofers, 3" midrange speakers and 1" tweeters
Front firing dual 1.5" midrange drivers
Dimension: 19.9 in. Length X 13.89 in. Height X 9.51 in. Depth
Weight: 27 lbs
Power Supply: 110V to 240V AC 50/60 Hz
Rechargeable Batteries (sold separately)
Integrated handle
Compatible with guitar straps
USB input
HDMI (output only from connected/docked devices)
FM Radio

Executive Overview
Soul Electronics is a relative newcomer to the world of AV, but they hit the market with plenty of backing. While they started with headphones, Soul is now moving into new territory, starting with the redesign of the boombox. After over a year of R&D the company has determined that a $1000 portable, wireless entertainment system dubbed "Party in a Box P910" is just the ticket for struggling musicians, middle income families, college students and people looking to set up a giant 20" box next to their TVs for better audio. The PIAB P910 jams so many functions into one sleek package (Bluetooth, Aux input, an Apple-compatible dock and HDMI) that we wonder if they are simply charging $75 per feature.
No, that's not Payton Manning in the video

Here's a quote from Soul CEO Lan Kennedy-Davis, who apparently spearheaded the design:
"We [Soul] want to take partying to another level so we invented a sophisticated system jam-packed with features that you cannot find in one single audio system anywhere, and you can take it with you in your car, to the beach, poolside, basketball court, fraternity house or the next party. The Party in a Box P910 is the first of its kind, and we are confident it will blow away all your party guests. It is also a surround sound home theatre audio system. The sound is so crisp that you will likely hear words in a movie that you have never heard before if the movie is played through the Party in a Box."
You may indeed hear words you've never heard before... Among those I could imagine: "What is that giant square thing next to your TV?" and "You paid $1000 to put a boombox in your living room!?" Most of those are more likely to come from your guests as opposed to the movie, however.
So what is the Soul P910? It's a black box that, in actuality, looks pretty sleek for a portable speaker. It has eight omnidirectional speakers, including two 6.5" subwoofers, two 3" midrange speakers (on the front) and four 1" tweeters. One particular feature that's unusual is its Tri-Band two-way transceiver which can let you sync up to eight PIAB P910 units, wireless speakers, or other compatible devices to deliver sound in multiple areas or zones. The Party-in-a-Box supports Bluetooth, USB thumb drives and also a balanced TRS input for microphones and the stereo 3.5mm aux input. You really can feed it audio from just about anywhere or any source.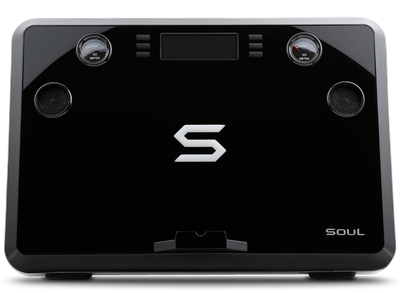 There is an HDMI output, but it only transfers content from your connected Apple device as opposed to receiving audio from an ARC-enabled television. In this way, the PIAB P910 is only going to replace your TV speakers by feeding it stereo analogue audio via the Aux input. The balanced mic input lets you use the PIAB P910 as a PA system—a pretty nifty feature for those who want an impromptu box they can take to small venues. And, as you might suspect with a mic input, there is a karaoke mode.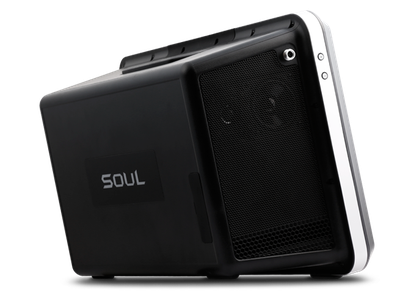 Most notably on this black box are two particular features—the front VU meters and the multi-color LED lights which can be set to react to the dynamics of the currently-playing music. While the PIAB is portable, it requires aftermarket rechargeable batteries in order to ditch the AC wall tether.
But the really important feature is the price. The PIAB P910 retails for an almost astronomical $999.99 which puts it out of reach for most of the market Soul seems to be trying to reach. Our guess is that the street price will drop in half within several months once the company gets over themselves and the marketing campaign shakes itself out. If you're adventurous and feel that money is a thing best spent on shiny black boxes, then you can visit www.soulelectronics.com and be one of the first to pick up your next-gen boombox. You'll get a party-in-a-box and Soul will get a party in your wallet.
Cliff_is posts on January 25, 2013 11:19
I suppose when someone in the PD department asked "who is out target audience?" The answer was, "Everyone! We put everything we could possible think of inside here!"

I would really have to question if this thing is rugged enough for the portable and professional applications, looks good enough to place in a living room, or sounds good enough to work as a portable amp for a quick concert.