Paradigm SHIFT Earbud Headphones Preview
Summary
Product Name: SHIFT Earbud Headphones
Manufacturer: Paradigm
Review Date: January 13, 2012 04:15
MSRP: $49.99 (E1); $99.99 (E2m); $129.99 (E3m
First Impression:

Gotta Have It!

Specifications



E1
E2m
E3m
Tuned to
Paradigm Monitor Series 7 speakers
Paradigm Reference Studio speakers
Paradigm Reference Signature speakers
Construction


two-piece sealed construction
crafted from one-piece CNC precision-machined aluminum
Drivers
8-mm super-neodymium
8-mm super-neodymium
8-mm super-neodymium
Sensitivity
103 dB
104 dB
105 dB
Frequency Response
10 Hz - 18 kHz
10 Hz - 19 kHz
8 Hz - 19 kHz


Features


in-line remote and microphone
in-line remote and microphone
Executive Overview
Paradigm has the sort of audio following that other manufacturers stay up nights trying to figure out how to duplicate. Their fans are the sort that need to know only that Paradigm is involved to be sold. For them, a release of earbuds from the audio company is reason enough to buy. But what about the rest of us: those that aren't already sold on the Paradigm "sound" or "lineage"?
There is a reason that Paradigm has the following they do: they make quality products that strive for a flat frequency response. They have speakers in many different price ranges so that many different strata of consumers can enjoy their products (and eventually upgrade). Paradigm has their own 36,000 cubic foot anechoic chamber in their very own audio research and development facility along with multiple blind listening test rooms. For the new earbuds, they've invested in a "manikin" human ear/head simulator for measuring the sonic properties of their new offerings. All this translates into a company that knows how to put together a speaker, much less an earbud, that sounds exactly they way they want.
Paradigm SHIFT E1 Earbuds
The new SHIFT earbuds come in three flavors: the E1, E2m, and E3m with ascending price points. The first hurdle that Paradigm tackled was comfort. Designed with portable personal audio in mind, Paradigm knew that users of the new SHIFT earbud headphones would want to use them for extended periods. They've included three different sizes of tips which provide an air tight seal for increased noise isolation. They've created a rigid connection between the tip and the actual earphone to increase bass performance and lessening the loss of low frequencies. A 1.2 meter cord and and a matted travel case/pouch rounds out the offerings.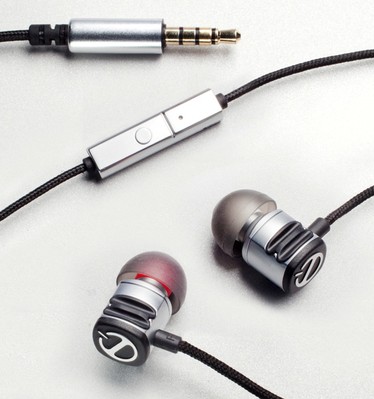 Paradigm SHIFT E2m Earbuds
While all three of the earbud models feature 8mm drivers with super-neodymium magnet structures, there are definite improvements as you pay more for the different models. The "m" models (the E2m and E3m) feature in-line remotes and mics for use with cell phones and increased control over your portable audio device (no word on compatible devices/phones).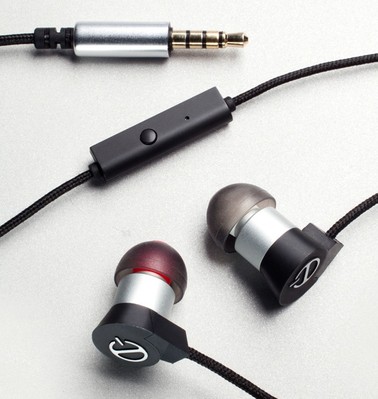 Paradigm SHIFT E3m Earbuds
At a penny under $50, the E1 earbuds are tuned to match the Paradigm Monitor Series 7 speakers. They have frequency response from 10 Hz to 18 kHz. and come in black or white (like all the SHIFT earbuds). The E2m run ~$100 and two-piece sealed construction housing. They increase the high end response by 1 kHz (10 Hz to 19 kHz) and are tuned for the Paradigm Reference Studio speakers. The high-end E3m earbuds will cost you an extra $30 over the E2m's and you get a one-piece CNC crafted precision-machined aluminum enclosure. They are tuned for the Paradigm Reference Signature speakers and increase the bass response (8 Hz to 19 kHz). All the different earbuds can be mated with a pair of Sport Ear Hooks (we like these) at $12 a pair.
Conclusion

For Paradigm lovers, the tuning spec is all they need to see. For the rest of us, I think the price is most interesting. The Paradigm Reference Signature speakers can run near $10,000 a pair and the E3m's are tuned to sound like them. That's a pretty intriguing notion. Given the wide variety of offerings on the market, we might have expected Paradigm to lean on their name and fans to sell much higher priced offerings. Even at double the price, we could see these selling. Needless to say, at these price points, the Paradigm SHIFT earbuds are sure to be a hit. If you are looking for a pair of earbuds, you'd be crazy not to put these on your short list.
For more information, please visit www.paradigm.com.
Tumara Baap posts on January 18, 2012 23:29
There is absolutely no reason for ear buds to be tuned like passive consumer loudspeakers. Spatial limitations and unique challenges like ear canal resonances notwithstanding, a much higher degree of fidelity is within reach of high-end headphones/earphones. In terms of distortion and frequency response anomalies, passive loudspeakers are the most egregious offenders in the audio chain. There are exceptions such as the most expensive fare from Revel and Paradigm itself. But then it is misleading to speak of them as "tuned". They simply exhibit a ruler flat amplitude response with little compromised in power response. It's only this top-tier neutral playback that a respectable headphone should emulate. Everything else is marketing baloney.
B1-66ER posts on January 15, 2012 23:00
SOOOOO happy about this. Paradigm, while not the best of the best, are standout, EXEMPLARY even, of an audio manufacturer. I have no doubt these, depending on which version you buy, will be as incredible as anything in their line. That is what positive production and marketing will give you. Klipsch, are you listening? (sorry, I love Klipsch, using them current as front stages.
golfermafia posts on January 13, 2012 21:18
I have been using the E3m for about 3 weeks now. I love them. Perfect bass response, nice highs, and an actual midrange sound. I find myself making excuses to listen to music, which is always a good sign with a new toy. They have a nice high end feel, and the non rubber, almost cloth like coating to the cords is a really nice touch.

I typically have a hard time finding earbuds that want to stay put but I can run on the treadmill, and complete my workouts without having to worry.

These replaced a pair of sony earbuds, i forget the model number, but they cost me about $100 5 years ago. I thought I liked those, until I heard these. Not exactly a fair comparison as its 5 years newer technology.

5/5 value
4.5/5 performance
5/5 fit and finish