i-deck Listening Tests and Conclusion
To be subjective I listened to the i-deck with songs from my iPod that were encoded at 128kbps AAC format. That is the default setting for iTunes and all songs downloaded from the iTunes music store. I no doubt would have been able to improve the sound further by using a higher bit rate or even using Apple lossless format. But lets be honest; most people will never do that. If you are one who would, then what are you doing listening to an iPod anyway? Having said that I found that the i-deck sounded pretty darn good.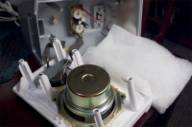 Bass was clean and while not being very low, it was certainly well balanced. Vocals were clear and avoided the boom box nastiness because the i-deck has real 2-way speakers with an actual crossover. Most products in this class usually have one full range driver or just a capacitor on the tweeter and let the woofer run full range. This is something I did not expect on a product of this type. The highs were clean and never shrill or raspy, but they seemed a little subdued to me. The i-deck has no external tone controls so any sound tailoring must be done via the iPod's EQ. A quick look at the specs shows an 18watt amp section claiming a maximum SPL of 102dba. I quick check with my Radio Shack SPL meter and I measured about 97db or so at c weighted average before I started noticing audible distortion (obviously we can vary the input voltages and testing methodologies to get different results, but that's a subjective real-world number to go by). In any case, the 102 dba number seems very plausible to me in a controlled environment. in either case, the i-deck will play loudly enough to have most parents yelling at their kids exclaiming, "Turn it down before your grounded!" Overall the sound was well rounded, pleasing and much above average for this type of product.
Final Thoughts
While there are certainly more affordable and alternate ways to listen to an iPod without the aid of earphones, you won't find many that are this well made and integrated with the various flavors of Apple 舗 s portable MP3 player. This is a perfect choice fora college student living in a dorm, a child's bedroom or any room where you might want something small but yet still retain quality sound. Like all products of this type, they are not intended to be a substitute for a real stereo system. But when space is limited, and sound quality, aesthetics and ergonomics are a concern, then the i-deck by Monitor Audio would be an excellent choice.
The Score Card
The scoring below is based on each piece of equipment doing the duty it is designed for. The numbers are weighed heavily with respect to the individual cost of each unit, thus giving a rating roughly equal to:
Performance × Price Factor/Value = Rating
Audioholics.com note: The ratings indicated below are based on subjective listening and objective testing of the product in question. The rating scale is based on performance/value ratio. If you notice better performing products in future reviews that have lower numbers in certain areas, be aware that the value factor is most likely the culprit. Other Audioholics reviewers may rate products solely based on performance, and each reviewer has his/her own system for ratings.
Audioholics Rating Scale
— Excellent
— Very Good
— Good
— Fair
— Poor
| Metric | Rating |
| --- | --- |
| Build Quality | |
| Appearance | |
| Analogue Audio Performance | |
| Features | |
| Remote Control | |
| Performance | |
| Value | |