Logitech Speaker System Z906 First Look
Summary
Product Name: Z906
Manufacturer: Logitech
Review Date: March 17, 2011 01:15
MSRP: $399.99
First Impression:

Pretty Cool

Specifications

Total watts (RMS)

Subwoofer

Satellites

500 W

165 W

5 x 67 W

THX® Certified

Yes

Dolby Digital 5.1 decoding

Yes

DTS decoding

Yes

3D Stereo

(Surround sound from 2-channel sources)

Yes

Digital optical inputs

2

Digital coaxial input

1

Six-channel direct input

Yes

RCA input

Yes

3.5 mm input

1

Control console

Stackable

Satellites

4, wall mountable

Center channel speaker

1, wall mountable

Subwoofer

Ported, side-firing

Remote

Infrared
Executive Overview

We understand that everyone need speakers. Even those on a budget or with very small (i.e. dorm) rooms. Space is at the kind of premium usually reserved for areas like Los Angeles or New York. Basically there is none. You'll either have to build up or not at all. The only alternative is getting rid of something and we're pretty sure your roommate doesn't want to live in a cardboard box in front of the Walmart just so you can have a full sized subwoofer.
Unfortunately, the audience for such products tend to be impressed by two things - big buzzwords and little prices. This pretty much guarantees that we are going to be annoyed by the marketing. Not that it is the manufacturer's fault. If buyers of cars are more interested in the number of cup holders than the actual performance or gas mileage or safety, we can hardly blame them from sticking 32 holders in a subcompact. One of the buzzwords that tends to draw attention is watts. The more the better. In the case of the Logitech Speaker System Z906, the first thing we saw on the website was, "Lots of watts."
Groan.
But it is Logitech and we've mostly been impressed with their products so we decided to put that aside. The Logitech Speaker System Z906 consists of five satellite speakers and a single, sidefiring, ported bass module... er... subwoofer. While they claim 500 watts of power, they mean 165 for the sub and 67 each for the satellites. But even converting it to the individual speakers is meaningless because...
Okay, we've got to get back on track here. The satellites sport a pair of spring-type binding post suitable for bare wire and a threaded insert for wall mounting. They also have a single driver with what looks to be an phase plug. Specifications on the Logitech Speaker System Z906 is sketchy with the size, type, and performance of the drivers completely missing. They do claim that if you like "house-shaking bass, the ported, side-firing subwoofer delivers 165 watts of pure, distortion-free bass." Notice they didn't claim house-shaking, just distortion-free.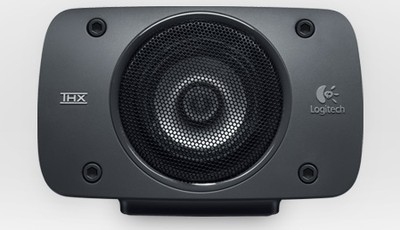 Anyhow, the real claim to fame of the Logitech Speaker System Z906 is the detached control unit. This gives you access to a receiver-like control point for connection You can connect up to six audio devices simultaneously. It has an easy-to-read display and easy-to-stack design along with a wireless remote (a fact they pointed out lest you think it was wired a la 1980). All of the sources are routed through the control hub down to the subwoofer and from there out to the speakers. This is typical of computer speaker setups.
We haven't seen the back of the control unit, but according to Logitech you have a number of connection options. There are two digital optical inputs and one digital coaxial input. There is a six-channel direct input which we believe is on the back of the subwoofer. Analogue inputs consist of a single set of RCA jacks and a 3.5mm input.
Our complaints aside, the fact is that you're looking at a 5.1 system for under $400 (a penny under but still under). While you can hardly expect "house-shaking" bass, what you can expect is a decent listening experience in a very inexpensive package. We like the idea of the control unit as it gives the Logitech Speaker System Z906 much wider appeal. This isn't simply a computer speaker system. You could use this in a kid's room for a cheap surround setup for the set-top box and DVD player with tons of inputs to spare. Add to that the DTS and Dolby on board decoding, and you're looking at a cheap receiver thrown in for free. If we were still in college, we'd be saving up our lunch money for this one.
Conclusion
Is the Logitech Speaker System Z906 for everyone? Of course not. But if you are on a serious budget and are looking for a $400 5.1 system with a basic receiver, we're betting you could do a lot worse. The speakers are all wall mountable, the "sub" promises 165 watts of "pure" bass, and the remote is wireless. With up to six inputs on the control unit/receiver, you'll be hard pressed to use them all. We wish we had more information on the frequency response and drivers (not to mention construction) but, honestly, it doesn't matter. It has 500 watts. And that's, like, 70 cents a watt. You can't beat that right?
For more information, please visit www.logitech.com.
Edit - Price correction from $349.99 to $399.99. Conclusions remain the same.
wtxgringo posts on May 26, 2011 13:32
apr 17 '11 by G51 speaker set went out, or the control pod did & wouldn't turn the speakers on any longer, so i contacted logitech cust svc thru email & since it was still under warranty, they offered to replace my speakers with the Z906! i was kinda surprised since retail the Zs cost almost $400 & i only paid $150 for the G51, but ok go ahead & send em. just today i called logitech to inquire where my speakers are since they emailed me may 18 that they were ready to ship but i never heard a peep since. apparently logitech is still having trouble meeting customer demands because once more i'm put on a holding list, how long? who knows. i can only hope that once i get the Zs i'll enjoy them as much as i did with the G51s, regardless of watts or loudness. i just want decent computer speakers to turn on every time i fire up my pc & want to listen to the radio or a cd. i used to watch blu ray on my pc but i have a better home theater for that now. i'll disregard all the negative reviews i've read on logitech & elsewhere til i have the chance to hear the Zs myself!
Rickster71 posts on May 24, 2011 07:09
seehear;812427
<Rant On>
Not for nothing, but... Really! I'm supposed to take a review seriously when it's clear that the "reviewer" not only has not used the product, but isn't even familiar with the product family? The Z600 and Z5500, the predecessors to the Z906 are, arguably, the best bang for the buck computer speakers of their respective generations. The bass is, actually, room shaking in most dorm room or home office settings. While hardly the last word in fidelity, they are plenty satisfying; playing loud and clear with minimal distortion (as long as you are judicious with the bass level). Though not satisfying for anything approaching "critical listening" of music, they are more than adequate for gaming, dorm room parties (or anytime the music just has to be loud with booming bass) and watching movies in full surround (Dolby digital and DTS) on the cheap.
In fact, AFAIK, Logitech is the only game in town still making 5.1 computer speakers. Oops, wait a minute, I seem to remember Corsair is challenging the position Logitech won by attrition from the likes of Creative and Cambridge. I have yet to hear the Corsair offering, but they generally offer products of higher than average quality and performance. Regardless, my point is not that I have heard the Z906, but that it is ludicrous, IMHO, to review a system you haven't heard; especially when you don't even have familiarity with the previous generations of the product family to lend your opinions credibility beyond that worthy of pure conjecture. Logitech has a history of improving each generation of this product, making the newest offering more than deserving of a listen before being disparaged based purely on the specs published. Especially when the provided specs are all but useless in the absence of a meaningful way to correlate said specs to sound quality.
<Rant Off>

Thank you for reading.

Sincerely,
SeeHear
It's not a "Review" it's a "First Look"
seehear posts on May 23, 2011 21:27
<Rant On>
Not for nothing, but... Really! I'm supposed to take a review seriously when it's clear that the "reviewer" not only has not used the product, but isn't even familiar with the product family? The Z600 and Z5500, the predecessors to the Z906 are, arguably, the best bang for the buck computer speakers of their respective generations. The bass is, actually, room shaking in most dorm room or home office settings. While hardly the last word in fidelity, they are plenty satisfying; playing loud and clear with minimal distortion (as long as you are judicious with the bass level). Though not satisfying for anything approaching "critical listening" of music, they are more than adequate for gaming, dorm room parties (or anytime the music just has to be loud with booming bass) and watching movies in full surround (Dolby digital and DTS) on the cheap.
In fact, AFAIK, Logitech is the only game in town still making 5.1 computer speakers. Oops, wait a minute, I seem to remember Corsair is challenging the position Logitech won by attrition from the likes of Creative and Cambridge. I have yet to hear the Corsair offering, but they generally offer products of higher than average quality and performance. Regardless, my point is not that I have heard the Z906, but that it is ludicrous, IMHO, to review a system you haven't heard; especially when you don't even have familiarity with the previous generations of the product family to lend your opinions credibility beyond that worthy of pure conjecture. Logitech has a history of improving each generation of this product, making the newest offering more than deserving of a listen before being disparaged based purely on the specs published. Especially when the provided specs are all but useless in the absence of a meaningful way to correlate said specs to sound quality.
<Rant Off>

Thank you for reading.

Sincerely,
SeeHear
seehear posts on May 23, 2011 21:07
<Rant On>
Not for nothing, but... Really! I'm supposed to take your review seriously when it's clear that you've not only not used the product, you aren't even familiar with the product family? The Z600 and Z5500, the predecessors to the Z906 are, arguably, the best bang for the buck computer speakers of their respective generations. The bass is, actually, room shaking in most dorm room or home office settings. While hardly the last word in fidelity, they are plenty satisfying; playing loud and clear with minimal distortion (as long as you are judicious with the bass level). Though not satisfying for anything approaching "critical listening" of music, they are more than adequate for gaming, dorm room parties (or anytime the music just has to be loud with booming bass) and watching movies in full surround (Dolby digital and DTS) on the cheap.
In fact, AFAIK, Logitech is the only game in town still making 5.1 computer speakers. Oops, wait a minute, I seem to remember Corsair is challenging the position Logitech won by attrition from the likes of Creative and Cambridge. I have yet to hear the Corsair offering, but they generally offer products of higher than average quality and performance. Regardless, my point is not that I have heard the Z906, but that it is ludicrous, IMHO, to review a system you haven't heard; especially when you don't even have familiarity with the previous generations of the product family to lend your opinions credibility beyond that worthy of pure conjecture. Logitech has a history of improving each generation of this product, making the newest offering more than deserving of a listen before being disparaged based purely on the specs published. Especially when the provided specs are all but useless in the absence of a meaningful way to correlate said specs to sound quality.
<Rant Off>

Thank you for reading.

Sincerely,
SeeHear
cybertron posts on April 12, 2011 17:24
I have the Z-5500 speakers and I was happy with them for a long time. This being said, I also am a big headphone audiophile and have about $1400 in headphones. So, I knew what I was lacking and understood the 5500's to be "BOOM!" speakers and basically good for casual listening, movies and TV shows.

I recently had an issue with my 5500's and they were under warranty and will be getting replaced with the Z-906 set once they finally release. I'm really disappointed to hear all the bad stuff about them, but at the same time, I don't think they have technically been released... right? So maybe people are just trying to dog them.

Anyway, I fell prey to the spam (if it is in fact) and I decided to buy some bookshelf speakers by the name of AudioEngine A5. I set them up a few days ago and let me tell you... they are the best Speakers I've owned. I bought them used on Audiogon, but who cares, they work just the same and sound bloody amazing. New, they will set you back the same as these speakers (well, before the price hike). Look them up. Will be selling my z-906 when they come