Klipsch iGroove HG Listening Tests and Conclusion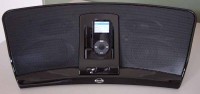 I spent several weeks listening to a diverse selection of music in a wide variety of locations.  I was immediately struck by the fact that while the unit sounds good almost anywhere, the placement can have a dramatic effect on the sound quality.  One thing you will not find lacking in this unit is bottom end.   Very punchy and rich, the lows that this thing generates will have you scratching your head.  I do NOT suggest putting the unit in a corner of a small room.  I tried this in our master bathroom, putting it in the corner on the countertop near the sink.  The bass was just way too boomy.  (And I don't know about you, but my bathroom is boomy enough…)
I found the best sound came when listening to the unit from across a room.  This held true in my family room (large) as well as my office (small – the secret underground lair that houses the extension offices of the Audioholics Empire is not as large as you might think…yet.)  When placed on a table or shelf, about a foot or so from the wall, the iGroove spreads out and sounds incredibly full and detailed.  It will play pretty loud considering how small it is, delivering quite a respectable groove.  But I found that I enjoyed it even more at lower levels.  Acoustic music such as John Hiatt's Crossing Muddy Waters sounded amazing even when turned down low.  The rich fidelity was really surprising.  That's where I think this product shines.  It is much more authentic sonic experience than you would expect from a small iPod-based music system.  But don't limit it to music.  I listened to podcasts such as ESPN's PTI and KCRW's The Treatment, and they sounded fantastic.

Conclusions and Overall Perceptions
In talking with Klipsch about this product, we discussed that while you hate to think that the iPod would be the center of someone's audio system, today's reality is that for many people, it is.  With that in mind, Klipsch has designed a product that seeks to make the most out of the situation, providing people with a very high quality audio option that combines the classic Klipsch sound with the modern convenience of an iPod (or similar personal MP3 player)-driven compact speaker system.  And they have succeeded.  This product is a perfect solution for Audioholics looking for a compact audio solution for an office or bedroom.

The Score Card
The scoring below is based on each piece of equipment doing the duty it is designed for. The numbers are weighed heavily with respect to the individual cost of each unit, thus giving a rating roughly equal to:
Performance × Price Factor/Value = Rating
Audioholics.com note: The ratings indicated below are based on subjective listening and objective testing of the product in question. The rating scale is based on performance/value ratio. If you notice better performing products in future reviews that have lower numbers in certain areas, be aware that the value factor is most likely the culprit. Other Audioholics reviewers may rate products solely based on performance, and each reviewer has his/her own system for ratings.
Audioholics Rating Scale
— Excellent
— Very Good
— Good
— Fair
— Poor
| Metric | Rating |
| --- | --- |
| Audio Performance | |
| Build Quality | |
| Features | |
| Remote Control | |
| Fit and Finish | |
| Performance | |
| Value | |