iHome iW2 AirPlay Speaker Review
Summary
Product Name: iW2 AirPlay Speaker
Manufacturer: iHome
Review Date: July 09, 2012 06:05
MSRP: $199
First Impression:

Pretty Cool

Specifications

USB connector works with iPod touch (1st, 2nd, 3rd, and 4th generation), iPod nano (2nd, 3rd, 4th, 5th, and 6th generation), iPhone 4, iPhone 3GS, and iPhone 3G.
AirPlay works with iTunes, iPod touch (2nd, 3rd, and 4th generation), iPhone 4, iPhone 3GS, iPhone 3G, iPad 2, and iPad.
For AirPlay, the iW1 must be connected to Wi-Fi with networked access to a Mac or PC running iTunes 10.1 or later; or an iPad, iPhone, or iPod touch running iOS 4.2 or later.
Dimensions: 10.5" W x 5.8" H x 3" D
Weight: 4.6 lbs
Executive Overview
We've now reviewed three AirPlay speakers. Well, two actually, this is the third - the iHome iW2. It's closer in looks to the Gear4 AirZone speaker, but functionally closer to the Logitech UE Air Speaker. Here's what I mean. The iW2 has a similar appearance to the AirZone, with rounded sides and slightly smaller dimensions. But it lacks a display and uses an App, iHome Connect, to setup the speaker on your network. That means you don't have to fuss with using the top controls to configure your wireless network or password. We like that. We also like the fact that the iW2 works with four different iHome Apps to bring you alarm functions, Internet radio and even custom EQs. If you want.
On top of the unit are hard buttons for power, volume and playback controls which work when you connect your iPhone or iPod via USB and it's a supported model. Two separate buttons also control whether you will feed the iW2 via an AirPlay source or the rear-mounted USB port. On the back are connections for power, Ethernet and the aforementioned USB jack. iHome even gives you an 1/8" aux input so you can use the iW2 with literally any audio source. The speaker itself is wrapped in speaker cloth, which actually makes it a little fragile. We picked it up a few times and were afraid the material was going to pull out or tear. But, this speaker isn't designed to be as portable as the rechargeable iW1, so that shouldn't be a deal-breaker.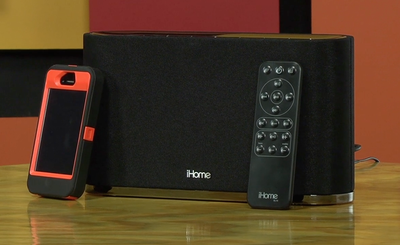 The iW2 comes with a nice thin remote, but it's quirky. You can raise and lower the EQ, but you have no idea how much you're adjusting... Maybe that's why there's a reset button to get you back to the null point. A Mute button muted our audio in AirPlay mode but we couldn't unmute it without adjusting the volume on our iPad.
When playing music, the iW2 can operate in several very cool ways. Since it works on your wireless or wired home network, you can assign a custom name to each iW2 in your home and then control which one gets your music. In this way you can achieve a whole home audio system, except that AirPlay is limited to one speaker at a time. Or is it? With Apple's Remote app and a Mac or PC running iTunes, you can pipe your audio to any number of AirPlay-enabled systems. We had our music running on the iW2, a pair of Audioengine 5+ speakers, and through our reference Denon AV receiver on a pair of RBH Sound SI-760R Signature Series Speakers. You couldn't escape the music in my home... Drove my family crazy!
What else was cool about this speaker... Well, we also liked that you can opt to hard-connect your iPod, iPhone or iPad and allow it to charge while you listen to music. If you don't have an iDevice you can still stream music to the iW2 like we did earlier by using iTunes and your Mac and, yes... even a PC.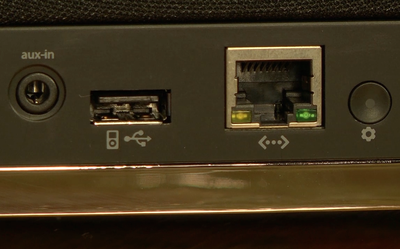 In terms of sound quality, or as we like to call it - what REALLY matters, the iW2 holds its own. Look, it's not the best AirPlay speaker we've heard, but it's also the cheapest we've reviewed so far. At only $200 it's $100 cheaper than the next model up. And for that you get a lot of clarity and a product that seemed rock solid to us. Bass wasn't outstanding but we really liked what the integrated (and automatic) SRS TruBass DSP did to the sound. In fact, when we disabled it, the sound was very mushy and congested. Good thing it's on by default.
Overall, this is a great little speaker. It'll fill a room and it's one of the least expensive Airplay speakers we've tested to-date. This would make a great speaker for an office, a bedroom or other location you just want the flexibility of streaming music. With easy setup and clear sound... Check it out, we think you'll like it.
So what's your favorite AirPlay setup? How are you using it? With a dedicated speaker? A new AV receiver? Let us know in the comments below and subscribe to our channel while you're there so we can bring you more videos. For more great reviews, visit our Facebook page at Facebook.com/Audioholics or Follow us on Twitter @AudioholicsLive.