EMP VT-40.2 & 41-SE/B Design Overview
I love my job. It's taken me nearly a decade to make such a claim as I am now doing exactly what I want, playing with the latest A/V gear and critiquing its performance. Unfortunately, much of my time is spent in front of a computer writing and analyzing rather than listening. It becomes quite monotonous at times as the silence is often deadening. Imagine my excitement when I learned about a new audiophile compact audio system EMP designed with the purpose of using it in concert with your desktop PC. Enter the EMP Tek VT-40.2 hybrid integrated tube amplifier and 41-SE/B bookshelf speaker system. The model #s are a bit vague so I will refer to the system as the EMP tube amp speaker combo. This is no ordinary three piece meal mind you, as you will discover while I sink my teeth into reviewing this potent little system.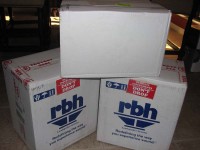 The EMP tube amp speaker combo showed up at my door in three individually packed boxes all labeled RBH Sound. In fact the boxes for the EMP 41-SE/B's were the same ones used for the RBH Signature 41-SE models which should be of no surprise since they both share identical cabinets and virtually the same guts with a few exceptions I will expand upon in the next section of this review. I was so excited to open these speakers that I accidentally sliced my index finger with the scissor in the process. The VT-40.2 was single-boxed and stuffed with so much protective foam that I'd suspect one could roll it down a flight of steps without inflicting any damage to the tube amp, but it's not something I'd recommend trying.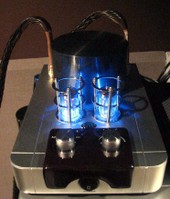 EMP VT-40.2 Hybrid Tube Amplifier
Let's start with the VT-40.2 hybrid tube amplifier. Normally I'd scoff at anything with tubes but I've lately been keeping an open mind to new ideas. In this case, tubes are an old idea as they predate the transistor. There are audiophiles that simply love the sound of tubes, mostly because when they distort, their primary distortion is even order harmonic based unless it's well into hard clipping. Even order harmonic distortion has a more pleasing sound than odd order harmonics which are inherent to solid state push-pull amplifier topologies. The problem with tube amplifiers however is they typically have a high output impedance, making their performance vary greatly depending on what type of loudspeakers are being driven by them. Incidentally many Class D amplifiers share similar attributes to tubes which may explain the love/hate relationship people tend to have towards both types of amplification technologies.

EMP's approach in the VT-40.2 is to apply the tube technology to the preamp only acting as a unity gain buffer stage. The power stage is a traditional solid state linear A/B design. I suspect their goal was to capture the "warm" feeling of tube sound with the consistent performance of solid state amplification. Based on my listening tests, I'd say that goal was definitely achieved.

The VT-40.2 utilizes a toroidal transformer in the power supply, fully encapsulated but aesthetically visible as it towers over the two preamp tubes. It's really cool to see the glow of the tube filament flanked by blue lighting. I swear it seems a trend these days in high end audio to douse the consumer with blue LED lighting. Let me be the first to say it works. I totally dig it.

The VT-40.2 sports a pair of analog RCA level inputs, two 1/8" mini plug inputs for iPod/MP3, etc and one 1/8" mini plug variable output incase you want to supplement the system with a powered subwoofer. Personally I would have preferred EMP replaced one 1/8" plug input and the output with RCA level connections. It's a real pain to find a 1/8" plug to RCA when you're in a pinch and want to hook up a powered subwoofer.

The 5-way gold plated speaker terminal binding posts are located on the top of the amplifier which is a bit unusual but it keeps the amplifier very low profile so I understand why they did that. Realize however that due to the close proximity of the shielded toroid and the speaker connectors, it's a bit of a challenge to lock down compression banana plug speaker cables.

The power switch is located on the front panel and there are two silver rotating knobs above it, one for volume and the other for input selection. This is about as basic of an integrated amplifier that I've ever seen which made it a real snap to setup and start using right away. Powering up the VT-40.2 takes exactly 30 seconds before you can start to hear its magic. I estimate it takes about 1 second for the tubes to warm up leaving the extra 29 seconds purposely imposed to build listener anticipation. Once you realize how good this system sounds, it becomes quite agonizing to wait 30 seconds for your next listening session, especially when Pandora is streaming one of your favorite jazz tunes.
EMP 41-SE/B Bookshelf Speakers
The 41-SE/B bookshelf speaker system is the crown jewel of this package. They share almost the same guts as the RBH Sound 41-SE speakers that retail for nearly $1k/pair in standard black finish - the only finish option for the EMP versions. Both models have identical specs on paper and both utilize the exact same crossover design and parts.

The EMP 41-SE/B's come with no threaded holes on the bottom of the cabinet to utilize spikes or cones, nor do they come with rubber feet. This was a big oversight on their part in my opinion as it would have been very useful to at least include rubber feet for computer desk installs to help better dampen resonances between two adjacent hard surfaces.

The EMP 41-SE/B cabinets are constructed of ¾" MDF and are internally braced and amply filled with polyester fiber. They resonate with a nice thud sound when doing the knuckle test. They are rear ported so keep that in mind when placing them near a wall. I recommend at least 2-3 inches of breathing room for the ports (which I figured using a 1.5 multiplier factor times the port diameter). If you absolutely have to place them against a wall, it's recommended to use a port plug or sock to stuff the port. The 41-SE/B's are bi-ample though I couldn't ever imagine an installation scenario where one would want to bi-amp such a small speaker but EMP makes it available to you.

The Drivers
The EMP model utilizes a newly developed 4" driver which uses a beryllium cone and phase plug, as opposed to the aluminum cone found on the RBH version. This driver utilizes a true phase plug, instead of the purely cosmetic style found on many speakers today that often makes the performance worse! The EMP woofer retains the exact motor structure and cast Aluminum frame of the RBH woofer. Most speakers at this price point use stamped steel baskets in comparison.



Beryllium is much lighter and more rigid (per unit of mass) than common aluminum. This means for a given level of cone stiffness, the material required, and mass of that cone is far less, making the loudspeaker more efficient by reducing the moving mass. This was evident when I physically compared the cone thickness between the EMP and RBH versions. The phase plug further reduces cone mass by physically having no dust cap. It also further reduces on-axis beaming allowing the woofer to extend the response to higher frequencies and offer improved dispersion characteristics. The downside to using a phase plug driver in such a small woofer is the reduced cone area also means reduced efficiency at bass frequencies. It also creates a pressure release and leak in the center of the woofer. This can cause a chuffing noise when driven with percussive instruments by allowing voice coil air gap turbulence to be heard directly. These trade offs become a wash when mating these speakers with a powered subwoofer, which is what I would recommend in almost all applications if space and budget permits.

The 1" silk dome tweeter in the EMP 41-SE/B is an EMP exclusive design meant to perform on par with the Vifa used in RBH Sound Signature product but at a greatly reduced cost. Based on my listening tests, I have no doubts that their design goal was achieved.


Editorial Note on Beryllium
Beryllium's very low density (1.85 times that of water), high melting point (1278 °C), high temperature stability, and low coefficient of thermal expansion makes it in many ways an ideal aerospace material, and it has been used in rocket nozzles and is a significant component of planned space telescopes and now high performance loudspeakers. Because of its very low mass, high Youngs Modulus (exceptional elastic rigidity) it's truly an ideal cone material for loudspeaker drivers. To date only three other companies that we know of utilize this technology; TAD, Sonance and Paradigm (tweeters only).

A word of caution must be mentioned about the handling of Beryllium which in its powdered form can be extremely toxic. Just don't burn or crumble the woofer cones and inhale the dust and you will have endless years of safe listening to these speakers.

The Crossover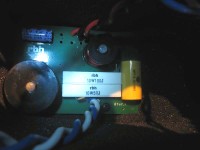 As I mentioned previously, the EMP 41-SE/B utilize the identical crossovers from the RBH Sound 41-SE version. RBH Sound cuts no costs on quality of parts utilized in their crossover designs. Opening up one of their speakers, or in this case the EMP 41-SE/B, you find air core inductors, polypropylene capacitors, ceramic resistors and thick twisted pair 14AWG internal wiring. The 2nd order crossover frequency is set for 3kHz which may seem a bit high until you realize that a 4" driver with such a low mass as this one, is more than capable of playing up well beyond this region. The phase plug improves off axis performance as well which makes for a drive unit capable of handling most of the midrange frequencies for a more seamless blend. The end result is incredibly natural sounding vocals because of extreme phase linearity the speakers exhibit in the voice band.


Set-Up
I tested the EMP tube amp speaker combo in two scenarios:
Office - as a nearfield monitor on my computer desktop (10' x 6' office)
Theater room - two-channel utilizing the reference gear and premier listening space in the Audioholics Showcase home

No subwoofer was used in either test configuration unless otherwise noted in the listening tests. In the first scenario (office room), I used my Headroom micro preamp and DAC connected directly to the VT-40.2.

For the second scenario (theater room), I placed the EMP 41-SE/B's on 30" sand-filled Plateau speaker stands which puts the tweeter right at about ear level on my Continental theater seats. The speakers were positioned about 5ft from sidewalls and around 8ft from the back walls and spread apart about 10ft from each other which was about two feet shy of the distance from my primary listening position. I found applying a slight amount of toe-in helped focus the speakers better, but too much toe-in made them a bit too energetic up top for my listening preferences. I utilized my Sony CDP-CA-8ES CD changer as the source. All interconnects were furnished by Blue Jeans Cables (1694A Coax) and Kimber 8PR speaker cables with WBT compression banana plugs.

In both instances, it was a breeze to setup such a portable and basic system such as this one. For once I didn't have to lug around a 100lb amplifier and it felt quite liberating.
KEW posts on August 10, 2012 14:21
raynist posts on August 10, 2012 13:27
I know this is an old thread but it looks like these have been discontinued. New model as an aluminum woofer. Wonder if they sound the same?
pixelphoto posts on June 06, 2010 18:06
I'm just beginning to understand tubes and have a question about tube biasing
on the VT-40.2. I just read the reviews and owners manual and there is no mention of biasing. Don't tubes have to be biased?

Also I have Definitive Technology STS speakers which has built in powered subs. The efficiency rating is 93db. Compaired to the Cayan T-50 with 35 watts
(not normally used in desktop system) it appears that the VT-40.2 with 40 watts/8 ohms (which seem to be pushed for a desktop system) should drive my speakers. I'd appreciate constructive advise as to wither the VT-40.2 would be a good way to get my feet wet in tubes inexpensively.

Marvin
highfigh posts on March 17, 2010 16:23
If the line out is too hot, why not put a voltage divider on it?
magic12kenneth posts on March 17, 2010 12:27
That makes lot of sense base on the setting and design of the room. Thanks again for the insight.

Ken