Edifier e10 Exclaim 2.0 High Performance Desktop Speakers Preview
Summary
Product Name: e10 Exclaim
Manufacturer: Edifier
Review Date: November 09, 2012 09:00
MSRP: $99.99/pair
First Impression:

Pretty Cool

Specifications

Total power output: RMS 8W x 2 + 10W x 2 (DRC on)

THD + N (testing level): 10%


Signal to noise ratio: ≥85dBA

Frequency response: 48Hz-20kHz

Input sensitivity:R/L: 700±50mV | SW: 250±50mV

Speakers: (Each speaker) Midrange/Tweeter unit: 1½ inch (40mm),
Magnetically shielded, 8Ω
Midrange/Treble Housing Passive Radiator: 1½ inch x 3 inch
Bass: 3 inch (82mm), Magnetically shielded, 6Ω
Bass passive radiator: 3 inch high excursion design


Audio input: Auxiliary 3.5mm

Adjustment: Volume, power buttons located on the active speaker

Power supply: Switching power supply 20W / 12V


Dimensions (unboxed):

4.13" x 12.20" x 7.09" (105mm x 310mm x 180mm) (W x H x D)

Weight: 5.29lbs | 2.4Kg
Executive Overview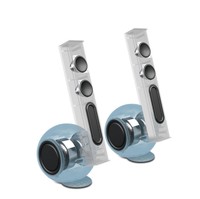 With the slew of new wireless speakers out there, it is nice to see someone actually put out a desktop system with wires. Not everything is going to be taken around the house, taken to the beach, or even moved for anything than the biannual dusting.
Edifier is a company that pretty much specializes in smaller speaker systems. They may make other stuff but you'll get lost in their multimedia page. Just so much to choose from. The new e10 Exclaim 2.0 system is designed to be connected to your computer (or perhaps a DVD/Blu-ray player) as a standalone system. Trying to make the best out of a small package, the system features two passive radiators and two amps per speaker.
At a penny under $100 a pair, the Edifier e10 Exclaim speakers fall directly in the "Hey, I just bought a computer and need some speakers for it" or the "Hey, I just bought a computer and the speakers that came with it suck" category. This category is overrun with offerings from a multitude of manufacturers with designs from the bland to the outrageous. At the price point, where sound is always important to us, for most consumers aesthetics play a crucial role in purchasing decisions.
The e10 Exclaim have it where it counts in aesthetics. They feature a small, round bass chamber with a long, thin treble/midrange section. The top, thin section features two 1.5" drivers and a 1.5" by 3" passive radiator. The chamber is angled back probably more for aesthetic reasons as we don't know of anyone that sits that much higher than their desktop. With high end speaker systems from the likes of Thiel sporting a reclined design, it is a visual cue to those in the know suggesting that Edifier cares about the sound. For the rest, the laid back design makes these speakers stand out from the pack.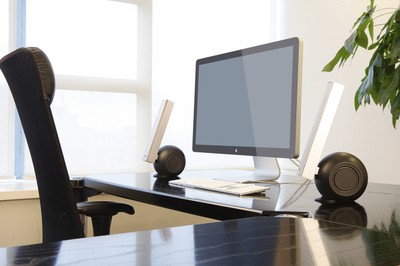 The bottom woofer sphere has a 3" driver mated with a 3" passive radiator. Each of the enclosures have their own amp. All the drivers are magnetically shielded for use near old-school CRTs. The speakers are 4.13" x 12.20" x 7.09" (W x H x D) and clock in at 5.29 pounds. There is a single 3.5mm inputs for connection to your computer/source and no provision for adding a subwoofer. Edifier rates the e10 Exclaim speakers down to 48Hz which should be more than enough for causal listening.
For increased fidelity, Edifier has included DSP (Digital Signal Processing) and DRC (Dynamic Range Control) into the design of the e10 Exclaim speakers. Volume adjustment and power/standby control buttons are available but we can't see them on any of the press pictures.
Conclusion
Are the Edifier e10 Exclaim 2.0 desktop speakers a collection of buzzwords all wrapped in an attractive package? Maybe. But with dual enclosures, each featuring a passive radiator and it's own amp, and a focus on sound quality through DSP and DRC, they are very good buzzwords. While we'll withhold any verdict on sound quality until we actually hear them, the Edifier e10 Exclaim speakers have a unique enough design, and enough of the technology we like to see in a desktop set of speakers, to justify the $99.99 price tag.
For more information, please visit www.edifier.us.com.
flamingeye posts on November 10, 2012 12:27
On there sit the bottom thumbnail/pic shows 3 square buttons on the side near the bottom of the long thin treble/midrange section on left speaker. in case anyone was wounding