Dok CR34 Multi-Charging Dok Station Review
Summary
Product Name:

CR34 Multi-Charging Dok Station

Manufacturer:

Dok

Review Date:

February 08, 2013 09:00

MSRP: $75
First Impression:

Pretty Cool
Executive Overview
I'm kind of a clock radio aficionado. It's kind of a peculiar quirk I have. I like good clock radios. So I had to somewhat adjust my perspective when reviewing this-the Dok CR34 Multi-Charging Dok Station. It's not that it isn't a decent alarm clock, it's just that the other features are significant enough to render the clock a lesser function. The problem with most clock radios is that they will charge a device, but typically only an Apple or Android device. One product. One type of dock. Now, in my bedroom, on the nightstand I have three devices: my iPhone, my iPad, and my Kindle Touch. If I had the newer iPhone 5 then I'd have, literally, three different connection types to deal with. No clock radio can handle that... Except this one.
Flip open the back cover and you're presented with six, yes six USB charging ports. Two of the charging ports are even rated for tablets, meaning they are roughly 2 amps. But it's not just that you can charge six devices, the Dok also includes three cradles that work with flat bottom or curved bottom devices. And not just phones, my iPad and kindle fit across the cradle securely.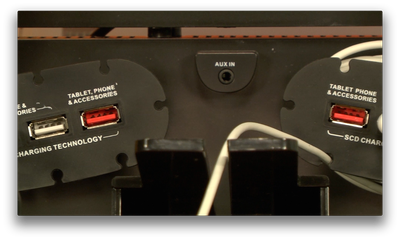 The cradles have a slot for allowing the USB charging cable that's included with most modern devices to plug directly into the device while it's seated in place. And you can see it here... iPad, Android device and kindle, all with goofy cases to boot... Oh, and let's not forget you can also charge your wireless keyboard... and your iPhone... and a second iPad. Six devices, one chargin stations—that's pretty cool.
When you lift that rear lid, you see that the six USB ports are separated into two banks, and each bank is actually a cable organizer, so you can wrap the excess cord around it and keep everything organized.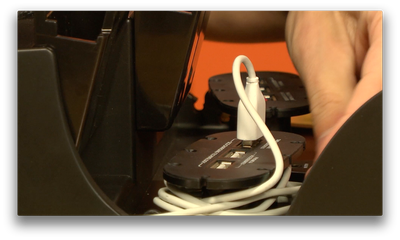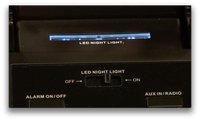 Now, is it the best clock radio we've ever used? No. if you are primarily in need of a powerful, fully-featured clock radio there are still better choices. still, the Dok, which we'd classify as more of a "desktop radio", is no slouch by any means. It has dual alarms, but they are 24/7- they can't be configured for weekend and weekday-only modes. there is an FM radio and a credit card style remote that covers the basics and then some. You can wake to the radio or the buzzer, but not to any of your docked devices because the Dok only recognizes an aux input, not an actual feed from a smartphone or mp3 player. There is a nifty integrated LED light in top with its on on/off switch, and the display can be dimmed, but only slightly in addition to being turned off.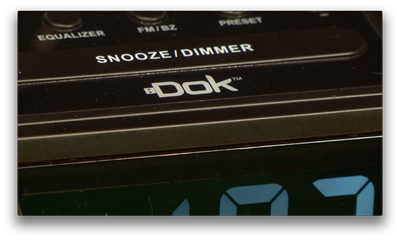 Sound quality was actually pretty decent. If you crank it all the way up to 30 you'll get distortion, but not as much as you might think from a pair of 3" speakers and even at max volume the vocals tended to maintain integrity. The Dok actually plays pretty loud for a desktop radio. Bottom line is that we've seen this for around $75 online which makes it a pretty great deal in our mind. I haven't seen anything like it and it's a great product for the bedside or the desktop.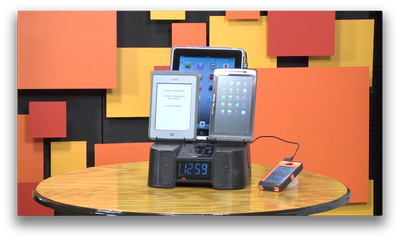 Question: how many devices do YOU charge every night? Let us know in the comments on our YouTube page and subscribe to our channel so we can keep reviewing lots of great products (and occasionally a crappy one or two...) Hit our Facebook page we runs lot of giveaways there Facebook.com/Audioholics and our twitter handle is AudioholicsLive