Brookstone Big Blue Media Tower Preview
Summary
Product Name: Big Blue Media Tower
Manufacturer: Brookstone
Review Date: November 21, 2012 04:35
MSRP: $399.99/each
First Impression:

Mildly Interesting

Specifications

| | |
| --- | --- |
| Power Supply | AC 100V-240V ~ 50/60Hz (Input), DC 18V/3.5A (Output) |
| Total Power Output | 50 Watts |
| Range | Class 2, up to 33 ft (10 m) |
| Compatibility | Bluetooth 2.1 with A2DP and AVRCP |
| Frequency Range | 45Hz - 20kHz |
| Drivers | 2 x 1.5" Tweeter + 2 x 3" Mid-range driver + 1 x 4" Subwoofer |
| Product Weight | 22 lbs. (approx) |
| Product Dimensions | 7.9"l x 7.9"w x 38.2"h |
Executive Overview
With Christmas just around the corner, many of you are going to be looking for presents for your loved ones. While you'd love to be able to provide them with high fidelity sound, most prefer convenience and smaller footprints over complicated receivers and processors. Wireless "anything" these days is a popular choice as are things that will work with your phone or tablet.
Brookstone is increasing their lineup of Bluetooth-enabled devices with the introduction of the Big Blue Media Tower. This tall, thin, rectangular speaker has all the bells and whistles you'd want for maximum flexibility in applications while trying to provide the best possible audio quality. The Big Blue Media tower stands just 38.2 " tall and only 8" wide and deep and weighs in a 22 pounds. It is, of course, Bluetooth enabled for use with not only your iDevices but any Bluetooth device.
On the top is a blue button for use in pairing with your device as well as some controls. While there are no controls for track selection, there are volume, bass, and treble controls as well as indicators for the type of input. The Big Blue Media Tower features internal amps (20 watts powering the two main channels with 30 watts powering a "subwoofer". The drivers are angles to help with dispersion and the enclosure is ported for additional bass. The Big Blue Media Tower has two 1.5" tweeters, two 3" mid-range drivers and one 4" subwoofer and is rated down to 45Hz.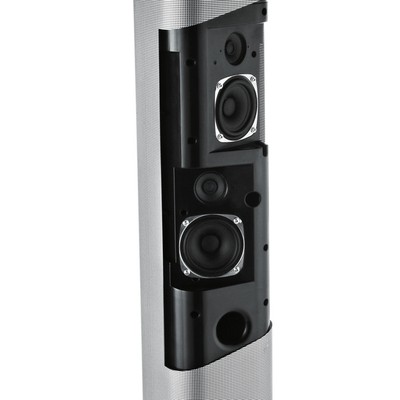 Of course, the claim to fame of the Big Blue Media Tower is the Bluetooth functionality. It has Bluetooth 2.1 with A2DP and AVRCP. But for more traditional setups, you can connect to the speaker via optical or RCA analogue. This allows you to set the speaker up to a source for distributed audio while still having the Bluetooth on hand for on-demand audio streaming. Perfect for parties. Lastly, the Big Blue Media Tower includes an Aux output.
Conclusion
At $400, the Big Blue Media Tower has a lot of features perfect for distributed audio. With two physical inputs plus Bluetooth compatibility, it would be well suited to a living room environment. With the small footprint (eight inches square) and relatively small overall size, even the most fervent objectors to speakers should be pacified. The angled drivers means that sound should be well disbursed and the ported design should provide adequate bass. This could be the perfect gift for those relatives that don't really want speakers but do want a way to listen to their music easily.
For more information, please visit www.brookstone.com.