RK6T2 Design and Setup
Last Christmas I hosted a big party for friends and family at the Audioholics Showcase home. I had the whole house wired for music and entertainment with four independent zones. I even had my front yard pre-wired for four speakers during pre-construction phase so that entering guests could enjoy Christmas music while they approached our front door. There was only one problem; I didn't have floor mountable speakers. Thus I had to use my trusty Klipsch AW-525's. While these are very competent outdoor speakers meant to be mounted on a wall at or above ear level, they aren't appropriate for floor duties because of their narrow horizontal and wide vertical omni polarization pattern. I could hear the excessive roll off of high frequencies, but tolerated it considering the application and lack of options at the time. Beside, none of my guests would know any better as I am likely the only one crazy enough to pay attention to such details.
So I pressed on with my quest to find rock speakers that match the décor of my home and offered at least acceptable fidelity. I wasn't expecting much since past rock speakers I've heard from other brands never impressed me. I found them to be overly expensive and unappealing because they sounded like a speaker in an oil can. When Boston Acoustics displayed their new Voyager rock speakers at 2007 CES, I was intrigued. Knowing their past reputation for making great speakers, I signed up for a review pair. It only took me six months to secure a pair; and now it was time to see if they were worth the wait.
The Design
The RK6T2 is part of the Boston Acoustics Voyager series of outdoor speakers. They are fully weatherproofed designed and are constructed of highly durable plastics, rubber and other materials tested for outdoor environments. They are available in three finishes: New England Granite, Sandstone (my review samples), and River Rock.
The RK6T2 features a dual voice coil 6 ½" mica filled copolymer woofer with butyl rubber surround, and two 1" silk dome tweeters. According to Boston Acoustics, the woofers have stepped baskets that sets the cone forward to prevent "tunnel effect" and preserve smooth natural midrange sound. All of the drivers are angled upwards 20 degrees to optimize sound for the listening area when the speakers are placed at ground level.
The RK6T2 is a two way design that sports two 6ft underground rated speaker cables that can be configured as stereo or mono. To configure the RK6T2 as a stereo pair, all you have to do is connect the two speaker wires of each rock speaker in parallel to one channel of your amplifier. If your amplifier cannot handle 4 ohm loads, I suggest not connecting one of the wires which will defeat one of the tweeters and drop the net SPL level of each speaker down about 6dB. Alternatively, each individual rock speaker can be used as an integrated stereo solution by wiring each speaker cable to the respective left and right channels of your stereo amplifier. This gives you the ability to use two rock speakers to serve stereo purposes in two different locations of your yard or patio area.
The RK6T2's also feature a recessed weatherproof cavity on the bottom of the speaker that can house an optional 70/100 volt transformer for use in light commercial installations such as restaurants and bars or in full commercial applications like malls, theme parks and large retail spaces using constant voltage to drive multiple speakers.
Set-Up
For my equipment, I used the zone 3 output of my Yamaha RX-V2700 receiver fed to two channels of my Emotiva MPS-1. The source was the Yamaha MusicCAST MCX-2000 and the cables were 10AWG from Bluejeans with a Speakercraft volume control located near the front door inside of my home.
There are basically three ways to setup these speakers:
Stereo pair; 1 wire – each single wired to one channel
Stereo pair; 2 wire – each parallel wired to one channel
Stereo single – each speaker wired in stereo by two channels
Unless otherwise noted, most of my testing was done as stereo pair; 2 wire. Although I preferred the stereo separation of stereo pair; 1 wire at my primary listening location, I found that stereo pair; 2 wire offered a more broad sweet spot and increased the usable listening area by providing wider coverage. Stereo single is useful in areas where you want to have stereo sound using just one speaker and/or perhaps setting up stereo coverage in multiple listening zones such as a pool patio and front porch. Don't expect to get the same sound and separation from just one speaker, but the RK6T2's offer perhaps the best integrated one speaker solution that I've heard.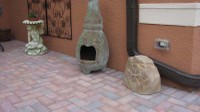 For my application, I was looking to install sound on my front porch where I have setup a nice sitting area for those rare nights of cool weather in Florida. I also wanted background music towards the front of my house so that when I host parties, especially Christmas ones, my guest could be greeted with some cool tunes. Good sound quality was a must as I wanted people to really stand at attention and know they were entering the Audioholics Showcase home.
I prewired my home for four speakers in the front yard; two by the front of the house in the landscaped area to provide coverage to people walking on the sidewalk, and two by the front porch to cover the sitting area and front entrance. I installed the RK6T2's at the porch zone, diagonally placed from the sitting area with one by the front door, and one by the entrance of the walkway.
Boston Acoustics discusses the differences of outdoor versus indoor speaker placement and that the former is setup more for wide coverage area while the later is positioned for a more focused sweet spot in a fixed listening area. They suggest placing the speakers where there is a solid surface directly behind them which will help reinforce the bass output.
I was a bit disappointed that the RK6T2's didn't provision for mounting straps like the Paradigm rock speakers I currently have under review. Not only is this a good idea for anti-theft, but it also ensures it keeps them well placed during storms which are plentiful in Florida. These speakers do however have considerable mass so this shouldn't be much of a problem for all but extreme weather conditions. In those circumstances, I recommend bringing them indoors.
Editorial Note on Wiring:
I unfortunately took the pre-wiring of my home to the extreme by running all 10AWG speaker wires to every location. This made it quite a challenge to connect in wall volume controls as well as self containing the wires in junction boxes. A note to installers and audiophiles alike, you're better off running 14/4 for redundancy and better flexibility. You can parallel them to yield an effective resistance of 11AWG.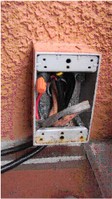 Boston Acoustics provided standard wire nuts you get when buying ceiling fans or electronic fixtures. Though they added white sticky conductive grease which created quite a mess for me when I had to disconnect the wires after I realized I didn't route the cables through my junction boxes. This is good foresight on their part, but just remember to know exactly where you want your wires before tying them down. The manual warns about this, but of course, I didn't actually read the manual until I started writing this review. As an added precaution, I also used electrical tape in conjunction with the wire-ties to ensure total isolation and reduce the chances of oxidation from being outdoors.
jcPanny posts on September 05, 2007 14:55
Only the Audioholics refrence home has high fidelity audio for the people walking by on the sidewalk!
JackT posts on September 05, 2007 08:58
I'm going to use these as surrounds in my home theater. For the fronts I will use those speakers that look like potted plants.