Audio-Technica ATH-ANC23 QuietPoint Active Noise-Cancelling In-Ear Headphones First Look
Summary
Product Name:

ATH-ANC23

Manufacturer:

Audio-Technica

Review Date:

April 03, 2011 23:55

MSRP: $99.95
First Impression:

Pretty Cool

Specifications

TYPE: Active noise-canceling
DRIVER DIAMETER: 12.5 mm
FREQUENCY RESPONSE: 20 - 20,000 Hz
QUIETPOINT ACTIVE NOISE REDUCTION: Up to 20 dB
SENSITIVITY: 105 dB
IMPEDANCE: 32 ohms
BATTERY: AAA (alkaline)
BATTERY LIFE: Up to 60 hours, typical (alkaline)
WEIGHT: 26 g (0.9 oz) without battery
CABLE: 1.3 m (4.3') with 3.5 mm stereo mini-plug
ACCESSORIES INCLUDED: Airline adapter; AAA battery; protective vinyl pouch; Comply™ Foam Tips (1 pair); ear pieces (rubber tips) (S/M/L size)


Executive Overview
There are times when noise canceling is of vital importance. When you are on a plane. When you're riding shotgun in a convertible. When your wife is telling you every gory detail of Janet-at-work's divorce and subsequent re-marrying of the same guy. In such situations, you need something to cancel the noise so that you can hear your music without risking damage to your ears. Because you're an audioholic and you don't want any more hearing damage than you got at the Jane's Addiction concert all those years ago.
There are two ways to go about noise control. Passively, you can get something that stops the noise from getting to your ears. You'll see marksmen and construction workers with earplugs and over-the-ear headsets that do just that. The other way is active. With active, you need a microphone that will measure the sound coming in and put out a sound with the opposite waveform. This cancels out the incoming sound without having to have a bulky headset or foam plugs.
A little of both, Audio-Technica has recently started shipping their new in-ear ATH-ANC23 QuietPoint active noise-canceling headphones. These in-ear monitors will only run you $100 suggested but probably $20 less than that if you look around. With them, you get up to 20dB of noise canceling all run off a single AAA battery.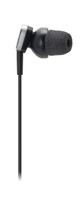 To start with, the ATH-ANC23's sport Comply Foam Tips for ensuring in-ear comfort. These soft tips will fill the ear canal to further isolate the ear from outside noise. There are, included, three sizes so that everyone can find a set that will work for them. The tips are made of a memory foam which is 30x's (according to Audio-Technica) softer than standard earbuds. The material is breathable and the memory foam gently expands to the shape of the ear canal keeping it in place even while exercising. In-ear headphones like the ATH-ANC23s are perfect for travel as they are very compact, the noise-canceling is great for planes, and they include a two-pin airline adapter that connects to in-flight entertainment.
A nice feature is that the ATH-ANC23's do not require the battery to work. Sometimes with active noise-cancelling solutions, if the active part is out of juice, the headphones are useless. With the ATH-ANC23s, they will still operate without any power in passive mode. The in-ear tips will still provide isolation from outside noise so if you are in a quiet environment, you won't need to use the active noise-canceling at all. There is, on the active module, an in-line volume control as well so that you can hide away your music player rather than having to get it out every time you want to dial down or up the volume.
Conclusion
If you are a frequent traveler, surely you've looked at a pair of noise-canceling headphones. With memory foam tips which should allow for long listening sessions without discomfort and an included airline adapter, the Audio-Technica ATH-ANC23s look to be a very attractive solution. Usable in active (with up to 90% of outside noise eliminated) or passive mode, these headphones should have everything you need for those long overseas trips. At under $100 MSRP with a street price of $20 less than that, they are practically an impulse buy compared to some of the over-hyped competition.
For more information, please visit www.audio-technica.com.
trhattan posts on July 27, 2011 00:13
I just bought the Audio Technica ANC23 noise canceling headphones and would like to know how to replace the rubber tips that go in the ear. It almost appears that you have to destroy the ones currently in place to get them off.

Thanks
KEW posts on April 09, 2011 19:38
The business end with and without pad (no, it is not metal flake brown paint - that is the freakin' pollen from mowing on a dry day!):





Bundled:


In pouch:


I would quickly recommend these to anyone looking for a noise eliminating earbuds for travel. I have never found any that eliminate noise so well and the sound is good!

For mowing the lawn I would recommend it as the only earbuds I have found that are serviceable. Isolation only buds would probably work if you don't care about losing your hearing. However, you need to understand that you will be listening to the music with the mower solidly in the soundscape (but comfortably so). The inclination is to turn up the volume to compensate, so I recommend you do as I did and preset the max volume to prevent this!
KEW posts on April 09, 2011 19:30
After reading the review, I decided to give these a try.
I have some nice noise isolation headphones - the Etymotic model 6isolators, but would like a bit more noise suppression when traveling, and have long sought a pair which I was comfortable using while mowing the lawn.
I was traveling when I read the review so the desire for something to further suppress airline noise was on my mind and I ordered them so they would be there when I got home.

They were, and I did a quick inspection and listen. They sound plenty good. They did not impress me as outstanding like the Etymotics, but I did not really compare them back to back - my reason for buying these is for noise reduction and in those situations any minor differences in SQ will be lost to the background noise.
For this first trial, the AC was running in the house. I attempted to measure it on the Ratshack SPL, but it was below the minimum 50dB that the meter can measure. I put the buds in without music and using the foam plugs (which seem to offer the best noise attenuation). They were on par with other foam isolation earbuds I have tried - the AC was well suppressed, but still there. When I switch on the active reduction there is a quiet "tick" and an electronic hiss was introduced while the AC noise was reduced to the same level as the hiss. Remember, I am effectively wearing ear plugs in a quiet environment. These are conditions where you can sometimes hear blood swishing through your veins, so for there to be electronic hiss doesn't mean it was loud - and it was not, but it definitely was there.
I next turned on the music and the hiss and AC noise were easily lost behind the music. I did notice the music seemed to be a bit different/louder with the noise cancellation on.
At this point, I should say the active on/off switch is a soft switch. By that I mean the sound & signal go dead between the switch positions and there is some type of fade in and out feature to keep it from being an obnoxious "pop on" when the switch is moved. However, when I turn off the active noise cancellation, there is a decisive "tick" sound in the left ear (louder than the one when I turn it on). Since this is in the left ear only, I wonder if it is a defect. I could return them for a new pair, but given the hassle and risk that the replacement could be the same or worse, I decided it was not so bad that I couldn't live with it. Since then I have actively used the buds switching the switch back and forth to test the effects and never noticed or though about this "tick" so I guess I can say it is not worth the effort to attempt to replace (at least for me).

So, now, I was gleefully anticipating the opportunity to mow the yard (okay, maybe that is exaggerating a bit) and try these babies out! This afternoon the stars were in alignment and I had my chance!
First, I set the buds (with active on) to a fairly loud level, but one that I was comfortable with as being safe (and I am pretty conservative on this count). The sound was full and strong - this is with the volume control on the AT earbuds all of the way up - so I would have to pull the ipod out of my pocket to increase the volume.
Next, I fired up my mower and ran it around for an SPL check (its okay, the neighbors already are used to seeing strange things). With the meter near my head level and pointing at the mower, I measured 90-93dB fast response, C weighted. (This is a Troy-built walk-behind self-propelled mower which I replaced my riding mower with so I would get some exercise from mowing the yard). This was done out in the yard and on grass, so there was a fair amount of noise absorption (as opposed to being on concrete or next to the house where reflections would increase SPL).
I usually wear 3M model 1110 (NRR = 29dB) disposable foam ear plugs when I mow. I put the earbuds in - I don't believe the foam AT earbuds alone can match them but don't know how to quantify the difference. I started up the ipod and no joy here - the ipod was not loud enough to be heard over the mower. Next I switched on the active system, anticipating all noise disappearing and having only the music. I was disappointed, the mower was still there - definitely did not meet my expectations of perfection (a guy can hope!). I switched it back off an on a few and came to appreciate just how much sound was being canceled - not bad - most of the low end from the mower was gone. Again, there is no decent way to quantify it. I would liken it to having a mower close by while sitting in a 60's model car (before AC became the norm, windows stayed up, and interior noise levels were specifically targeted by manufacturers).
But the real question is does the music work? My answer is a qualified yes. Had I not pre-set the volume an d had a plan, I would have been tempted to further increase the volume at the ear buds. Old familiar music was nice because I can fill in any details, and of course "quiet" music or songs with wide dynamic range get lost. Some Dylan I had was too weak and unfamiliar to work well. But all in all, this is the first time I have listened to music while mowing and thought "yeah, that works!". This was listening to random songs from my ipod. I think I could make a "favorites list" similar to an exercise play list which would work very well!
When I turned off the mower, "Supertaster" by They Might Be Giants" was playing. Here I switched back and forth between active and inactive and it seemed that the bass was more "punchy" (and, I would say, over-ripe) when it was on. I think there might be some EQ in the picture or maybe it is an artifact of the increased loudness that I had mentioned earlier. But I have no problem with somewhat "over-ripe" bass when I am exposed to the sound from engines. I was very pleased to be hearing any bass detail at all while mowing!
All in all, I am pleased with these. If they do this well with a 90dB plus mower, I am confident they will work well for plane and rail.

From a functional standpoint, I should make some notes:
1) I live in GA. It gets hot here and my ears turn red and become "radiators" to eliminate heat - so over ear headphones are not a consideration for me. I suspect the over ears do a better job of noise elimination, but I have never tried them.
2) After they kill the jet engines, I can turn off the active noise control, and continue to listen without wasting battery power. Also as mentioned in the review, I'm not stuck with no music if the batteries die en route.
3) The buds come with four sets of earpads - three sizes of "rubber flap" pads and one memory foam type pad. I will stick the three flap pads in a bin with all of my other assorted earbud accessories and probably never use them - the foam is the quietest.
4) Reading reviews of isolation earbuds, there is frequent mention of poor or no bass and incomplete insertion of the buds in the ear. Just as with earplugs, for proper insertion, you should put the tip of your index finger just in front of the "ear flap" that you push back over your ear to close off the ear canal. Next, pull your index finger forward to open the canal while using the other hand to insert the bud (or any earplug). Last, release to allow your ear canal to "grab" the ear bud. These won't sound good nor suppress noise if they don't seal in your ear!
Note: With earplugs, you can warm them in your pocket and roll them up tight before pushing them in for the very best seal.
5) There is a felt bag included as an accessory. It is over-sized for these buds w/accessories. Interestingly, it comfortably fits an ipod with these accessories, making a nice pouch for everything!

Pics to follow.