AQ Audio SmartSpeaker Preview
Summary
Product Name:

AQ SmartSpeaker

Manufacturer:

AQ Audio

Review Date:

November 01, 2012 04:10

MSRP: $179/each; $349/pair; $675/four
First Impression:

Pretty Cool

Specifications

Works with iPhone 5, the new iPad.
Transmit from any android device with our App on Google Play "AQ Play"
Add as many speakers around the house as you like for MULTI ROOM AUDIO.
Transmit from any Windows PC using Play To in Windows Media Player
With two speakers in the same room change to left and right mode for perfect stereo sound
AQ DIRECT allows you to transmit with AirPlay outside the home network.
Transmit internet radio via AirPlay

®

enabling 70,000 stations around the world
Transmit direct to the AQ SmartSpeaker with AQ Play from any Android Device
Totally transportable - no audio cables, no power cables
Eco Power saving in mains mode - auto shut down after 1 week of non-use.
10 hours Play time in 'AirPlay Mode'
Quickest AirPlay set up available
Super long lasting Rechargeable built in Battery
24Watt Power Output
Easy to set up - WiFi certified
WWM License for QoS. Enabling increased audio transfer stability
ALL ROOM technology, enabling sound wave dispersion to fill every bit of the room
Auto power down for battery saving.
Holiday Mode – Audio playback with 3.5mm cable outside your WiFi network
iPhone and iPod charging when connected to the AQ SmartSpeaker
Smart Elegant Design
High Powered and ultra efficient Patented Digital Amplifier
Superb Stereo Sound using the most advanced speaker technology
Works while plugged into the mains power
Works with iPhone 5, iPhone4s, iPhone4, iPhone3GS, iPod touch (5th, 4th, 3rd and 2nd generations) with iOS 4.2 and iTunes 10.1 (Mac and PC) or later
Two drivers in each Smart Speaker
20 hours Play time in 'Holiday Mode'
Fully compatible with Apple

®

REMOTE APP
Listen to YouTube and watch films via AirPlay

®

Stream your PC music through your phone to the Smart Speaker
Executive Overview
AirPlay, for now, is the new thing to have in many products. It allows you to stream content from your iDevice to...whatever...wirelessly over your wi-fi connection. But AirPlay isn't the only game in town. Microsoft has its own version it calls Play To. Plus what about all the Android phones? With only AirPlay, all these other devices are completely ignored.
AQ Audio's new AQ SmartSpeaker solves all these problems. First, it is AirPlay and Apple Remote App compatible. This allows you to not only stream whatever you are listening to, but the audio from many popular apps (YouTube, Internet Radio stations, Spotifiy, etc.). The AQ SmartSpeaker is Works with iPhone certified and is compatible with iPhone 5, iPhone4s, iPhone4, iPhone3GS, iPod touch (5th, 4th, 3rd and 2nd generations) and with iOS 4.2 and iTunes 10.1 (Mac and PC) or later.
As you might have suspected, the AQ SmartSpeaker works with Microsoft's Play To protocol. AQ has also developed an app (AQ Play - soon to be released) that is DLNA certified for streaming audio from your Android device. An AQ Direct will also allow you to stream AirPlay outside of your home network. The AQ SmartSpeaker features one-touch AirPlay setup as well as being WiFi certified. AQ acquired the WWM License for QoS enabling increased audio transfer stability.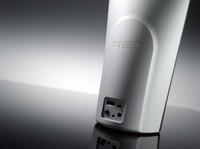 The AQ SmartSpeaker sports two drivers, two modes of operation, and three settings. There is wireless mode for your wireless connection and Holiday (we didn't name it) mode for a 3.5mm connection. There is a USB port on the back that can be used for firmware updates or charging your device (no USB direct digital connection). A rear switch allows you to chose between left, right, or middle settings. With the middle setting, the AQ SmartSpeaker gets all of the audio but still presents a stereo image. The left and right settings allow for a true stereo experience. Multiple AQ SmartSpeakers can be used in conjunction to provide whole-home audio.
With 24-watts of power, the AQ SmartSpeaker will provide 20 hours of playback in Holiday (wired) mode and 10 when streaming (it specifies AirPlay but we imagine that other wireless streaming has a similar run time). The AQ SmartSpeaker will turn itself off (well, into standby mode) after 10 minutes without a signal. It will operate while plugged in if you have a semi-permanent location for it. Even if it is plugged in, it will power down after a week of non use.
Conclusion
Out of the box, the AQ SmartSpeaker will stream from your iDevice/iTunes via AirPlay or your Windows 7 machine via Play To. With a DLNA certified Android streaming app on the horizon, the AQ SmartSpeaker is the most compatible wireless speaker we've ever seen. For $179 a pop ($349 for two, $675 for four), the AQ SmartSpeaker is an easy way to add a whole home audio system without wires. With each of the speakers able to be set in mono, left, or right modes, you've got a multitude of options. A 3.5mm jack allows you to take the speaker with you. It all sounds great. All we need to know now is how the AQ SmartSpeaker sounds.
For more information, please visit www.aqaudio.com.