PROline 750 Overview and Build Quality
It was high time Audioholics picked up the ball and did some headphone reviews, so we contacted a few manufacturers and selected some products based on price and specifications that we thought would represent a more mainstream target for price-to-performance. Ultrasone's $399 PROline 750 headphones seemed to fit the bill and we quickly arranged for a pair to be sent to us.
Headphone Design & Build Quality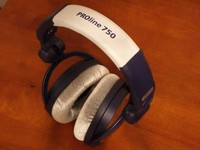 The Ultrasone PROline 750 headphones are a closed-back design. Closed headphones are modeled so that the music doesn't escape the headphone as with an open design, and is instead pumped directly into your ears. One advantage is that they also provide a level of noise attenuation from the outside ambience. In the case of the PROline 750's they reduce ambient noise enough to help isolate sound in loud environments (around 10dB or so). This is accomplished through having a tight seal around the entire ear with each headphone pad. The caliper pressure used was not uncomfortable, but I have to say, the experience of using closed headphones in general isn't for everyone and can be a bit disconcerting for the first few times. The velvet ear pads were easily removed with a simply twist and the inclusion of an extra set was a nice touch.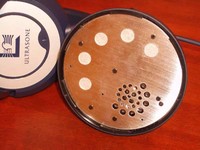 Taking a close look at the headphones with the ear pads removed reveals an off-center placement of the driver. This positioning is what, in part, makes up the S-Logic Natural Surround Sound system. The idea is that the sound will arrive at your ears in a method more consistent with external sound which interacts more with your ear's natural makeup. This is not a surround sound DSP system, mind you, but a method by which Ultrasone attempts to eliminate the "in your head" sound so often reproduced by headphones. The PROline 750s also have something called ULE technology which is comprised of MU Metal shielding in order to reduce magnetic field radiation caused when electrical signals are converted into acoustical energy. ULE is supposed to reduce 98% of that radiation compared to other headphones - something that professionals who are concerned with that sort of thing may wish to factor into their purchase.
The comfortable headband pad protects your head, while the nice velvet ear pads do well to make listening feel comfortable - even for extended listening sessions (though I never went over 2 hours at a time). The majority of the unit was made out of plastic, but it appeared durable and was nicely molded, so I really didn't see this as an issue. I would also not like to carry more metal on my head than necessary as weight lowers the comfort factor considerably - especially over time. The inclusion of a straight headphone cable as well as a coiled one (not to mention making them removable) was a nice touch and should be appreciated by those with special distance needs. Also, I suppose, those audiophiles who substitute the standard cables with cryogenically treated products coated with kosher chicken fat would be equally appreciative.
Packaging
The Ultrasone PROline 750 headphones arrived in a box which opened up in three directions from the center and contained the headphones, extra ear pads, the two headphone cables, a 1/4" TRS to 1/8" stereo mini adapter, bag, demo CD, and instruction manual. The packaging was nice (like something Apple Computer would come up with) and lent a feeling that they took great care in making sure that the ownership experience would be a pleasant one.