Tales from the Road Volume I
by
J. Henry Gaddabout
—
June 20, 2007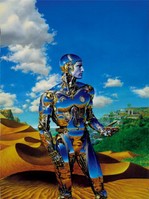 Accelerating Future Traveler
TRAVEL, in the younger sort, is a part of education; in the elder, a part of experience. He that travelleth into a country before he hath some entrance into the language, goeth to school, and not to travel. That young men travel under some tutor, or grave servant, I allow well; so that he be such a one that hath the language, and hath been in the country before; whereby he may be able to tell them what things are worthy to be seen in the country where they go; what acquaintances they are to seek; what exercises or discipline the place yieldeth. For else young men shall go hooded, and look abroad little. It is a strange thing, that in sea voyages, where there is nothing to be seen but sky and sea, men should make diaries; but in land-travel, wherein so much is to be observed, for the most part they omit it; as if chance were fitter to be registered than observation.
Francis Bacon almost certainly avoided travel by air, having lived in the seventeenth century and all. I can't imagine what such genius would say about the sad, sad state of a contemporary culture. Today we are so mobile, so fluid and so self-absorbed by noxious cell phone blather, soulless blackberry text messages and nerve-jarring TSA announcements to "please place all your liquid items into a one-quart, clear, sealable bag for official examination and approval" that we, as a society, have forgotten the very point of art. Seriously.
Do you remember art? You've probably heard about it in school. Maybe a stray flyer from the local museum crossed your path. "What's this?" you may have wondered. "From where did this bizarre image, soothing sound or disturbing thought come?" "And why is it sticking to me so desperately?" Art communicates. To paraphrase Leonard Bernstein, it names the unnameable and allows us to know the unknowable.
Rest assured, art is not measured in megabytes. Art is not contained in a meaningless number of forgettable songs residing on a hard drive. Art is not reflected in shallow commercials strategically placed to bypass the thought process and appeal directly to the unsuspecting lizard-brain between episodes of Everybody Loves Raymond. This does not mean, however, that art is not mobile. As a man condemned to traveling relentlessly and restlessly in search of profit for my masters I am loathe to abandon my love of culture in all its forms. Trust me when I tell you that Bacon brought his love for art, literature and discourse with him everywhere he went. In the manner of Uomo Universale, we too shall explore the many ways in which our connection to music, the spoken word, and the video arts can accompany us during our travels, enriching even the most disappointing of days.
I am, in the most basic sense, an extrovert. I gather my personal momentum and energy through interaction with others. This is a strength upon which any contemporary road warrior relies. There is a thorn on this rose, however. Constant travel often demands hour upon hour of waiting, sitting, shuffling, and waiting some more. Occasionally a flight is even on time, and then the only hardship is the confines of a seat with comfort approximating the sensation of lounging on the grip of a baseball bat padded with a doily. Seats are so close together that most normal human beings simply don't have the space, in coach, to open the lid of a laptop computer. Gone are the days of glamorous travel. Frequent flyer status seldom rewards with a useful upgrade. We are now cattle herded into flying freight cars. Hotel rooms aren't much better. It's this slow torture and constant isolation that prompted my exploration of portable entertainment.
I am the proud owner of an Apple MA446LL 30G video iPod. For the purposes of this column it will be my reference system. I have little interest in reviewing every MP3 player that comes down the pike, and even less in relating the innate details of human interface with the various on-line content delivery programs. No, this is not the place to look for a comparison of the sonics of a Sony PSP© versus an Apple Nano©. All portable content is a truncated, pared-down digital facsimile of real music, anyway. If you think there is going to be a greater difference in MP3 players than there is in the content you play, please return to your digital fantasy now.
For those who wish to understand the 'calibration' of my ears before accepting my status as a critic, my office system is a carefully set-up pair of JM Labs Cobalt 806S speakers atop sand-filled Celestion stands and driven by a friendly little stack of NAD electronics. The JM Labs can be a bit analytical and, when I need a break, I sometimes swap out the JM Labs for a pair of Wharfedale Diamond 7.2 Anniversary Edition speakers. I also have two other audio-only systems; one built around Magnepan speakers with Quicksilver electronics, and one built around vintage Klipsch Cornwall horn speakers with triode vacuum tube electronics. Oh yeah, and there's also a couple theater systems. There is a small one built around a Dennon 4801 receiver and a larger one created on a JBL Synthesis platform. There's certainly no lack of quality A/V entertainment in my life. And, for the record, I listen to as much live acoustical music as I do the recorded kind. A perk of life on the road, I guess.
In this column, on a more-or-less monthly basis, I'll focus my attention on headphones, portable player accessories, and most importantly content. Each column will feature an in-depth, subjective review of a piece of gear, a "teaser" for the following month's hardware, and an exploration of the various music, songs, words, pictures and podcasts available so readily (and often for free) from the great experiment known as the Internet.
I should mention here that you won't find any specifications other than those provided by manufacturers in this column. Measuring the frequency response of headphones is tricky business and ultimately useless anyway. Only ears - experienced ears are best - can tell if the reproduction has any semblance to reality. When the suspension of disbelief is established then the hardware is successful.
In the course of this column I may be moved to describe sounds as grainy, dark, bright, golden, chocolate or enlightened. I guarantee if you read with intent you'll get the message. If you need greater insurance than a lifetime of courting the muse of civility through art, both performed and recreated, then please gather your collection of Britney Spears songs and find a better place to spend your time. I will describe my auditory experiences using much the same vocabulary as I use to describe my culinary experiences. In this space we'll talk about listening and the emotional reaction said listening can provoke in a moment of contemplative consumption!
Adam posts on July 21, 2007 21:06
jdnewk posts on July 21, 2007 20:54
Where is the discount available for the Shure E4C earphones that Henry Gadadabout refers to in his review? I want them!!