HD 600 Recommendations, Measurements, and Conclusion
Using various source equipment to power the Sennheisers proved to be an interesting lesson in revealing the subtleties of quality electronics.  When listening to them via the DVD ROM drive of my computer, they sounded quite good that is until I switched over to the Headroom preamp and DAC system.  The latter simply expanded the soundstage and depth of the headphones immensely.   The HD 600's also sounded stellar when powered by my Denon AVR-5805.  I found using Dolby headphone to be a rewarding experience depending on source material.
For kicks, I even plugged the HD 600's into my Yamaha DGX-500 synthesizer.  Four hours later of jamming away, I realized I spent more time at my keyboard in one evening than I did in the past two months.  This validated to me that there are virtually no limits to enjoy a quality set of headphones, especially if you want to hear your personal musical masterpieces in the highest fidelity possible.
If you are serious about fidelity as either a music lover, or a musician, and desire a no compromise, non compact wired headphone system, the HD 600's are an excellent choice.  I highly recommend taking them for a test drive at your local Sennheiser dealer.
Measurements & Analysis
I quickly learned the hard way that measuring open air headphones is a bit tricky.  Unlike measuring an inner ear headphone whose cone area is approximately the size of the measuring microphone, or measuring say a subwoofer whose driver is infinitely bigger than the measuring mic, the driver of this type of headphone design is too small to be considered infinite size and too large to be treated as the inner ear headphone whose entire radiation pattern is directly captured by the microphone.  Thus I had to construct a crude approximation of a human ear using a Styrofoam cup punctured in the middle to squeeze my microphone through for frequencies below 200Hz.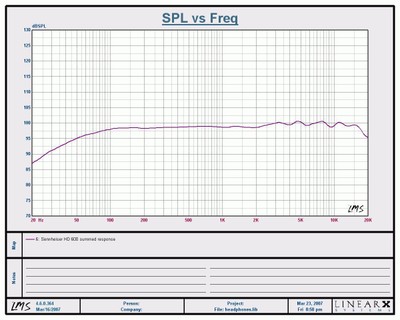 Summed Nearfield Frequency Response measurement of the Sennheiser HD 600
As you can see from the graph, these headphones are extremely linear.  I verified their linearity was equally excellent at various listening levels.  I don't believe the enclosure I created is sufficiently accurate at the lower frequencies which explains the excessive roll off which did not correlate with my listening experience or the manufacturers published specifications.
For additional measurements, check out the measurement database (frequency response, distortion, impedance, isolation, etc) Headroom has comprised using their pseudo head model and mini anechoic chamber in conjunction with their test measurement gear.  You can even compare performance metrics between different models and brands.
Conclusion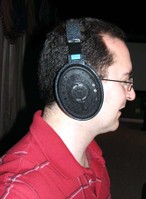 The Sennheiser HD 600's are truly an amazing set of cans any way you dice it.  They sound great with virtually anything you attach to them but reach their full potential with the best electronics unlike any other headphones I have listened too.
Their comfort is of equal measure to their sonic performance which in my experience is a rare balance to find in headphones.  The only downside I can vouch for is that you will want to treat them with kid gloves.  These are not a set of headphones you will want to take with you on ventures outside of your home or recording studio for fear of breaking them or (gasp) loosing them.  For sonic bliss with the comfort of a Cadillac, look no further than Sennheiser's open air headphones – particularly the HD 600's.    Sennheiser's unprecedented reputation for headphone excellence is well warranted and secure.
Sennheiser HD 600
HD 600 Headphones
MSRP: $450/pr
 

Sennheiser Electronic Corporation
1 Enterprise Drive
Old Lyme, CT 06371
Phone: (860) 434-9190
The Score Card
The scoring below is based on each piece of equipment doing the duty it is designed for. The numbers are weighed heavily with respect to the individual cost of each unit, thus giving a rating roughly equal to:
Performance × Price Factor/Value = Rating
Audioholics.com note: The ratings indicated below are based on subjective listening and objective testing of the product in question. The rating scale is based on performance/value ratio. If you notice better performing products in future reviews that have lower numbers in certain areas, be aware that the value factor is most likely the culprit. Other Audioholics reviewers may rate products solely based on performance, and each reviewer has his/her own system for ratings.
Audioholics Rating Scale
— Excellent
— Very Good
— Good
— Fair
— Poor
| Metric | Rating |
| --- | --- |
| Build Quality | |
| Appearance | |
| Treble Extension | |
| Treble Smoothness | |
| Midrange Accuracy | |
| Bass Extension | |
| Bass Accuracy | |
| Dynamic Range | |
| Performance | |
| Value | |

mazersteven posts on September 05, 2008 17:16
Congrats on the new Cans.
Biggiesized posts on September 05, 2008 15:42
A little update, guys. I splurged my money on a pair of HD 600s (got an unreal price on them NEW).

I was concerned about getting an amp to drive these, but my Creative X-Fi Elite Pro sound card has more than enough juice. In fact, I can turn the volume up to be unbearably loud. I'm glad I avoided buying a dedicated amp.

They sound great, by the way
dosquito posts on May 24, 2008 13:27
Biggiesized;414971
I've read that the HD600 is the most neutral of the bunch.
Can anyone confirm this? I have read that the HD595 are the most neutral of the high-end sennheisers, whereas the 600 and 650 (650 especially) are quite colored
Biggiesized posts on May 21, 2008 20:28
I've read that the HD600 is the most neutral of the bunch.
dosquito posts on May 21, 2008 18:29
I'm surprised to see these are getting such good reviews at an audiophile forum. IIRC, the sound is altered quite a bit in these and the 650s. The 595's, for about half the price, are supposed to very neutral. Isn't that what audiophiles strive for?