Onkyo ES-HF300 and ES-FC300 Headphones Preview
Summary
Product Name: ES-HF300 and ES-FC300 Headphones
Manufacturer: Onkyo
Review Date: January 07, 2013 21:20
MSRP: $179
First Impression:

Pretty Cool

Executive Overview
Onkyo surprised us by introducing of new array of headphones at the 2013 Consumer Electronics Show. The headphones are built to deliver "component-quality sound" but in a portable form-factor that's easy to travel with. The headphones utilize an all-new titanium driver design and include detachable and replaceable cables. Two closed-back on-ear models will be first to hit stores—the ES-HF300, which features a audiophile-grade cable, and the ES-FC300, packaged with a tangle-free elastomer cable. These are folding on-ear models and the two wide-range 40 mm titanium drivers are designed to bring clarity in the mid- and high-frequency bands.
Onkyo's new phones also utilize unique ported bass sub-chambers to produce a deeper bottom-end. The aluminum driver housing is actually shaped to resemble the volume control on Onkyo's hi-fi and A/V components. A single aluminum hanger gives the phones a clean, understated profile. Onkyo is offering the ES-HF300 with a 6N oxygen-free copper cable encased in clear elastomer, providing almost perfect conductivity while keeping touch noise to a minimum. There are also gold-plated MMCX connectors and a gold-plated mini-stereo plug.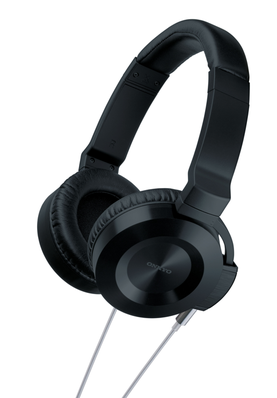 The ES-FC300 is available in three finishes: black with a red cable, white with a white cable, and violet with a violet cable. It features an elastomer cable with a flattened cross-section to minimize tangles. Both the high-quality copper and flat elastomer cables will also be available separately so you can upgrade or replace them as needed.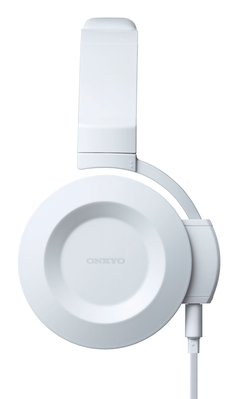 Two aluminum in-ear models—the IE-HF300 and IE-FC300—are scheduled for release over the coming months. Powered by a 14.3 mm dynamic transducer, these in-ear headphones offer a similar sonic signature in a much different form factor. The IE-HF300 is packaged with an audiophile-grade 6N copper cable, while the IE-FC300 comes with red, violet, or white tangle-free elastomer cable.
Also in the development pipeline is a powerful headphone equalizer app for smartphone and tablet, allowing users to quickly and precisely adjust frequency response to suit their personal taste. The app is designed to perfectly complement Onkyo's headphone line, granting smartphone and tablet users unparalleled control over their audio.
The Onkyo ES-HF300 and ES-FC300 will have suggested retail prices of $179 and $149 respectively, and IE-HF300 and IE-FC300 will have suggested retail prices of $129 and $99. They will be available in the first quarter of 2013.