MartinLogan Mikros 90 Reference On-Ear Headphones Preview
Summary
Product Name: Mikros 90 On-Ear Headphones
Manufacturer: MartinLogan
Review Date: October 26, 2012 08:20
MSRP: $299.95
First Impression:

Pretty Cool

Specifications

| | |
| --- | --- |
| Transducer | 35mm dynamic driver |
| Frequency Response | 6–22,000 Hz |
| Nominal Impedance | 26 Ohms with cable |
| Sensitivity | 98dB (at 1kHz with 1mW input) |
| Maximum Input Power | 300mW |
| Maximum Output | 112.83dB SPL |
| Noise Isolation | 92.05% (-22dB SPL, at 1kHz with 1mW input, 30cm) |
| Weight | 163g (5.75oz) |
| Connector | Right angle gold-plated 3.5mm (1/8") 4-conductor plug |
| Cord | 4 foot (1.2m) cable |
| Microphone Frequency Response | 180Hz–10kHz (-5dB; 3dB) |
| Microphone Pickup Pattern | Omnidirectional |
| Microphone Sensitivity | -42dB (as per 121 R 9-5) |
Executive Overview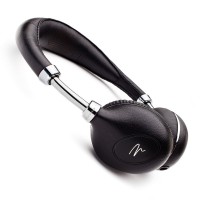 When you first entered the world of home theater, MartinLogan were those speakers in that special room at the big box store. That was the room you were afraid to go into because it seemed like it was only for people in the know. People that knew good sound. Later, as you gained experience, you got the courage to enter that room. And when you did, MartinLogan became the speakers that you wished you could afford.
One of the things I love about headphones is that you get to experience, in some way, the sound of a company without having to spend the big bucks for their speakers. When it is a company like MartinLogan, the savings can be significant. Companies know that their consumers are expecting similar sound from all of their speaker offerings. When MartinLogan says that the sound of their new reference series headphones is "inspired" by their other speaker offerings, you know you are in for a treat.
MartinLogan didn't try to cater to every consumer with their new Mikros 90 on-ear headphones. They aren't noise canceling - they are "noise isolating" which pretty much means they have a closed-back design. While they say they fold up for easy storage, what they really mean is that the ear cups turn so that they can lie flat in the case - not that they collapse into a significantly smaller package.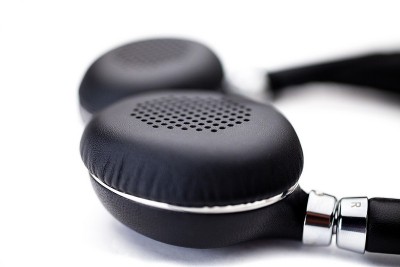 But that doesn't really matter. What matters is that MartinLogan has put out a headphone that they believe accurately represents their brand. I was hoping that MartinLogan would include some sort of electrostatic driver with the Mikros 90s but it isn't specified which makes me believe that they are sporting a more traditional driver. At 35mm (or 1.38"), the driver is spec'd from 6–22,000 Hz and can put out up to 113dB (more than enough to cause hearing damage after prolonged use). We'd love to see just how well the Mikros 90s measure.
The cable is removable and sports an in-line mic and Apple-approved in-line controls. The end of the cable is terminated into an angled 3.5mm jack. We like angled ends as they tend to play nicer with phones in pockets. The Mikros 90s are covered in genuine leather and lightweight polished aluminum, equating to a 5.75 ounce package. The covers on the earpads are removable and replaceable. MartinLogan says that the Mikros 90s will block out up to 92.05% of ambient noise.
Conclusion

The proof is in the pudding, so to speak, and while the Mikros 90s look great on paper, we're still unsure how they sound. At $300, they are in a very popular "entry-level high-end" bracket. At this price point, the MartinLogan name will certainly turn heads, but those heads will have discerning ears. If MartinLogan wants the Mikros 90 reference on-ear headphones to be successful, they really will have to live up to the famous MartinLogan sound. They certainly can't promise that the Mikros 90s are like "having your own private MartinLogan listening room wherever you go" and not deliver at this price point.
For more information, please visit www.martinlogan.com.
DS-21 posts on October 26, 2012 09:11
admin;917321
*** At $300, they are in a very popular "entry-level high-end" bracket.***
The price escalation of headphones continues to amaze me.
Not too long ago, $250-350 is whatall but the "super statement" models (Senn Orpheus, Stax, AKG K1000, those Sonys with the diaphragms made out of living bacteria, etc.) were.
And, frankly, the best of those $250-350 headphones (Senn HD580/HD600, Denon/Foster D2000, etc.) sounded
a lot
better than any of the super-statement ones of the day. While I've never heard (or seen) those Sonys, I did do direct A/B comparisons between the '580s, driven by a HeadRoom Total AirHead Mk. 1.5, and the Senn Orpheus/AKG K1000; the Orpheus was beautiful and man that amp looks good but were basically useless for anything but girl-and-guitar type audiophile specials. The K1000's were ugly and I remember thinking that they didn't improve on the 580 in any material way, though there wasn't any aspect of their sound memorable enough for me to recall today.