Two-channel Listening Evaluations
As is now typical in my evaluation of headphones I utilize a reference set of Etymotic ER-4 MicroPro Earphones and a cheap pair of $3 headphones as a top-bottom baseline comparison. The Etymotic earphones, while relatively flat, are not the most pleasing earphones to listen to (which is why Etymotic also makes the ER-6 and 6i Isolator Earphones) and they can be fatiguing over time. The $3 headphones, well, they put out sound… No highs, no lows (similar to a cube speaker we all love to hate), just a somewhat compressed and distorted mid-band. With that understood, the concept is to compare the frequency response of the review headphones against the flat reference set and use the $3 set as the worst-case quality (i.e. base rating of 1) for the "below minimum expectations" point. Other reviewers may have a different methodology, but this seems to yield a fair way to rate various types of headphones.
Toy Matinee: Toy Matinee (CD)
Queuing up "Last Plane Out", the first thing I noted on the Logitech Wireless Headphones was the well-rounded bass. It was full and rich – perhaps overly so – but in a pleasing way. The music sounded good – it was quite enjoyable. The track's vocals were somewhat muffled-sounding with an obvious lack of top-end. It was during the dueling guitars that this extra crispness of detail was really missed. "The Toy Matinee" provided additional detail during the intro of the track and throughout the chorus as each instrument seems to pick out a space within the soundstage. There was an almost intimate vocal presentation. When I switched back to the reference earphones I realized that the mix was incredibly sensitive and that the Logitech's had picked up on this. I wished that some of the high end and upper mid detail was a bit more present in the wireless headphones. Excessive reverb abounded in this track, which on a detailed set of speakers is a torture test for both room acoustics and your loudspeakers' ability to handle detail without blurring the track. In the case of the Wireless Headphones for PC, the track came off a bit muddied, though still extremely pleasing to the ear. There is some very low frequency bass material in this track and I was surprised at how well it came through the Logitech Wireless Headphones. "We Always Come Home" was the final track I queued up for this album and I felt that the vocals took on a slight boxy feel compared to my reference ER-4s. The low end was far more pleasing in the Logitech phones, though I perceived that it was overaccentuated… but I doubt anyone will be found complaining about that.
Seal IV
Perceiving that the strength of the Logitech Wireless Headphones was its ability to create a well-rounded frequency response with special consideration for bass frequencies, I decided to pop in some Seal and listen to see if the headphones would get overloaded and distort with too much bass. "Get It Together" was the first track I put up for evaluation and I immediately noticed the accentuated lower midrange, especially noticeable with Seal's vocals. The rolling bass notes were cool and had a nice sound, though I wanted them to be much tighter. The Logitech headphones still performed admirably overall. "Waiting for You" was next and the headphones presented a nice thumpy bass line. It was about this time that I really started to clue in that the Logitech headphones are particularly easy to listen to. They are completely non-fatiguing as far as the sound goes, meaning that I did not perceive audible distortion. This was especially apparent on this album where I knew I was feeding them subsonic frequencies they could not adequately reproduce.
MP3s and iTunes
I utilized iTunes and my massive music library to see how well MP3s would sound on these headphones. I enjoyed the experience and played a wide arrangement of tracks, including Country, Heavy Metal, Pop/Classic Rock, Jazz and (gasp) Hip Hop. I was pleased with all that I heard, though the Jazz again revealed the telltale lack of upper-mid detail that I look for when reviewing loudspeakers and headphones. Hip Hop tunes and anything with a truly low-end response sounded good, and I was surprised to find that the headphones reproduced down to around 35Hz with reasonable ease (I measured down to 30Hz with a tone generator before it dropped off in real audibility).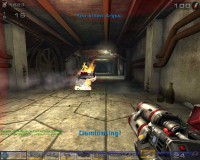 Gaming
I think that perhaps gaming is the hidden calling of the Logitech Wireless Headphones. Using these beauties with games such as Unreal Tournament 2004 and Doom 3 was quite satisfying. These headphones do well with bass, and here is where the massive explosions and low frequency sound effects typical in gaming finds a good home. In particular, when playing Unreal Tournament, the explosions and musical score kept me entertained as I hurled rockets and countless rounds of ammunition at my fellow players. Stereo separation was good and the headphones worked well in helping me identify the location of other players within the game.
Conclusion and Recommendation
It is obvious that Logitech put some time into designing and bringing the Wireless Headphones for PC to market. They handle a wide frequency response and do very well at allowing the user to listen for extended periods of time without fatigue – in fact, you will find the headphones get physically uncomfortable long before your ears tire of listening to them. The big question is: Do these style of headphones warrant the high price that is commanded for wireless Bluetooth sets? I would have to say that the answer will be up to the user to decide. For my part I believe this category of product to be somewhat overpriced as the market adjusts to a "budding" technology and competition has not yet blossomed. There is no question, however that the convenience of wireless headphones is undeniable and I don't know a single person who would not give quite a bit of their hard-earned cash to become untethered from their PC. The final choice will be up to you. In the existing market, the Logitech option seems well-placed and quite competitive (with some other manufacturers pricing their products at almost twice the cost).
The Score Card
The scoring below is based on each piece of equipment doing the duty it is designed for. The numbers are weighed heavily with respect to the individual cost of each unit, thus giving a rating roughly equal to:
Performance × Price Factor/Value = Rating
Audioholics.com note: The ratings indicated below are based on subjective listening and objective testing of the product in question. The rating scale is based on performance/value ratio. If you notice better performing products in future reviews that have lower numbers in certain areas, be aware that the value factor is most likely the culprit. Other Audioholics reviewers may rate products solely based on performance, and each reviewer has his/her own system for ratings.
Audioholics Rating Scale
— Excellent
— Very Good
— Good
— Fair
— Poor
| Metric | Rating |
| --- | --- |
| Build Quality | |
| Appearance | |
| Treble Extension | |
| Treble Smoothness | |
| Midrange Accuracy | |
| Bass Extension | |
| Bass Accuracy | |
| Imaging | |
| Soundstage | |
| Dynamic Range | |
| Fit and Finish | |
| Performance | |
| Value | |

Sheep posts on May 18, 2006 13:10
Cool, didn't know clip on headphones actually had bass (mine sure don't).

One thing, CS:S is the best game for testing player positioning.

SheepStar
Tom Andry posts on May 18, 2006 07:45
We made a commitment some time back to introduce a series of reviews on various headphones and accessories. While we haven't yet opened up "Headphonaholics" we have started down the road of evaluating basic headphone designs and listening to a number of units to determine what it is that makes a pair of headphones – in this case wireless headphones – effective and good performers. The Logitech Wireless Headphones for PC appeared to be exactly the sort of item we wanted to evaluate for those looking for a convenient way to listen to music, unencumbered, while at their PC.