Sync Headphones Full Review and Conclusion
When we were alerted to the Sync headphones hitting the market at an inexpensive price point, we were intrigued. We decided to give them a review, particularly since Howard Leight appeared to be a division of Honeywell and bent on protecting ears and promoting safety in environments and conditions where the ears are assaulted by outdoor noise and high ambient SPLs. At Audioholics we care about your ears (as well as our own), so this seemed like a great product for the market. In particular, the Sync headphones were apparently designed to "manage" the output of portable devices (think iPods, etc) to a manageable 82dBA and perform sound isolation via isolation, making them a passive solution requiring no batteries.
Build Quality

The Sync headphones came in a plastic clamshell, so you can see them easily showing up in major retailers and being available to grab right off the shelf. Overall, they are nothing special to look at, coming across as a black pair of the typical inexpensive noise isolation headphones you may find to help you mow the lawn in comfort. They have a fabric-over-vinyl headphone band that is wrapped around metal to give the phones a rigid support across the top of your head. The phones themselves are plastic on the outside and have vinyl cups on the inside. Sizing can be adjusted by pulling the plastic cups up and down along a pair of retro twin posts which are about the same diameter as a classic metal coat hanger. The difference between the Sync phones and standard earmuffs, of course, is that the Syncs have that 3.5mm input jack that let you listen to your favorite tunes as well as get sound isolation. Oddly enough, neither cup is labeled as Right or Left, and apparently Sync doesn't care which is which as their marketing literature and user manual show people wearing them both ways (the cable is on the right driver in case you are wondering).
Overall our impression of the build quality is that these are nothing special - just very plain plastic headphones that are designed well enough to not feel like they will break - and certainly built well enough to take a few drops and keep on ticking.
Listening Tests
When we put on the Sync headphones we at once knew these would not work well as primary listening devices. They grip your head very strongly - which is likely why they are so good at noise reduction. And they are good at noise reduction - the 25 NRR (noise reduction rating) spec means that if you are exposed to 110 dB SPL, the effective levels to your ears are around 85 dB SPL. For this, they work wonderfully - but they press tightly on your ears, and no matter how we adjusted them (even pulling on them to attempt to "loosen them up" we felt quite uncomfortable after just 20 minutes of use.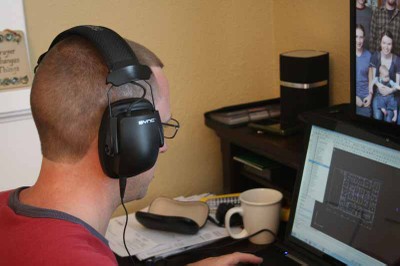 The next thing we realized was that your ears sweat a lot with these headphones. The cheap vinyl of the ear cups does nothing to help with perspiration and we discovered that the phones would display sweat marks after just a few minutes, with a lot of perspiration occurring whenever we wore these outdoors for yard work. Now, one thing to note is that this is not uncommon for outdoor noise isolation earmuffs, and these were certainly no different than most others we've tried.

Sound quality was also an area where we felt that you pretty much got what you paid for. At $36 (and far less online if you shop around) there isn't a lot of money to spend on quality drivers, and the Sync headphones came in sounding pretty much as we'd expect - that is to say, they didn't blow us away. Highs were fatiguing and that was a bit disappointing, but the lows were refreshingly NOT over-accentuated as they are in many headphones. While the Sync headphones boast the ability to "manage" volume level, we found this to be a marketing claim that didn't appear to be backed up by anything other than the impedance of the headphones (which we weren't made aware of in any of the listed specs). We were able to get the phones to play pretty uncomfortably loud - but the important thing to note is that we never had to. The noise isolation works well, so you don't have to play your tunes loud in order to hear the - even while using excessively loud lawn equipment. In reviewing these headphones it was always important to keep in mind the cost. While I am orders of magnitude happier with my active noise canceling headphones, they cost nearly 10x the price. You should also keep in mind that these are really not designed to be used indoors where ambient levels are low - so really, the goal here is ear safety over fidelity and I think they met their design goals. And honestly, if you're doing critical listening while edging the lawn, you're either a product reviewer or very, very strange (I just happen to be both!)
Conclusion
If you are looking for a pair of inexpensive headphones that can be used to provide basic noise isolation for outdoor activities or in an industrial environment (where you can listen to music), these will do the trick. If quality audio reproduction is high on your priority list, then these are simply not for you - but neither is much of the competition. You're probably going to want to save up for an active solution. Music sounded adequate on these headphones, it just didn't sound great. For the novelty of spending approximately $30 and being able to safely mow the lawn and listen to my tunes, however, these are excellent. If that's your goal then the Howard Leight Sync Headphones should work well for you - and the price is certainly right.
The Score Card
The scoring below is based on each piece of equipment doing the duty it is designed for. The numbers are weighed heavily with respect to the individual cost of each unit, thus giving a rating roughly equal to:
Performance × Price Factor/Value = Rating
Audioholics.com note: The ratings indicated below are based on subjective listening and objective testing of the product in question. The rating scale is based on performance/value ratio. If you notice better performing products in future reviews that have lower numbers in certain areas, be aware that the value factor is most likely the culprit. Other Audioholics reviewers may rate products solely based on performance, and each reviewer has his/her own system for ratings.
Audioholics Rating Scale
— Excellent
— Very Good
— Good
— Fair
— Poor
| Metric | Rating |
| --- | --- |
| Performance | |
| Value | |