Etymotic ER-4 Earphones Full Review
I've always been interested in reference quality music being delivered directly to my ears. Perhaps this is a leftover desire from watching The Matrix - I mean, there should be a way to get that sound to your brain uninterrupted, right? I desire the kind of music that would take me away from where I was and plant me squarely in front of the orchestra, concert, or action of a feature film. The ER-4 MicroPro earphones promised to offer transparent, reference quality music reproduction in a system designed (in particular) for audiophiles, musicians, and those who just want the most clear unblemished sound you can possibly get.
The Etymotic ER-4 series is available in three different configurations. ER-4B (Binaural) earphones may be preferred by those who want to hear the slight high-frequency boost which is standard practice in CD and vinyl recordings (5 dB at 10 kHz). ER-4B earphones were originally designed to provide an eardrum-pressure frequency response closely mimicking that of the open ear in a diffuse sound field, making them ideal for any material that has not been equalized for loudspeaker playback, such as properly equalized binaural recordings. Many early listeners found the 4B earphones a bit bright, which led to the introduction of the ER-4S.
ER-4S (Stereo) earphones were designed to compensate for the high frequency emphasis in all CD recordings, in order to provide accurate sound reproduction. Performing musicians often use them as in-ear monitors because the response of the ER-4S matches the response of most typical monitor loudspeakers. The high accuracy and exceptional sound isolation of the ER-4S have made these earphones popular with musicians, recording engineers and audiophiles. ER-4S earphones can be used with a headphone amplifier when using low power portable devices.
ER-4P (Portable) earphones can be used with portable CD, MP3, DVD and other players without requiring an additional amplifier. As compared to the ER-4S, the ER-4P has 10 dB greater output at high frequencies and 13 dB greater output at low frequencies. The higher sensitivity and enhanced bass of the ER-4P have made it the most popular earphone for most uses.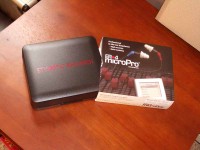 The system comes in a beautiful plastic hard case that instantly lets you know you are dealing with a product that, at the very least, takes itself quite seriously. Inside the case we found the MicroPro earphones (which have a 5 foot cord that terminates to a 3.5 millimeter stereo phone plug), a 1/4" stereo phone adapter, plus four triple-flange eartips (standard size), 2 triple flange eartips (small size), 4 foam eartips, 4 glider eartips, a filter changing tool with 4 replaceable filters, shirt clip, pouch and storage box. The filters can be easily removed and replaced with the included tool, leaving you with a brand new pair of headphones should they ever become clogged form debris (that's polite for "ear wax"). One thing about this is that you feel like you're getting a complete earphone system. When you open up the case and you're presented with tons of options and accessories, you really feel like you are going to be able to customize it to fit your specific needs.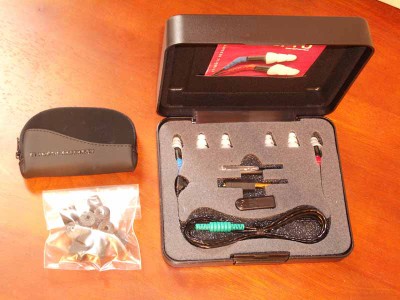 The triple-flange eartips provide 35 dB of noise isolation and the foam eartips knock out 42 dB. This means you can hear the full dynamic range of recordings without having to play them at ridiculously high levels, even when your ambient noise situation isn't ideal. Consequently, these earphones are also excellent for those who travel via airplane and when ambient noise is absolutely overblown. In fact, I found that when listening to these I could mow my lawn, I could travel, I could do just about anything and be isolated from the outside - leaving my ears to experience only the pristine audio that I wanted to hear from my music collection.
Listening Tests


DVD-Audio: Lowen & Navarro - Carry on Together
Our overall opinion of the Etymotic ER-4 earphones was that they provided clean, clear, detailed and crisp highs. They were just accurate. Compared to other earphones I'd used, these simply provided a greater amount of detail. In particular, male and female vocals had a clarity that extended well up into the 6kHz range without sounding compressed or sibilant. For example in the Lowen & Navarro song "Cold Outside" (AIX Records 83044), vocals were stunning and you could discern the most subtle of string noises on the guitar. This was audible throughout the entire piece, but during the solo it sounded as if the duo was playing live right in front of you. The Etymotic ER-4's never got rid of that typical "in your head" sound that earphones and headphones tend to have, but they made up for it with a clarity and authenticity that made listening to music very enjoyable.
CD: Star Wars Episode IV - A New Hope Soundtrack
In queuing up the Star Wars Episode IV soundtrack we were presented with the sound of a pristinely clear live orchestra, as if it had been taken captive and released inside our ears. The instrument detail was precise for each section, and while you couldn't always pick out individual instruments (nor, of course, would you want to) overall, the depth and detail that we heard was far beyond what we're used to hearing with traditional earphones.
DVD-Audio: A Brand New Opry - Another Time


Moving back to something we were intimately more familiar with, the song "Lowlands" by Jamie Hannah and Jonathan McEuen in the Brand New Opry presented a well-rounded bass and fantastically distinguishable finger percussion sounds on the guitar which held the rhythm throughout the track. The tune repeatedly brought sounds that were clearly authentic, like the hyper-realistic violins and banjo which came across as natural and live. Vocals were profoundly unprocessed and sounded almost too real and raw if that's possible - a likely result of my daily intake of well-manipulated and effected fare common on today's tracks. So much detail is revealed in these earphones that at times it feels like you've stepped into the room with the artist or band to hear the recording session. The only negative is that as consumers are often spoon fed products that accentuate the base, they may not be familiar with what a flat response actually sounds like.
DVD: Finding Nemo
To contrast enhanced bass response with what's actually available, we brought up an oldie but goodie - Finding Nemo. In addition to the film having a really accurate and precise spacial placement of sounds within the stereo track, the very accurate and deep mid-base made mincemeat of lesser earphones (and even many headphones) we'd listened to in the past. The boominess found on lesser headphones was not present in the infamous scene where Darla pounds the glass with her finger. While thee earphones will never replace a good body-shaking subwoofer, they did an admirable job of conveying the low frequencies associated with that scene. The sound was deep - just devoid of any tactile element.
Conclusion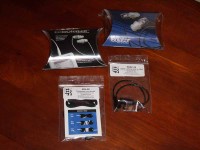 With the ER-4's you are getting what the recording, mix, and mastering engineer(s) desired. And, if you still want enhanced bass that boosts the low end a bit for enjoyment purposes, Etymotic also makes the ER-6i Isolator earphones. These are earphones designed specifically for the iPod, providing highly accurate music reproduction with enhanced output especially in the area of bass, for users who prefer a more casual sound. Those who want more boom in their tracks will still enjoy these earphones as they produce a more "modern" (ie. nonlinear) version of your music. The Etymotic ER-4s will deliver a sound that sounds more, well, real. We kept coming back to words like crystal, clean, snappy, smooth (especially when describing reverb), intimate, and pristine. Low frequencies came across like a good set of bookshelf speakers without a subwoofer. About the only thing we could find to complain about with respect to the ER-4 earphones was that after a period of time they actually became quite fatiguing on the ears. This was likely due to the fact that they were presenting an entire, complete frequency response to your ears, not some clipped, rolled-off version of music. Overall we can definitely recommend these earphones to anyone looking for a serious reference listening experience that can stand up under high ambient noise and a tough environment. The ER-4 earphones have been our reference listening tool for many different reviews over the years and we continue to grant them that well-deserved role.
Addendum: Etymotic also offers the opportunity for users to purchase custom ear molds that can fit onto the ER-4 earphones (or any of their earphones for that matter) and deliver the ultimate comfort and listening experience possible.
About Etymotic
Etymotic Research is a research, development and manufacturing company that designs products to measure, improve and protect hearing. Etymotic has spent over twenty-five years developing in-ear technology for auditory research, precision monitoring and critical listening. Etymotic has developed many of the innovative hearing technologies available today. Etymotic's products are used by musicians and others who insist on superior sound quality. Etymotic means "true to the ear."
The Score Card
The scoring below is based on each piece of equipment doing the duty it is designed for. The numbers are weighed heavily with respect to the individual cost of each unit, thus giving a rating roughly equal to:
Performance × Price Factor/Value = Rating
Audioholics.com note: The ratings indicated below are based on subjective listening and objective testing of the product in question. The rating scale is based on performance/value ratio. If you notice better performing products in future reviews that have lower numbers in certain areas, be aware that the value factor is most likely the culprit. Other Audioholics reviewers may rate products solely based on performance, and each reviewer has his/her own system for ratings.
Audioholics Rating Scale
— Excellent
— Very Good
— Good
— Fair
— Poor
| Metric | Rating |
| --- | --- |
| Build Quality | |
| Appearance | |
| Treble Extension | |
| Treble Smoothness | |
| Midrange Accuracy | |
| Bass Extension | |
| Bass Accuracy | |
| Dynamic Range | |
| Fit and Finish | |
| Performance | |
| Value | |

KEW posts on December 14, 2010 07:15
Thanks for an interesting review!
But could you explain why you chose this title for the thread?
alienpi posts on December 14, 2010 06:58
I usually am on motorcycle forums but as we all know crossover happens. Based on another forum member's praise of the JVC Marshmallows, because they don't fall out when putting on his motorcycle helmet, I purchased them and am impressed. My other earbuds and in-ear headphones wouldn't work with my helmet (either too uncomfortable or would fall out), so I gave up on listening to music while riding, but after stumbling upon this guy finding the perfect in-helmet headphones I got excited. i listened to them inside my motorcycle helmet (Shoei RF1000) for a bit and they worked great. Due to it not being riding season for me, it's freezing, I haven't had a chance to actually take them for a ride.

I used them yesterday while snow blowing and they blocked out a sufficient amount of noise (they are very good ear plugs) and are very comfortable. I had no issues with the sound quality, but I don't usually expect much from the music coming straight out of the jack of my iPod?

The sound was actually unusually good coming out of the old iPod Nano with the Marshmallows sounding like what I expect 160kbps mp3s to sound like. As I was listening while snow blowing I was questioning whether or not the cashier got the right price on these, $20 headphones? The bass was spot on, if not a tad heavy (which is fine when there's a lot of background noise to drown it out). The middle frequencies seemed a bit recessed, but with background noise to drown out some some of the bass, I'm guessing the middle frequency recession would seem less pronounced. The highs were there and seemed to have better than average resolution, but also seemed slightly recessed relative to the bass. I was curious to how good they sound hooked up to my reference system. Naturally, I wasn't expecting a miracle, but I was expecting an improvement.

After the first few tracks of the Marshmallows hooked up to my Headroom Maxed-Out Home Headphone amplifier, is when I realized the genius of the people at JVC. In my opinion, the Marshmallows sound better powered by the iPod than by my $1000 reference level headphone amplifier. The accentuation of the bass frequencies was too much when connected to the headphone amplifier. The bass seemed to be so powerful that it sounded like one of those stereo systems that the kids have where all you can hear is the bass. Listening to some organ, I felt like I could feel the organ notes moving my outer ear.

The recession of the middle frequencies made female vocals sound unnaturally deep, almost male. And then where most other headphones sound much bigger and have a vastly more spacious sound, the Marshmallows clammed up to where I could clearly hear their soundstage compress to something smaller than what I heard straight from the ipod.

My impression is that these things are perfectly tuned to their application, and that by using reference level equipment with them just exposes their flaws, which are actually engineered compensations for the low powered portable player market, specifically the ipod since they are color coordinated with their colors.

Connecting the $20 marshmallows to the $1000 amplifier (connected to other reference level equipment) is probably not going to be a common occurrence, so I'm pretty sure that this is not a problem in general.

As a side note, I had to get out my pricier Ultimate Ears (in-ear style headphones that wouldn't fit in my ear with the helmet) to compare, and as usual they sounded amazing with the headphone amp and average from the ipod. I actually prefer the JVCs straight from the iPod over the Ultimate Ears for the overall sound. The Ultimate Ears have better resolution, but the JVCs have a more pleasing sound. Of course once the Ultimate Ears are hooked up to a quality amplifier with Headroom processing I undoubtedly prefer them.

I looked at reviews on JVC's website and found some reviews that confirmed my review of these headphones. One reviewer in particular said they sounded better than his $200+ in-ear systems of the past.

I can definitely recommend these as in-helmet/ yardwork/ exercise headphones. I'll keep the Grado SR325s or Sennheiser HD650s for my reference system.
GlocksRock posts on July 27, 2010 14:38
dkane360;737388
Haha thats exactly what I was thinking.

BTW, I have never tried the Klipsch Image S4's, but the Image X10's are fantastic
The Image S4's are not bad, but like I said, I still found a $20 pair of JVC earbuds to sound much better than those, but the Klipsch are more comfortable and nicer looking, but not worth 5 times the price if you ask me.
dkane360 posts on July 27, 2010 13:27
Alex2507;737103
You are putting them in your ear ... right?
Haha thats exactly what I was thinking.
BTW, I have never tried the Klipsch Image S4's, but the Image X10's are fantastic
GlocksRock posts on July 27, 2010 08:28
While I wasn't trying to save money on buying the cheap ones, I went right to the Ultimate Ears then Klipsch, I found the cheap $20 buds to beat out both the more expensive higher end buds, so I returned them to best buy and got my money back. I'm sure some of the super high end buds that cost several hundred sound better than the Klipsch ones I tried, but for the money I spent on what I have now, I'm very pleased, just wish I didn't have to go through the hassle of buying and returning the other ones.